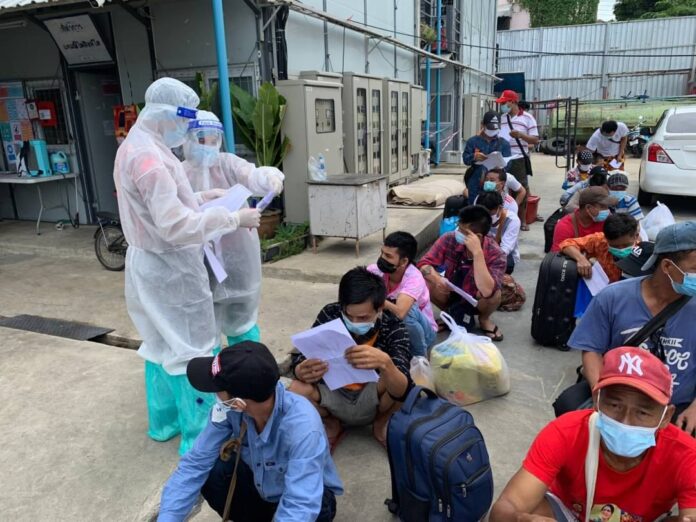 The following is our exclusive weekly feature in which we ask our readers a news topical question and then give you a week to answer it on our various channels, compiling a diverse range of answers and opinions to present to you, our valued readers. Here are the results from our last question…
Last week, we asked you the following:
What concerns you more in Thailand, getting Covid-19 or possibly forced hospital/hotel quarantine?
The context behind this question was:
One of our most popular questions is WHAT HAPPENS IF I TEST POSITIVE AND IT IS OFFICIALLY REPORTED, for example at a Covid-19 screening point to enter, say, Treetown market. Although the answer can vary based on some factors, in general, you will be taken via ambulance to a hospital or medical center, tested again, and if positive will be assessed based on multiple factors like health, age, risk status, pre-existing conditions, vaccination status, symptoms, insurance, etc. At that point, you will generally be sent to either a hospital, hospitel (a quarantine center/hotel), isolation center, field hospital, or if you are VERY lucky given self-isolation. (Rare due to Omicron in Chonburi.) This will be, if you are not a Thai national, at your or your insurance's expense. The number of days can also vary based on some factors, but is usually around 10-14.
  This has driven a lot of concern online, so we want to know…are you more afraid of catching Covid or of the government's policies?
Here is what you, our readers, had to say as our editors selected some of the most diverse responses to highlight different points of view. Obviously, we can't post everyone's opinion here so selected a variety of the most diverse opinions. As always, the opinions and statements below are the reader's own and may not reflect those of TPN media. There have been minor edits for spelling and grammar only:
-=-=-=-=-==-=
Pete S-I have been doubly vaccinated with Pfizer many months ago and despite the fact that I turn 70 this year, the Omicron variant doesn't scare me at all. It is spreading like wildfire but it doesn't seem to be increasing the hospitalization rates by much. That means the symptoms are milder and they have already proven that it does very little damage to the lungs, unlike the Alpha and Delta variants before. In my opinion, Omicron is the most efficient path to herd immunity for the whole world. Who would impose lockdowns and travel restrictions for a disease where the symptoms seem to be no worse than those of the common cold? More people will die from the economic tragedy of the lockdowns than will from Omicron. But getting stuck in a hospital for 2 weeks and being unable to take care of my family and to live my "new normal" life scares the hell out of me.
-=-=-=-=-=-==-
Roy G-Pay plans at affordable rates should be implemented to account for phenomenal hospital costs that are incurred by senior citizens that are unable to secure adequate insurance
-=-=-=-=-==-=-
Dennis O-I do not know anyone that says they are afraid of catching Covid. The discussions all revolve around the hardships imposed by unnecessary restrictions, paperwork, fines for no mask, expenses, and bureaucratic hoops to jump through. And the fear of forced hospitalization or quarantine. Add to that the economic hardships brought on by governments closing businesses and airlines charging double due to fewer routes and passengers. The Pandemic is now a full-on contrived mess. I have had Covid in April 2020, and although it was scary and VERY uncomfortable to not breathe, the Omicron is a much milder version. OPEN UP THE WORLD. It is already in ALL countries and trying to block a few FULLY vaccinated people while letting in Hundreds of thousands of illegals is folly. The USA has 200,000 a month, Thailand has 50,000/month. Where is the sanity?
-=-=-==-=-
Graeme-I am 71. Double jabbed with Astra Zeneca and a booster of Pfizer. I only arrived in Thailand on December 21, and yes this does worry me, that I may be locked up in some sort of hospital/ hospitel , I am sure a lot more travelers will be reconsidering their travel plans now
I am beginning to regret coming here.
If I was to test positive in my home country, they only request self-isolation as they do not consider the new variant to be as dangerous as previous mutations.
-=-=-=-=-=-
Name Withheld by Request-
The biggest problem is getting ripped off by hotels/government/police etc. if whoever? gave you a choice of going to the hospital or a hotel or self-isolation in your own place I reckon most would choose the latter, the second choice a hospital, lastly a SHA+ hotel unless you are a very wealthy person (some are ) Although Covid insurance is compulsory I've been told it only covers you if hospitalized hence people being directed to hotels?
The latest reports I have seen are saying that SHA+ hotels are cashing in on this through a lack of customers arriving mainly because of the hassle of getting there in the first place, I'm computer savvy and have many elderly friends asking for help as they only have a telephone to use but you will need at least a printer scanner for the myriad of papers that need to be shown to a variety of personnel en route, I am also led to believe that booking into a SHA+ hotel that they should send a personal one-person taxi each, however, I know of many that were supposed to all get in a minibus to Bangkok and refused to leave individuals stranded for up to 8 hours until their taxi arrived same as my friend who arrived expecting a solo ride to Pattaya when in actual fact there was three plus the driver.
-=-=-=-=-=-=-=
Robert O-Fake/uncertain quality tests, false results, corrupt system, no recourse, weak legal system, poor civil rights, language barrier, too many unknowns…..not worth the hassle right now.
-=-=-==-=-=–=
Michael N-I think I will be in the minority, but Covid. I am 80, disabled, and immunocompromised. "Mild" or not, Omicron could kill me and I am seriously concerned with Omicron. I have no interest in more sickness or death and prefer to have many years ahead of myself if possible. I am currently shielding due to all the Covid in Banglamung and will continue to do so. Yes, I am fully vaccinated but I am still deeply concerned. A few years back I had the "regular" flu that due to my prior health issues nearly took my life, so yes, Covid is a serious issue, and yes, my life matters also.
-=-==-=-=-=-
George S-Forced quarantine when I'm probably not that sick and could just stay home.
-=-=-=-=-=-=-=
Rod B-The scamming forced hospital admission and hotel quarantine. Simply designed to extort money.
-=-=-=-==-=-=-
Melissa M-Hospitel quarantine. I'd be fine at home but I can't even imagine sleeping in those horrid conditions or eating garage food a week. Hard pass! This is why half the people who are testing positive aren't telling anyone and just staying home.
-=-=-=-=-==–=-
Bartie F-
Already had it. Was even less than a cold.
Getting stuck in quarantine for a sniffle when EVERYONE is going to get it anyway is just Moronic.
-=-=-=-=-=–=
T.J-Covid. But I am disabled and have many health issues. I am not asking to "lockdown" everyone else because of me, and I am capable of protecting myself, but Covid deeply concerns me.
-=-=-=-=-=-=-
Phil T-No fear whatsoever of covid. I have endured quarantine back in December 2020, so there is no way I want a repeat of that experience or expense! I any case, it remains ludicrous to keep testing people, especially those who are already jabbed! "You can still get it and pass it on" I hear the doubters cry! If that's so, as appears to be the case, the jabs are obviously useless!
–=-=-=-=-=-
Sergio G-It's an insurance scam. Loads of people flying in for the test & go. Obviously they all had negative PCR tests before boarding the plane but mysteriously test positive up on arrival…
That is it for this week! Stay tuned for another reader talkback VERY soon! We appreciate EVERYONE's feedback and thoughts! If you didn't get a chance to answer, Tell us on our social media channels, in the comments below, or if you prefer your comment to be private mail us at Pattayanewseditor@gmail.com.