Chonburi –
Pork prices in Chonburi have been increasing, like most of Thailand, over the past few weeks, and according to officials from relevant agencies it is primarily due to a pig's disease, 'African swine fever, or ASF'.
ASF cannot be transmitted from pigs to humans, including by consuming pork, and is not a threat to human health, according to the World Organisation for Animal Health.
The Chonburi Live Stock Office office told The Pattays News earlier this week that more than 50,000 mother pigs are sick with 'African swine fever: ASF'. In Chonburi, there are about 5,000 healthy mother pigs left in farms. So, this means there are not many baby pigs for markets, causing price increases and shortages.
Mr. Wuttichai Korkerdkiet, 68, who is an owner of a famous pork restaurant with three branches in Mueang Chonburi told TPN media, "I have sold red pork with rice for more than 40 years. Streaky pork prices have been increased to 220 baht per kilogram from 120 baht in the past. So, unfortunately, I had to increase the dish price by five baht more, from 40 baht to 45 baht. Customers are not happy but I don't have a choice."
Mrs. Angkana Tuekprakled, another Chonburi restaurant owner, told TPN media, "I don't use pork as ingredients currently as it is too expensive, I use chicken meat and fish instead because they are cheaper. Customers are aware pork is expensive right now and are choosing different meat without too many complaints."
Meanwhile, the Trade Policy and Strategy Office (TPSO) Director-General Ronnarong Phoolpipat told TPN media that rising fuel prices pushed up the prices of other consumer goods such as vegetables, pork, and eggs. The price of pork has risen because owners have reduced their livestock to cope with the increasing expenses while oil and rice prices have increased to match with rising costs as well.
As of today, Thailand has banned exports of live pigs for at least three months, as published in the Royal Gazette, to attempt to bring down pork prices.
Some information sourced from NBT WORLD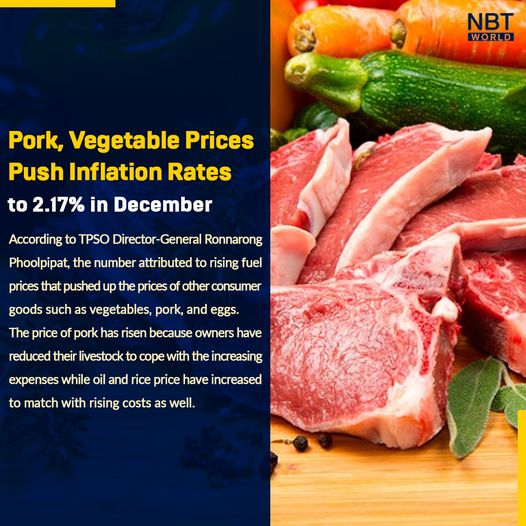 =-=-=-=-=-=-=-=-=-=-=-=-=-=–=–=–=–==-
Join us on LINE for breaking alerts!