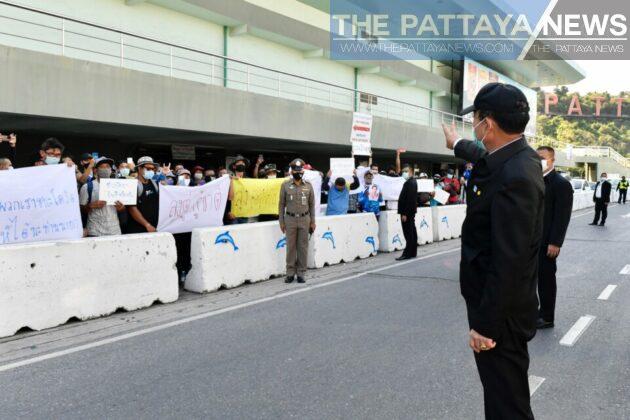 Thailand-
The following is a weekly feature article looking at this same time period LAST year in Pattaya and Thailand news.
This weekly feature takes a look back at news from the same period last year (and sometimes different time windows, such as six months or three months) to see how things have changed, following up on the progression of stories, as well as look at potentially broken promises or things that didn't take place as promised in Pattaya and Thailand.
As we publish dozens of stories a week this is a quick way for people to take a look at what the biggest stories were a year ago, as chosen by our editorial team, and how they impact us today and relate to current news. They are in no particular order of importance, however, are roughly in order of publication.
This week, we cover the last week of December 2020/first week of January 2021, from Sunday, December 27th, 2020 to Saturday, January 2nd, 2021.
1.  Samut Sakhon Governor tests positive for Covid-19
He would later spend months in a coma and barely survive the experience. He retired earlier this year from his position after recovering from Covid.
Samut Sakhon governor tests positive for Covid-19 Coronavirus, Public Health Minister categorized in risk group
2. Rayong Provincial Police Chief transferred after illegal casino clusters of Covid-19
He had made an infamous statement where he claimed there were no illegal gambling establishments in Rayong. The Chonburi Provincial Police Chief later followed with a similar situation.
Rayong provincial Police Chief transferred following Covid-19 cluster stemming from alleged illegal gambling
3.  Thai Ministry of Public Health announces all vaccinated people must still do a fourteen-day quarantine.
This was not a popular decision at the time, but adjustments have been made since.
Thai Public Health Ministry announces all Covid-19 vaccinated people will still need fourteen day quarantine
4.  Pattaya shuts down…again
The biggest news of last year since the first shutdown was Pattaya's second closure. This one only lasted five weeks roughly, the third and longest closure came in April of 2021. Nervous eyes are still on Omicron currently hoping a fourth closure doesn't come. This announcement came only one day before New Year's. This year, the show went on.
Banglamung/Pattaya enters highly controlled status, shutdowns of non essential business, bars, malls, etc
BREAKING: Chonburi Public Health office announces 108 new local confirmed cases of Covid – 19, divides province into zones
5.  Angry business owners demand compensation for closures
They didn't get financial aid, however, some rules were walked back by the Governor, including dine-in bans lifted.
Business owners, affected staff in Banglamung show anger, demand financial compensation from government for sudden Covid-19 related closures and measures in district
Chonburi Governor announces restaurant relief measures for Banglamung
6. Thai Prime Minister visits Pattaya during "lockdown"
He came to give "moral support".
7.  Bangkok joins Pattaya in closure measures of "high risk" venues
Bangkok, however, did get to celebrate New Year's last year.
Bangkok Metropolitan Administration enacts restrictions and closure measures of most "high risk venues" at midnight tonight
8. English man survives apartment fire in Jomtien by climbing down from a sixth-floor balcony, caught on video
An amazing moment caught on video from last year.
English man survives apartment fire in Jomtien by climbing down from sixth floor balcony, caught on video
9. School's close again in Pattaya for all of Chonburi
Unfortunately, another common measure during Covid-19 in Thailand. Schools here are often the first to close and last to open along with bars and nightlife despite protests from rights groups like UNESCO.
Minister of Education orders schools under their jurisdiction closed in 28 high-risk Covid19 provinces until at least January 31st
10. Ministry of Public Health to propose "hard travel restrictions and tougher measures" for Chonburi, Rayong, and Chanthaburi
This would be approved later in January.
Ministry of Public Health to propose "hard travel restrictions and tougher measures" for Chonburi, Rayong and Chanthaburi
That is all for this week. Stay safe and see you next week!