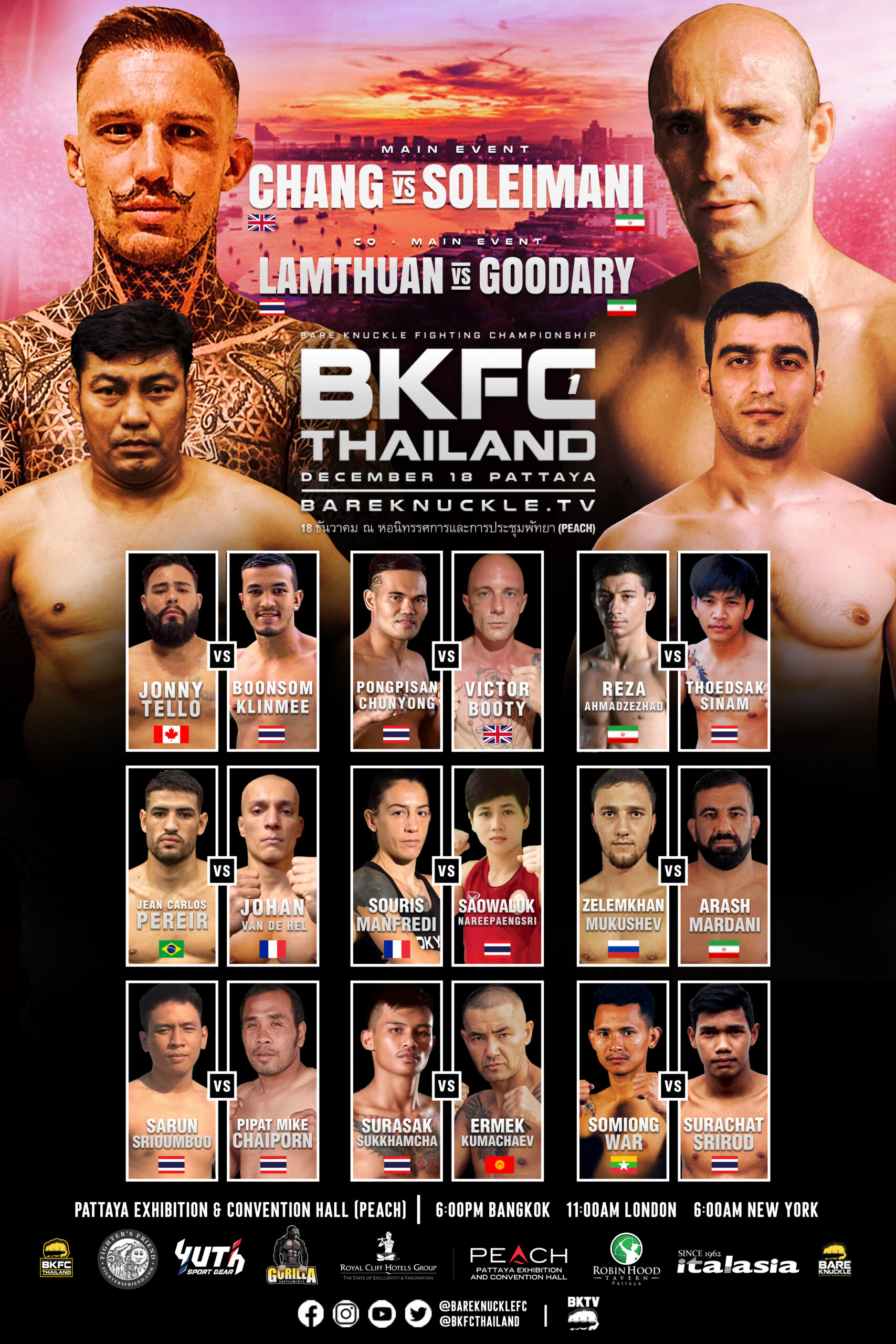 Pattaya, Thailand-
Update: Tickets are going FAST and the event is only a few days away! Make sure you don't miss out on this major event for Pattaya happening THIS week, only a few days away! Ticket information is HERE.
Update 2: Unfortunately, due to an injury, the co-main event between Teejay Chang and Hawthorne had to be changed as Hawthorne had to make the difficult decision to not participate due to a training injury.  As a result, Soleimani has taken his place but is an experienced fighter and it should be an exciting match.
Lockdowns have been lifted, Covid has taken a well-earned bare-knuckle fist to the face, and everyone in the Kingdom of Smiles is ready to get out and about and start enjoying life again. And what better way to jump back into the swing of things than to witness some impressive bare-knuckle fighting action with BKFC knockouts, beatdowns, and more.
Coming to you on December 18th, 2021, from the beautiful city of Pattaya, Thailand, is BKFC Thailand 1 "The Game Changer" (Bare Knuckle Fighting Championship Thailand-1). Tickets are on sale now at all Thai Ticket Major outlets or by clicking the link: https://www.thaiticketmajor.com/sport/bkfc-thailand-2021.html This epic first event will be held at The Pattaya Exhibition And Convention Hall (PEACH), located at the world-renowned and multi-award-winning, Royal Cliff Hotel. Situated on a beautiful coastal playground, this 5-start resort is like no other and is the perfect spot for spectators to get away and unwind and enjoy this epic world-class fighting event.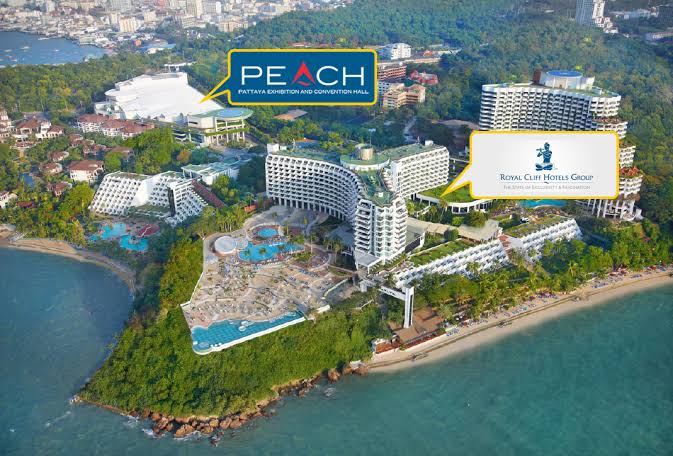 BKFC Thailand 1 "The Game Changer" is brought to you by Nick Chapman, former MMA Champion and CEO of BKFC Thailand, and his associates. He is a prominent figure in the Thailand fight scene. Often refereeing large-scale fights, promoting events, managing fighters, and contributing to the growth and excellence of the Thailand combat sports fight scene. His current focus is building the BKFC brand in Thailand and across Asia.
BKFC is a globally recognized organization, thanks to the efforts of BKFC President and CEO, Dave Feldman. BKFC has reached new heights in the USA, Europe, and Russia through staging exhilarating, fast-paced bare-knuckle fighting events.
Thailand, the birthplace of the world's most devastating combat sport, Muay Thai, is uniquely primed to adopt BKFC, the world's fastest-growing combat sport. Muay Thai fighters are already familiar with close-quarter hand-to-hand combat as Muay Thai incorporates clinching (plum), grappling, hand fighting, and striking using punches, simultaneously.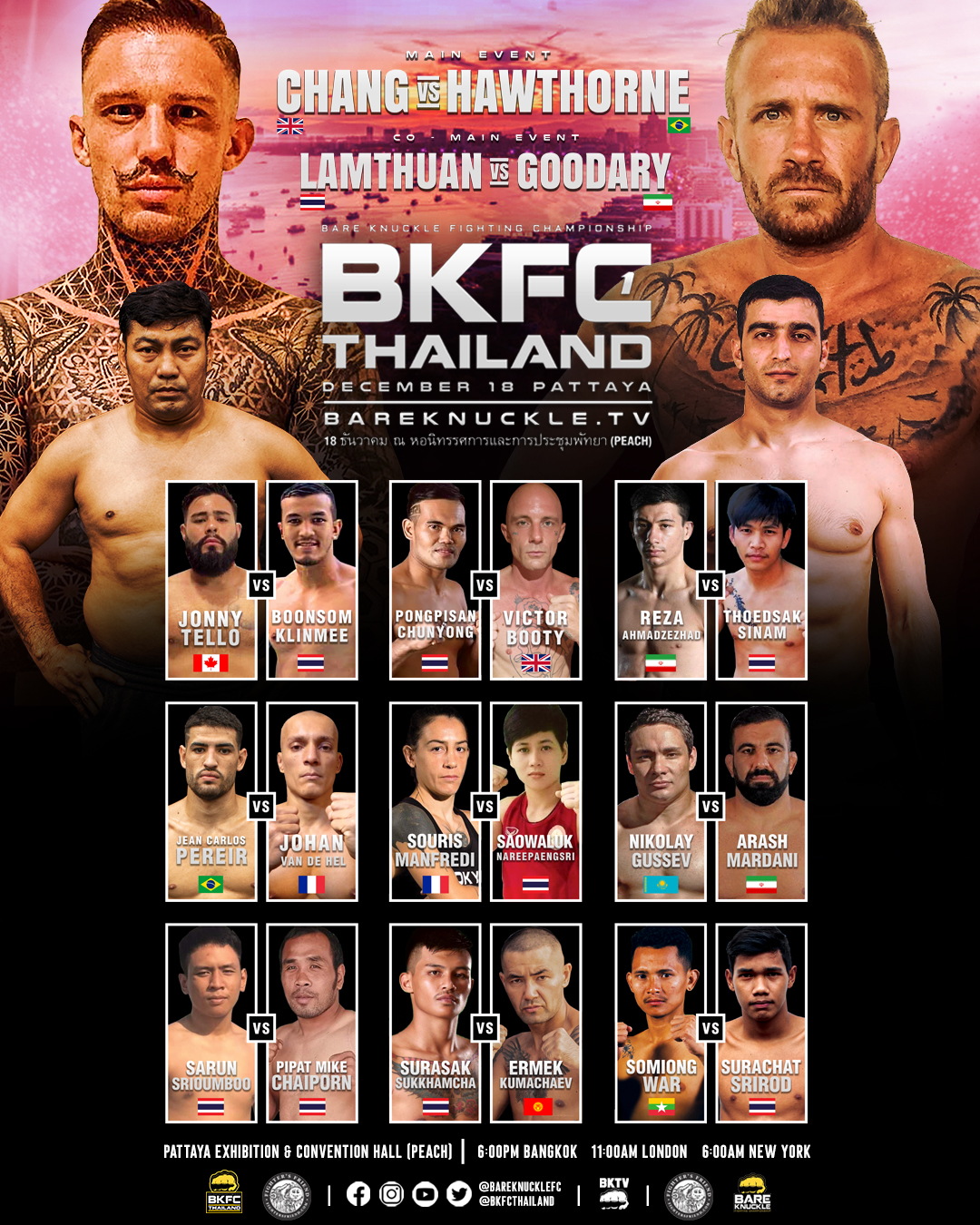 While these remain foreign concepts in western boxing and most other martial arts, these techniques are legal under the BKFC rules, giving MT fighters several distinct advantages in BKFC's unique arena: The Squared Circle.
Muay Thai fighters have been fighting bare-knuckle or with roped hands for hundreds of years. Thai people are some of the toughest and fiercest fighters on the planet, we believe we will be seeing world champions in BKFC coming out of Thailand very soon
Unlike MMA's cage or a conventional four-sided boxing ring, BKF (Bare Knuckle Fighting) takes place in a unique circular roped stage.

Fighters can't get stuck in a corner, making fights dynamic and constantly revolving. A really dynamic and exciting treat for the audience to watch. This inaugural event (get tickets here) is bringing some sensational fight cards, made up of both Thai and International fighters who have been hand-selected from tryouts run in Pattaya, Phuket, and Bangkok. Though many are making their debut in Bare-knuckle Fighting, they are all well-seasoned warriors in their original disciplines. Athletes such as Steve "Panda" Banks is a former WBC (World Boxing Council) Muay Thai Champion, Sirimonkhon Lamthuan is a former multi-class boxing WBC, WBA, WBU, IBO titleholder. Souris Manfredi is a multiple-time Muay Thai & Lethwei World Champion, still currently ranked top 3 in the world having just fought for the WBC belt at Full Metal Muay Thai. Similar accolades sparkle all the way down the card.
The card features:
12: Main Event: The highly anticipated rematch between Tee Jay Chang (UK) a very technical bare-knuckle boxer vs Fabiano Hawthrone (Brazil) a very tough and game fighter with a Lethwei background. These two have unfinished business after a grueling match-up where Fabiano took the win under controversial circumstances. Who is the better man? December 18th we will find out.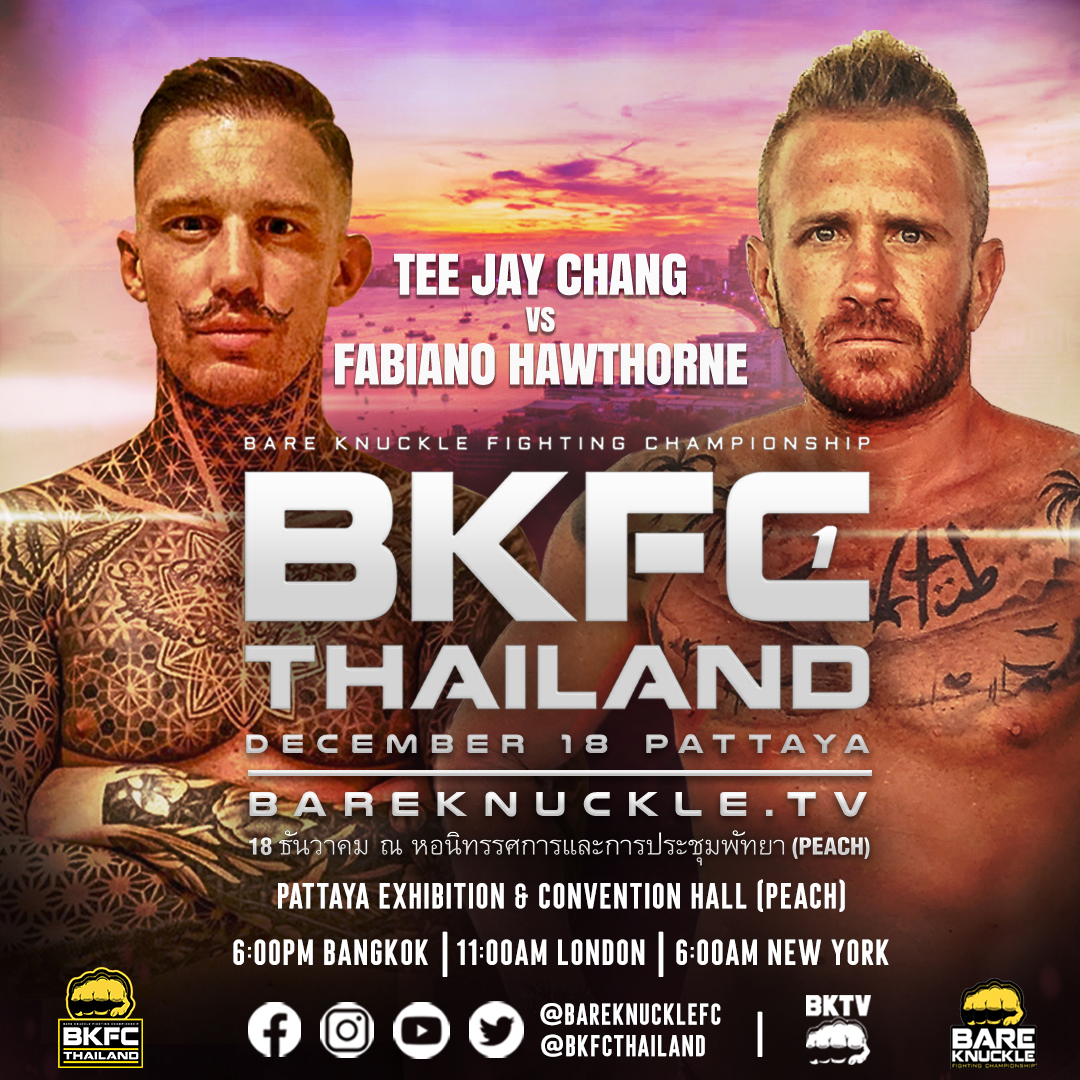 11: Co-Main Event: The legendary multi-class boxing WBC, WBA, WBU, IBO title holder Sirimongkhon Lamthuan (Thailand) vs Reza "Persian Leopard" Goodary (Iran) who has competed in more than 250 high-level bare-knuckle full-contact karate bouts and won numerous titles. This is an interesting stylistic match-up, both athletes are confident they can take the win.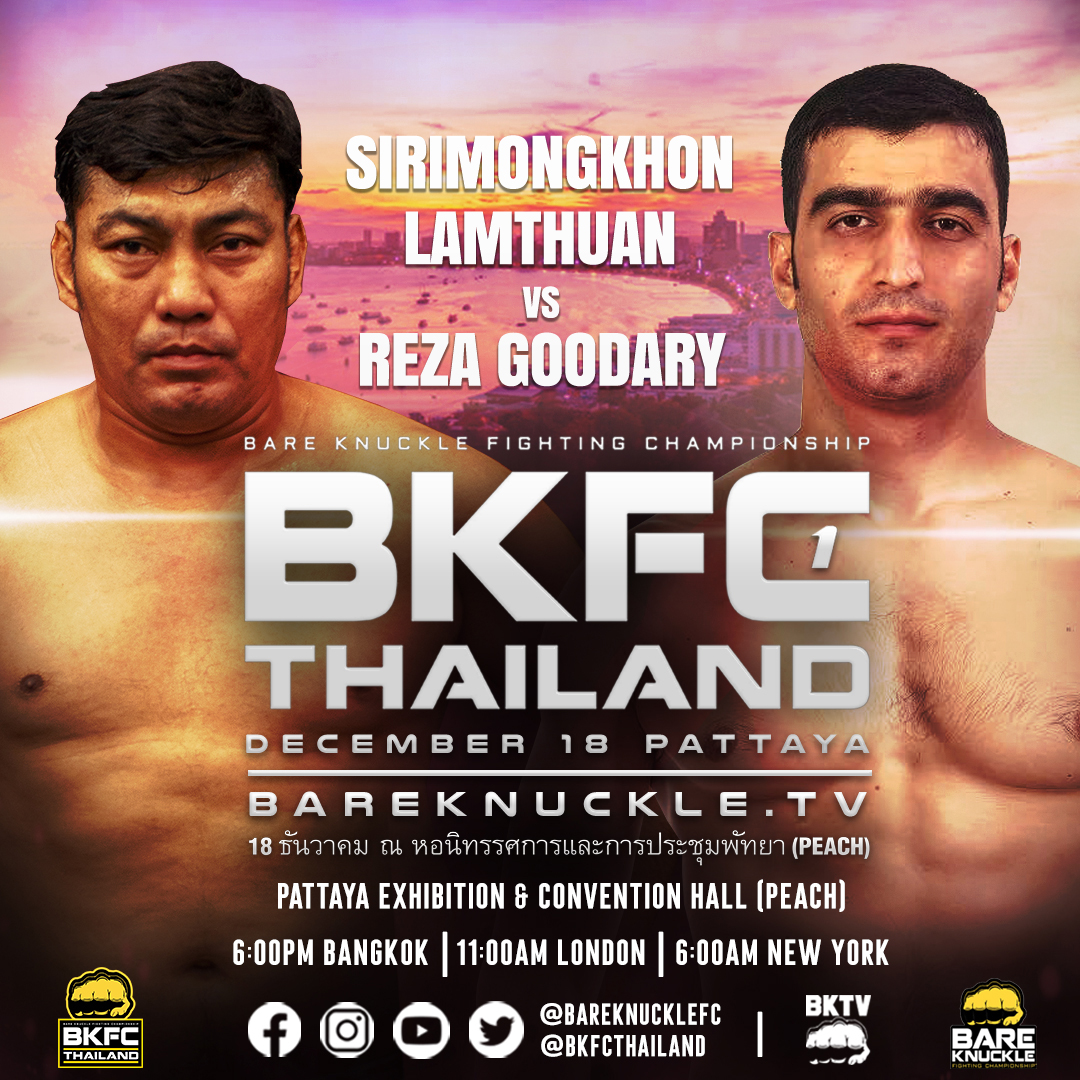 9: Boonsom "Sinsamut" Klinmee (Thailand) a highly experienced Army Games Lumpinee Boxing champion vs Jonny Tello (Canada) an hungry and dangerous upstart coming off of an impressive bare-knuckle win.
8: Pongpisan Chunyong (Thailand) a Muay Thai veteran vs Victor Booty (UK) a game and hungry boxer.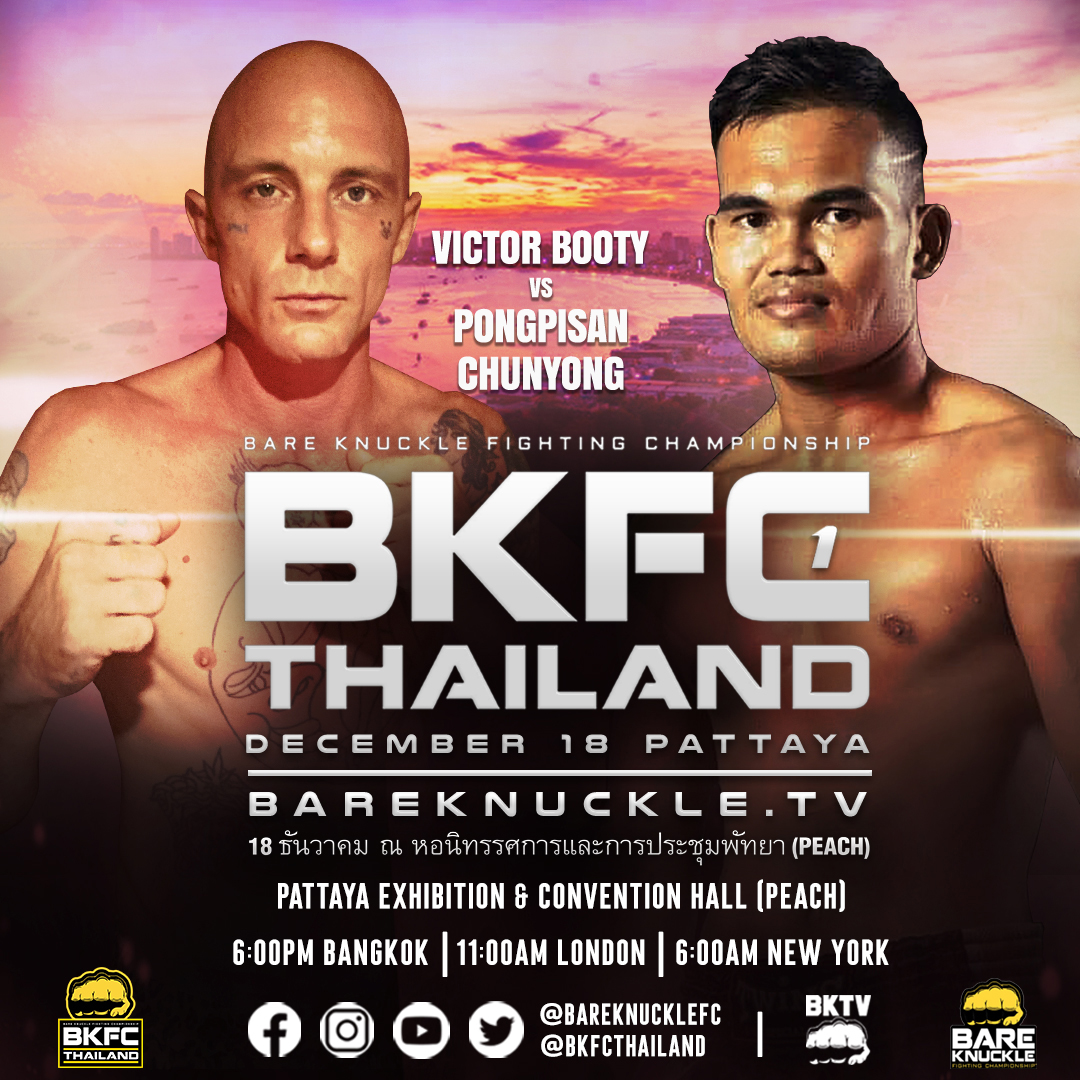 7: Thoedsak Sinam (Thailand) vs Reza Ahmadzezhad (Iran)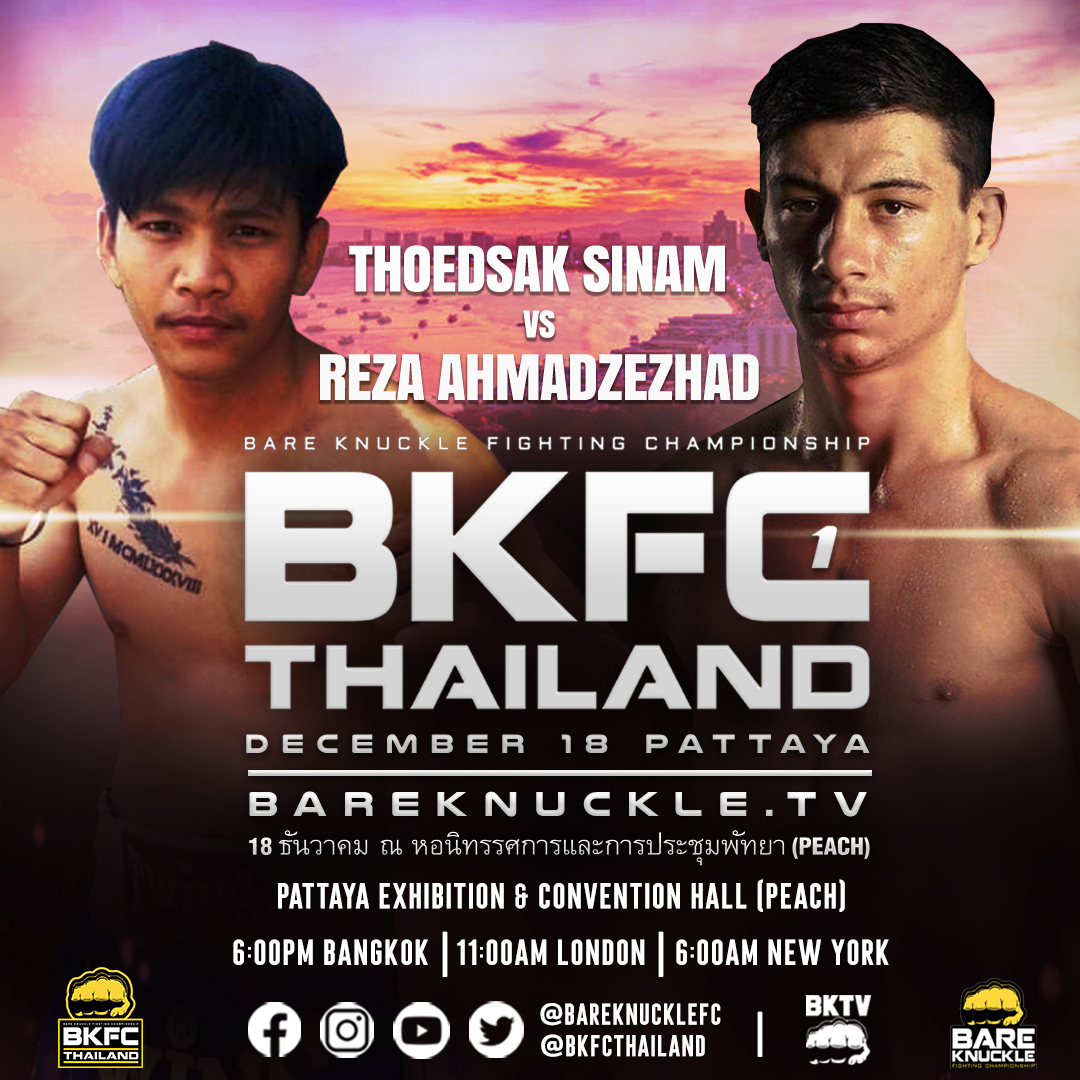 6: Jean Carlos Pereir (Brazil) vs Johan Van de hel (France)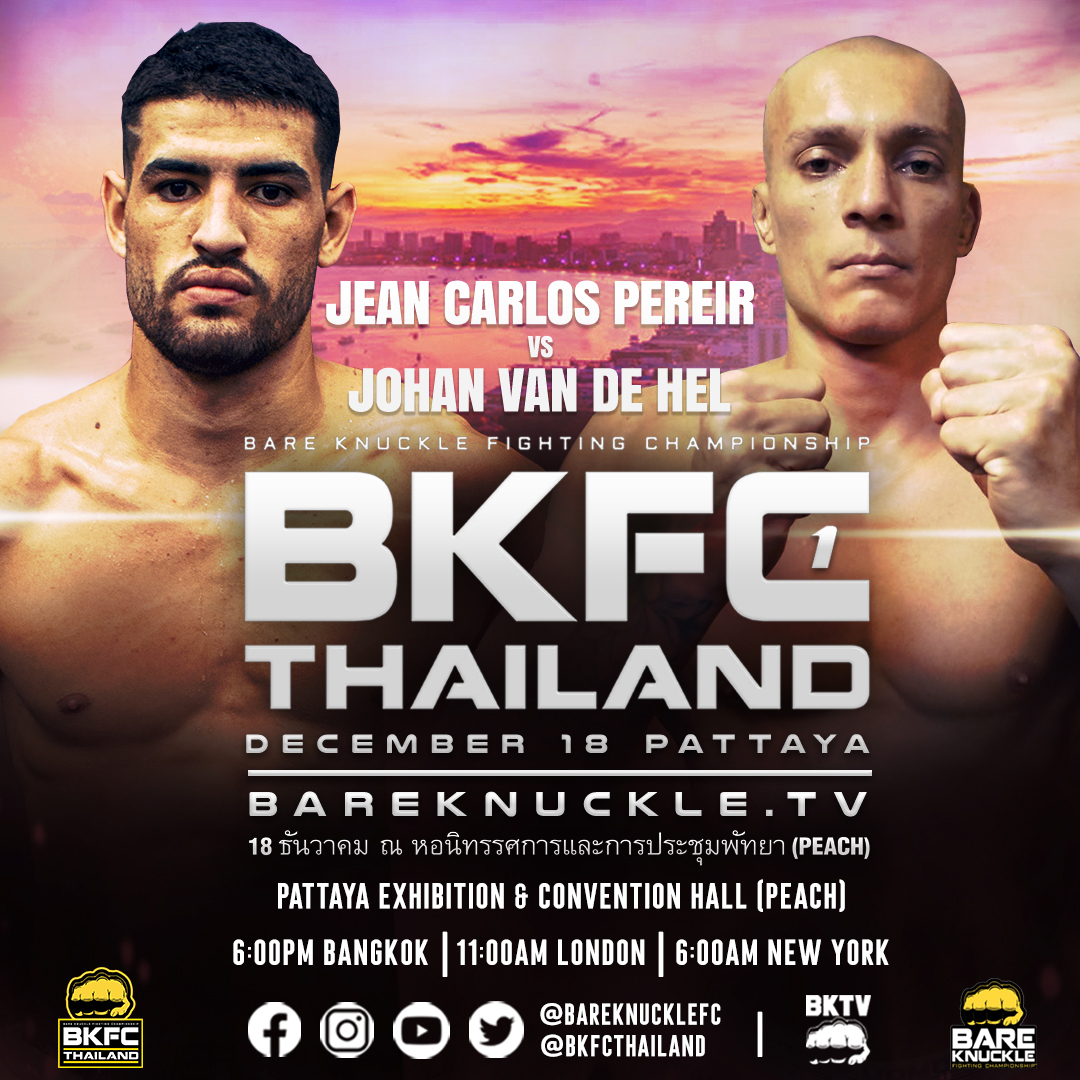 5: Souris Manfredi (France) a world Lethwei Champion vs Saowaluk "Jade" Nareepaengsri (Thailand) a highly experienced Muay Thai and Western Boxer having more than 100 fights.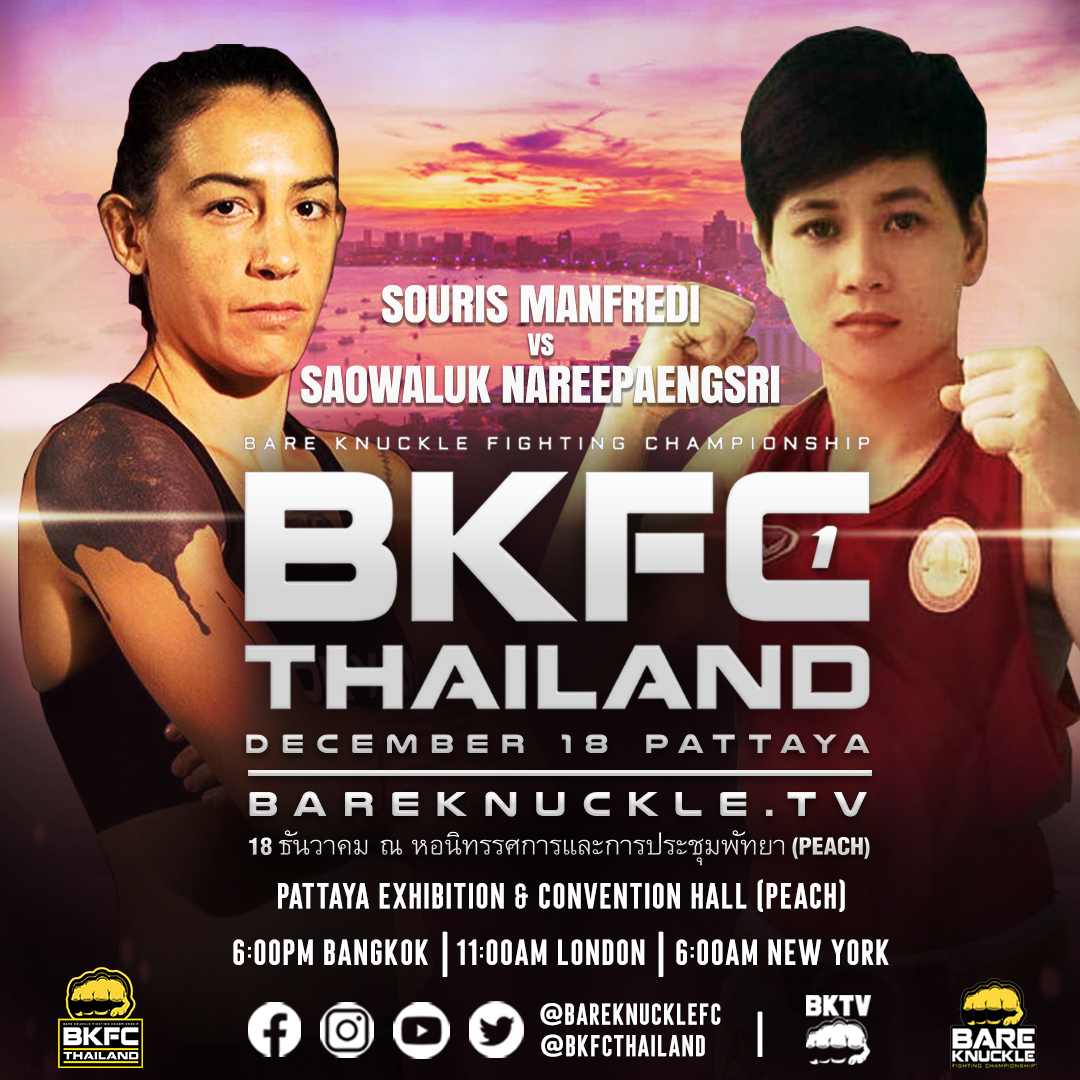 4: Nikolay Gussev (Kazakhstan) a heavy-hitting Muay Thai veteran vs Arash Mardani (Iran) coming off of a very impressive pro boxing KO victory and a former Olympic silver medallist in wrestling
3: Pipat Mike Chaiporn (Thailand) vs Sarun Srioumboo (Thailand)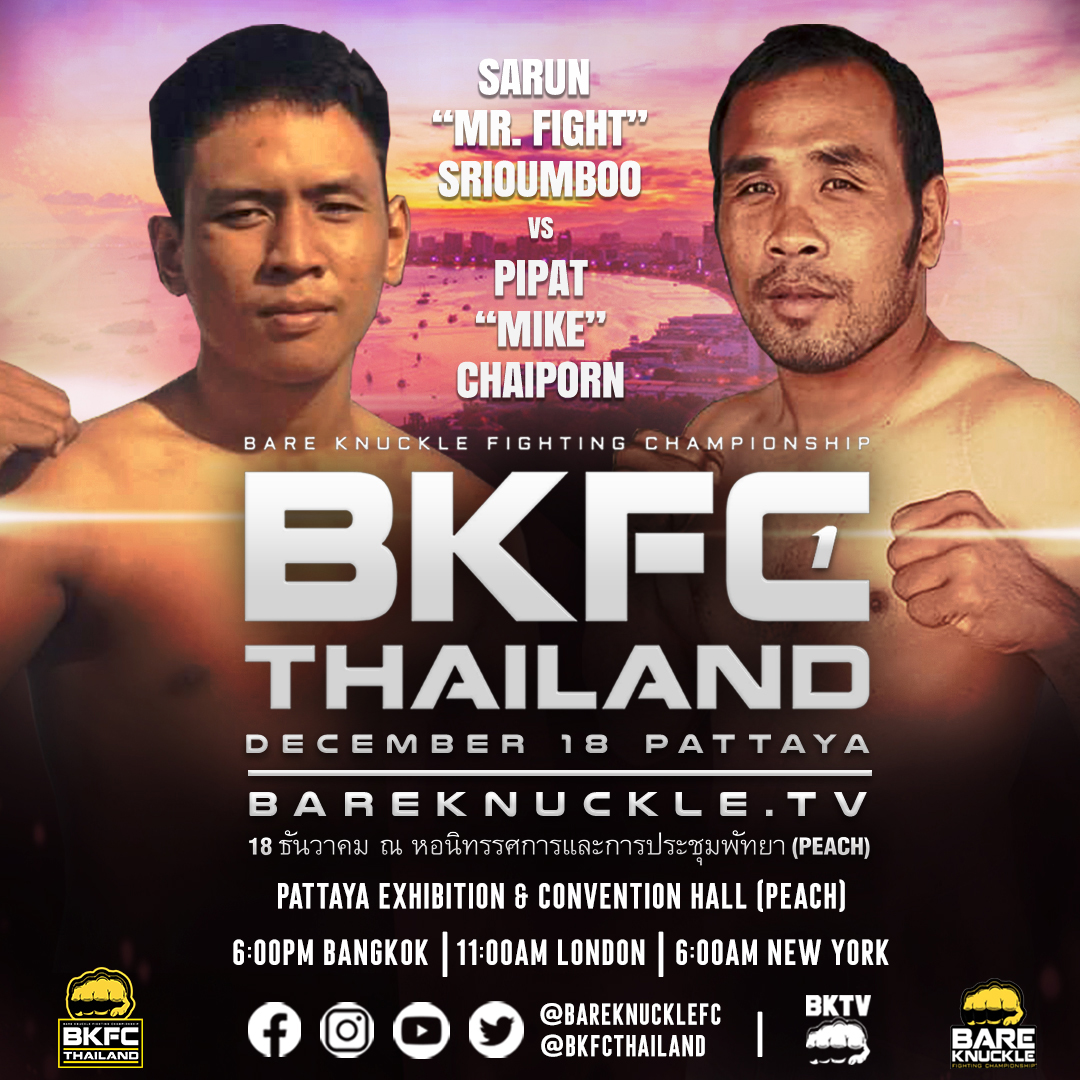 2: Surasak "Seansuek" Sukkhamcha vs Ermek Kumachaev (Kyrgyzstan)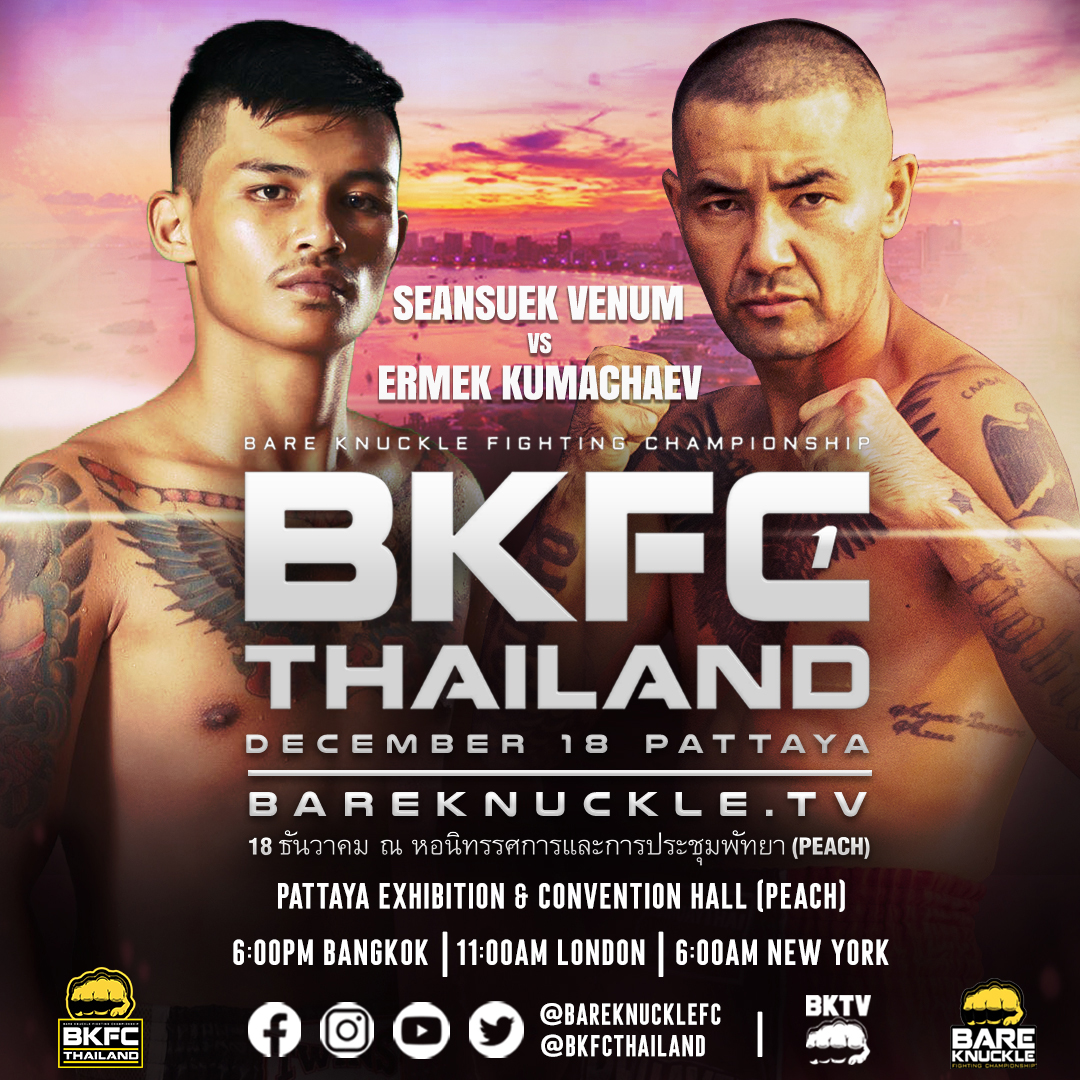 1: Sominong War (Myanmar) vs Surachat Srirod (Thailand)
This is new, this is exciting and it is as real as it gets, bare-knuckle means bare-knuckle in this sport. Fighter do not tape or wrap anything over the knuckles, its gloves off, toe the line, and knuckle up!! BKFC Thailand wants to thank Fighters Friend Natural performance-enhancing herbal extractions, our honored Headline sponsor for their amazing support.
Come and be a part of a new beginning here in Thailand and check out BKFC Thailand 1 "The Game Changer" by buying tickets at https://www.thaiticketmajor.com/sport/bkfc-thailand-2021.html 080 317 4131 or subscribing to the BKTV App at this link https://referral.bareknuckle.tv/BKFCThailand You can follow BKFC Thailand on Facebook, Instagram, YouTube, and TikTok @BKFC Thailand
You can follow BKFC on Facebook, Instagram, YouTube, and TikTok @BAREKNUCKLEFC https://www.bareknuckle.tv
It's history in the making and not to be missed!
The preceding is a press release published with full permission and authorization by the organization(s) listed in the PR material and TPN media. The statements, thoughts, and opinions of the organization involved in the press release are entirely their own and may not necessarily represent those of TPN media and its staff.