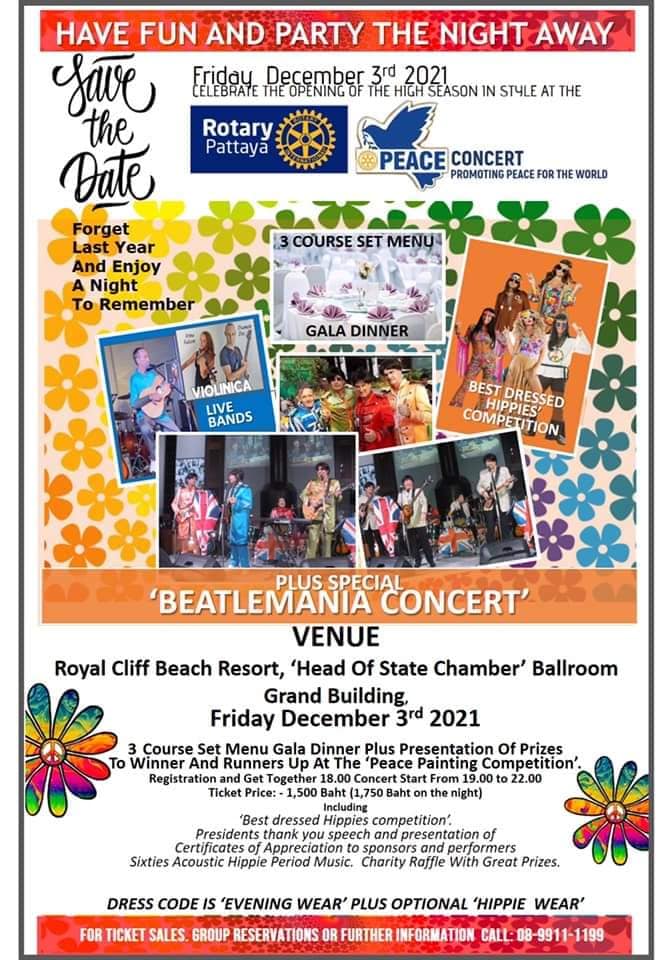 Pattaya, Thailand-
  The Rotary Club of Pattaya, Pattaya's oldest club founded in 1972, is all set to hold the previously long-delayed Rotary Peace Concert on December 3rd of this year, with only a few days to go!
-=-=-=-=-=-=-=-
  First, learn more about the Peace Art Exhibition that is part of the Peace Concert held earlier this year just before Covid-19 restrictions and measures essentially shut down all events and gatherings for about six months.
Click here for those details.
-=-=-=-=-=-=-=-=
 To see even more about the Peace Art competition and to learn how to potentially purchase some artwork for yourself, please click here.
–=-=-=-=-=–=-=-
  The concert will include a 3-course set menu gala dinner and will be held at the "Head of State Chamber" ballroom at the Grand Building on the 2nd floor of the Royal Cliff in Pattaya.
  The concert and dinner will start registration and fellowship at 6:00 P.M. on Friday, December 3rd, and the actual event will run from 7:00 P.M. to 10:00 P.M.
Tickets per person, if still available, are 1,750 baht on the night, but available for a discount NOW. The number of seats left is extremely limited and organizers encourage people to pay in advance so they don't risk being turned away at the door due to limited seating and Covid-19 precautions. There is NO guarantee if you arrive at the door without an advance ticket that tickets will still be available.
Advance ticket sales promotion is 1,500 baht per person, including the 3-course set menu gala dinner, but not including beverages.
Only a very small number of tickets are left as of today, December 1st, with only a few days to go! Make sure you get yours now by seeing below!
-=-=-=-=-=-=-=-=-
The program will include: Sixties acoustic hippie period music from a variety of artists, presentation of prizes to the winner and runners up of the 'Peace Painting Competition', A charity raffle with great prizes, a 'Best dressed Hippies competition', the President's thank you speech and presentation of Certificates of Appreciation to sponsors and performers.
Also features a 'Beatlemania concert' and live bands/DJ.
–=-=-=-=-=-==-=–=-
You can contact members of the Rotary Club of Pattaya for ticket sales and further information here: 08-9911-1199.
–=-=-=-=-=-=-=-=-=-==-=-=-=-
About the Rotary Club of Pattaya
For more information on the Rotary Club of Pattaya, 
please click here. This is a link to the club's fairly new website and detailed information for those interested!
In their own words here is a brief overview of what Rotary does for the community:
Rotary is a global network of 1.2 million neighbors, friends, leaders, and problem-solvers who see a world where people unite and take action to create lasting change – across the globe, in our communities, and in ourselves.
The club has its regular meetings on Mondays twice a month at the 5-star Royal Cliff Beach Resort in Pattaya at 19.00 pm. (Fellowship starts at 18.30 pm). Guests are welcome if you wish to hear how you can help out in the local community or inquire about joining the Rotary Club of Pattaya.
Due to Covid-19, the numbers of people attending are still limited, so making reservations in advance is suggested at this time. Contact person: President Niels Colov: 08-9911-1199