National –
Highlights:
Emergency Decree proposed to be extended until the end of January

New color coding zones implemented, Chonburi downgraded from Red to Orange

Entertainment venues will reopen, as scheduled, on January 16th, 2022, although there is potential for earlier opening still the CCSA stated

As for any change on the alcohol ban in restaurants in Chonburi/Pattaya, this will need to wait for Governor and Communicable Disease Committee approval, if at all. There is no guarantee of this happening.
The Center for Covid-19 Situation Administration (CCSA) today, November 26th, has announced the rezoning of provinces nationwide and several changes in preventive measures, including reconsideration of entertainment venues, reopening.
Firstly, the government has agreed to extend the emergency decree nationwide for the 15th time to control the spread of the disease, to be implemented from December 1st, 2021, to January 31st, 2022. There had been a previous discussion around replacing the decree with communicable disease laws, however, this is not going to take place for now as it would need a debate in Parliament and some politicians were concerned with certain parts of the proposed laws. This needs the final approval of the Thai Cabinet but is nearly certain to happen notes TPN media.
The CCSA has also revoked the list of the maximum and strict control areas or the dark-red zone, which means that overnight curfew hours have now been officially canceled nationwide (By December 1st), resulting in 23 provinces listed in the strict control areas (red zone), 23 provinces in the controlled zone (orange), 24 provinces in the high surveillance areas (yellow), and 7 provinces in the pilot tourism zone (blue zone).
The blue zone has been increased for 4 to 7 provinces, namely Bangkok, Krabi, Kanchanaburi, Nonthaburi, Pathum Thani, Phang Nga, Phuket. Chonburi is listed in the controlled zone (orange zone). The recategorization will be implemented on December 1st. TPN media notes that 19 areas in total are tourism areas, according to the graph, which includes cities and districts in provinces that are not entirely "blue".  This list was not given, however, and it was not clear if individual districts or cities that are blue (like Pattaya) would be able to lift alcohol bans at restaurants or other relaxation measures. Further information would likely be given by the Governor, if anything changes, before December 1st. Blue zones are given further relaxation measures, allowances for tourists to enter as a "sandbox" if not doing test and go and permission for more relaxed activities to boost tourism, although what these relaxations are differed by province and area and need Governor approval.
Chonburi, notes TPN media, is now an orange zone overall, downgraded from red.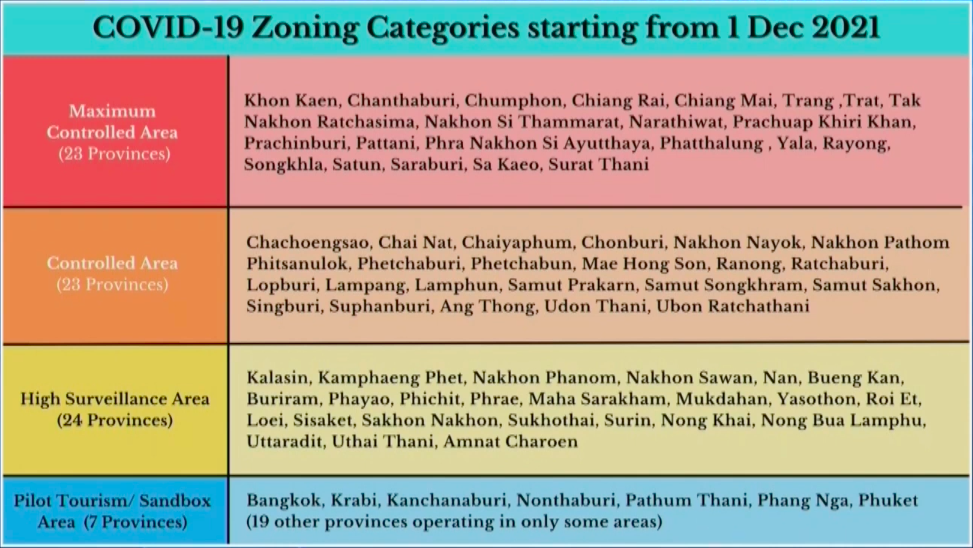 Regarding the possibility of entertainment venues, like bars, nightclubs, and entertainment venues reopening following the demand of the business entrepreneurs and workers, the CCSA general meeting has decided that they would work in line with operators to ensure that the reopening can be done at the earliest opportunity.
This means that the opening nationwide can, in theory, be done earlier than January 16th as previously announced by the CCSA in the last meeting if the situation is resolving and the operators are willing to abide by the strict preventive regulations. However, for the most part, the government is sticking to the January 16th, 2021, date as an "official" reopening date for entertainment venues, which means for now the status quo stays.
Starting this December, owners of entertainment venues are required to prepare official surveillance to inspect their legal permit, location, arrangements, and readiness for a possible reopening at the earliest time. More information on this is reportedly forthcoming from the CCSA, but the venues will need to be "Covid-free" zones and ensure that all staff is fully vaccinated against Covid-19. Some other rules that will be effective are reportedly no karaoke, no dance floors, no promotions/parties, no shared drinks, and no staff close interaction with customers.
In short, at this time, only restaurants in high surveillance and pilot tourism areas are allowed to sell and drink alcoholic beverages until 9:00 PM, according to the CCSA. The businesses cannot be opened later than midnight and must strictly follow Covid Free Setting measures.  This also needs Governor and provincial communicable disease committee approval, notes TPN media, which as of press time has not been given.