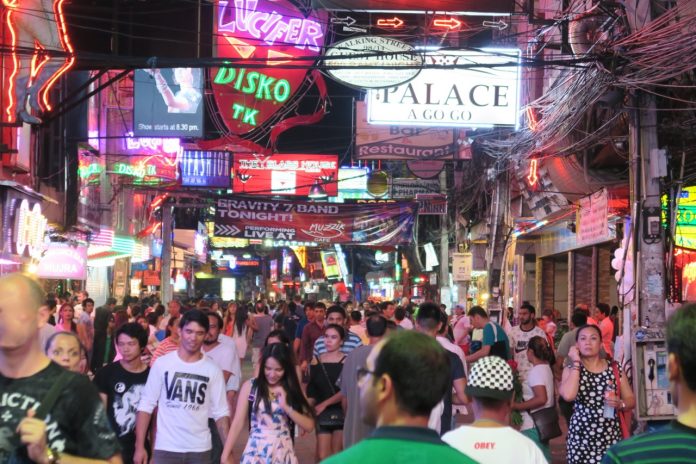 The following is our exclusive weekly feature in which we ask our readers a news topical question and then give you a week to answer it on our various channels, compiling a diverse range of answers and opinions to present to you, our valued readers. Here are the results from our last question…
Last week, we asked you the following:
The context around the question was the following:
One plan being proposed by some major roads and areas in Pattaya is what Khaosan Road is currently doing in Bangkok. What is the proposal? Good thing you asked!
Simply put, the road is restricted to only certain entry and exit points. At these points are staff checking vaccine status. If one is fully vaccinated against Covid-19 with proof, they can enter the street. If one is not vaccinated, they can take a rapid Covid-19 ATK test for 100 baht. If cleared, they can go enjoy the bars and street. If positive, however, an ambulance is on standby for a trip to the hospital, as in Thailand anyone positive, even vaccinated and fully asymptomatic, must be quarantined with a variety of options depending on the area. Each business open must close at certain times and also must pass Thai Stop Covid Plus assessments, which requires all their staff to be vaccinated and some other measures, but not as strict as needing SHA (Safety and Health Administration) approval or "proper" restaurant licenses.
Would you be ok with this for Pattaya, even if only temporarily, to allow certain areas to open legally once again? What are your thoughts on this system? What areas do you think this plan could potentially work for? What are the positives and negatives of such an idea, keeping in mind that, so far, Khaosan Road in Bangkok seems to be doing well with the plan and exemption?
Here is what you, our readers, had to say as our editors selected some of the most diverse responses to highlight different points of view. Obviously, we can't post everyone's opinion here so selected a variety of the most diverse opinions. As always, the opinions and statements below are the reader's own and may not reflect those of TPN media. There have been minor edits for spelling and grammar only:
-=-==-=-=
Apolo-Pattaya will never reopen their nightlife at all not even a chance in mid-January. Everybody from the government seems to be panicked right now. Go to Phuket.
-=-=-=-=-=-=-=
Bryce I-There is no logical reason Pattaya is not open like Phuket, Bangkok, or Samui. Even places like Buriram and Koh Chang are pretty much normal. Only Pattaya is being enforced hard (Ok, Chiang Mai sort of too, but they have always been stricter) and despite very vocal protests from hundreds of business owners, associations, breweries, etc, the government refuses to give reasons or open it. Read between the lines, this isn't about Covid. Obviously, someone or a group of someones that are very powerful wants Pattaya shut for a while basically to the party/foreign tourist crowd. Who that is and why is debatable, but it is quite clear someone is doing this.
-=-=-=-=-=–=-=-
Alan M-Good God no! Take an ATK test to enter, only to find you are positive then spend 14 days in quarantine at your own expense? No!!!
We already have Morprom, Morchana, Thailandpass, COE, SHA+, and the MPH cert to navigate. It's a nightmare. My advice to anyone thinking of visiting Thailand now is don't. Only come when and if all this nonsense goes away.
-=-=-=-=-=–=-
Lindy P-Yes absolutely!! We'd be more than happy to show vaccine status to enter and get things going again. It is so sad to see everyone's businesses and locals suffering. Australian Doherty Institute research shows that once the vaccination rates reach 80% or more, then locking things down does more harm than good (both mentally and for the economy).
-=-=-=-=-=-=-
Dennis O-I am not vaccinated, but would gladly pay 100 baht to enter LK or Treetown. Then they shove a swab up my nose, It shows FALSE positive or I am asymptomatic and I am sent to Quarantine for 10 days and 50,000 baht.
As soon as I pay for my plane ticket, insurance, SHA hotel, PCR test, then ask for permission from THAI PASS, I will be rushing to Thailand. I want to be there in time for Andrea Bocelli. I heard that maybe Sir Paul McCartney will be playing also with his Blues Band.
Next year I also hope to see Big Foot, ride a Unicorn, and discover Amelia Earhart's plane
-=-=-=-=-=-
Ken A-I would support this idea, Pattaya for some reason seems to have been selected for punishment. Tourists won't come if there is nothing to do in the evening. Even the most straight-laced person on holiday enjoys a drink with a meal or stopping off during a walk for a refreshing drink. Let's get realistic numbers are going down, vaccinations are, in tourist areas as good as anywhere. Open up to 2300hrs to start with and see how it goes. Ken Allan
-=-=-=-=-=-
Peter-Alone the idea is shocking. The people will drink and talk in close contact. They will move from entertainment places to entertainment places (bar hopping for instance). They will take sex partners with them. Some will be drunken and not care about anything. So I think it would be a crazy idea to allow to open parts of Pattaya's nightlife. It is not worth the risk. It could cause big damage to other people. Keep it closed.
-==-=-===—=-=
Mr. llort-Keep the sector closed forever. Starve them out of business. After ripping many valuable customers off like me for many years they deserve to be destroyed and eliminated. I would not shed a tear if it becomes a permanent anti-alcohol zone.
-=-=-=-===-=-=-=
Anthony B-This would be great. Do what we are doing here in San Francisco.   If you want to go to a bar, eat in a restaurant, go to the theater, symphony, a basketball game and so much more… Full vaccination is required.   During the period of time that vaccination was still not as easy to get.. a negative covid test was also allowed.   Now, even children will soon have to be vaccinated to eat in a restaurant or attend a show.   This would definitely work for tourists as they are almost certain to be allowed into the country only after full vaccination or testing with quarantine and having the rapid covid tests on-site could help. Create entertainment districts.  The challenge Thailand has is this mandatory asymptomatic quarantine… that would be hard to do at individual businesses.
-=-=-=-=-=-=-=-=
Matty E-If this happens I guarantee now it'll be for Soi LK Metro. And purely that. Walking Street has too many sois that allow entry to it.
-=-=-=-=-=-=-=–
John W- Not a chance!!! Just another reason for them to scam you.
-=-=-=-=—=-=-
Billiam B-Yeah, I want to get a false positive test done by some fella with a grade three education and get whisked off to a hospital for 2 weeks with zero symptoms. Where do I sign up?
-=-=-=-=-=-=–
Daryl V-I think it is a great idea. Allows life to be a bit more normal while still looking after the health aspect.
-=-=-=-=-=-=-=-
Deepak T-Very good step taken by the government to çontrol on COVID-19
-=-=-=-=-=-=-=-
Gerald B-I can see why people are opposed especially those with bars outside the area, however, we have to learn how to live with the virus and this could be a start.
-=-=-=-=-=-=-=-
David W-No.. All or nothing.. Unfair on owners who have to stay closed.
–=-=-=-==-=-=–
David L-I'm double vaxxed and I think it's ridiculous. Wouldn't lure much back with nonsense like that
-=-=-=-=-=-=-
James P-I can imagine the foreigners will be singled out as they are regarded as walking ATMs, if I was selected I would just walk away and take my custom elsewhere.
-=-=-=-=-=-=-
That is it for this week! Stay tuned for another reader Talk back VERY soon! We appreciate EVERYONE's feedback and thoughts! If you didn't get a chance to answer, Tell us on our social media channels, in the comments below, or if you prefer your comment to be private mail us at Pattayanewseditor@gmail.com.