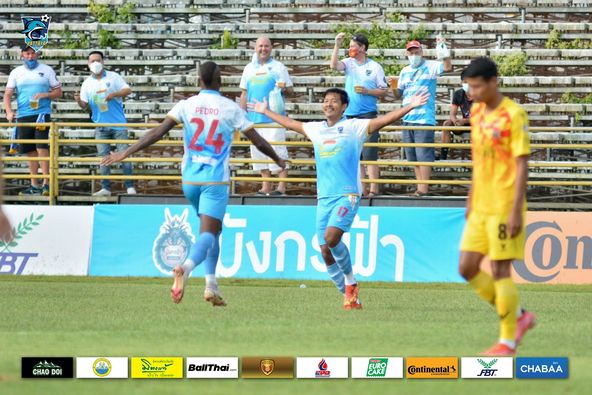 Nongprue-
Pattaya Dolphins United, currently the number one team in their league, won another game, this time in front of their hometown fans in Nongprue at Nongprue stadium.
The game took place on Sunday, November 21st, 2021 at 4:00 P.M. at Nongprue Stadium near Pattaya against the Marines Eureka Football Club. The hometown fans were loud and excited with a 50% capacity allowed due to Covid-19 measures currently in place.
The win was a dominating one, 6-0 against Marines Eureka FC.
The win, which comes after a close game last week but continuing a current winning streak, gives massive momentum to the Dolphins in the days to come as they prepare for the Chang FA Cup later this week.
The Pattaya Dolphins United, who are currently at the top of their league and face True Bangkok United in the Chang FA Cup round of 32 on November 24th in Bangkok, have a brand new coach to help them continue their winning ways.
For more pictures and information on the win, please see the Dolphins Facebook page here.
TPN media will be following the big game against Bangkok United later this week.
Photo courtesy Pattaya Dolphins United Official Facebook.