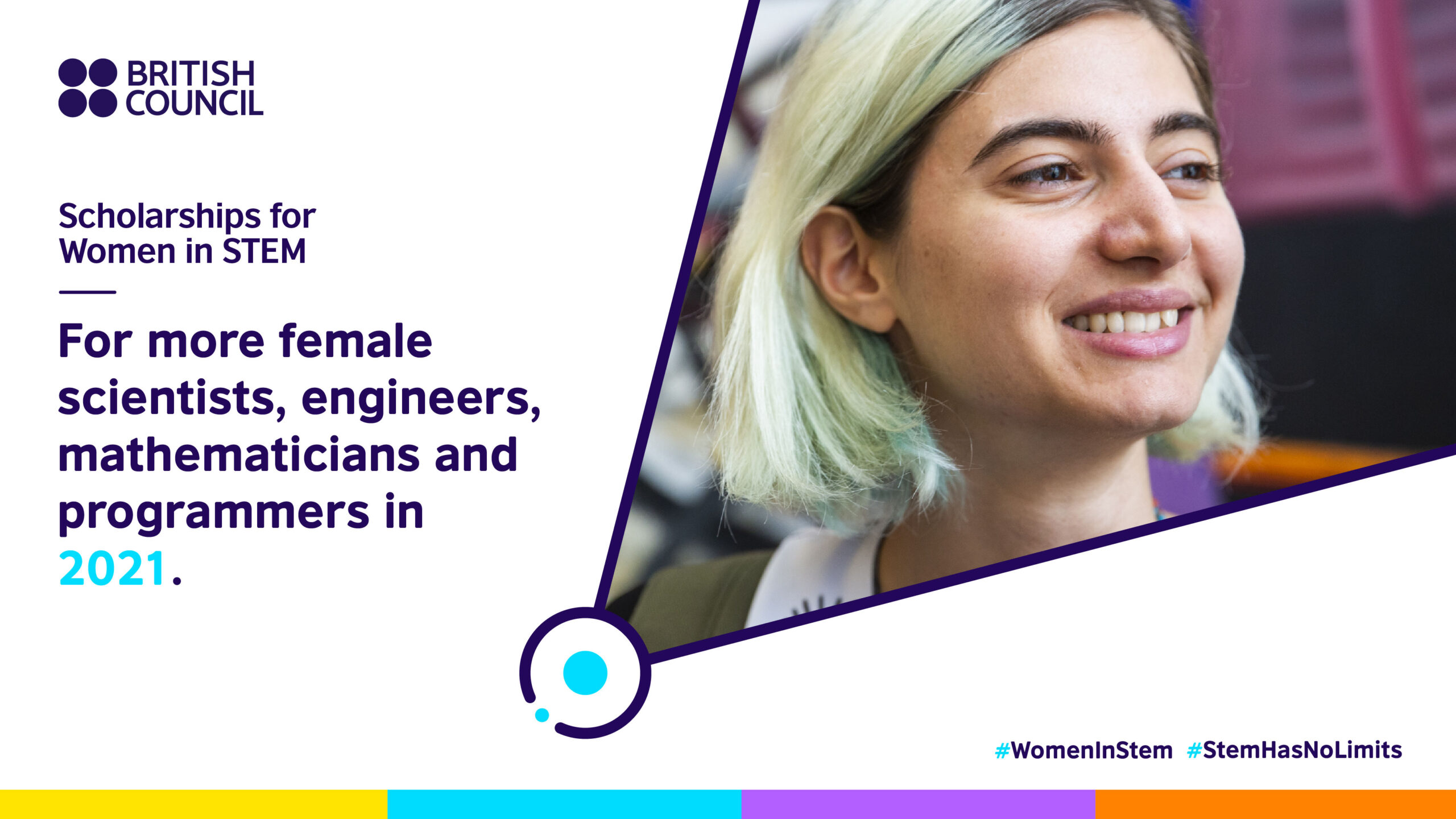 In today's society, the role of women in the field of Science, Technology, Engineering, and Mathematics (STEM) is still limited. The statistics from UNESCO show that only 28% of researchers worldwide are female and only 30% choose to further their higher education in a field related to STEM, which is one of the most important fields in this globalized world where technology plays a critical part in the global economy.
The Women in STEM scholarship combines two key areas of the British Council's work. Namely, a strong cross-cutting agenda for EDI (Equality, Diversity, and Inclusions) and developing and internationalizing higher education with a particular focus on Science. The British Council launched this new scholarship globally earlier this year to encourage and enable more women to pursue Master's level studies in STEM in the UK. Recognizing the need to also give this opportunity to women who would not normally have had the economic means to study abroad, these are full scholarships covering tuition fees, accommodation fees, and personal expenses, as well as a special support for those who have children and expenses related to the university's language foundation course. In this initial launch, there were 108 fully-funded scholarships globally of which 15 were open to 8 countries in South East Asia.
Of these 15 scholarships, we are delighted to announce that Thailand was successful with British Council selecting Lizz Srisuwan, a physician in public health service with a commitment to promote equal access to the health care system, especially for LGBTIQ and transgender people, as the first recipient of the 'Women in STEM' scholarship in Thailand. Lizz is also Thailand and ASEAN's first transwoman who has received the 'Women in STEM' scholarship.
Lizz Srisuwan, Thailand's first 'Women in STEM' scholar mentioned that she, as a transwoman with experience working in public health service at the Thai Red Cross Society, has always paid special attention to the issues on LGBTIQ, especially access to the health care service as it is one of the most important issues for LGBTIQ. This is because LGBTIQ has special needs for health issues that are often not included in the general health care service rights. Consequently, their access to the health care service is limited for several reasons, such as fear of rejection, discrimination, stigma, rules, and regulations, and other gender-related legal rights. She wants to create opportunities for everyone to have equal access to the basic health care service without any gender-related issues.
"I am very proud to have received this scholarship from the British Council and have arrived safely in the UK. I'm getting ready to start my Master of International Public Health at Liverpool John Moores University and intend that after graduation, I want to continue working with public health policy to support and solve the issues with inequality for all transgender and LGBTIQ people," states Lizz.
Additionally, Ms. Helga Stellmacher, Director of the British Council Thailand, states that the British Council, as an international organization for cultural relations and educational opportunities from the UK, aims to enable more women to study STEM subjects at the Master's level in the UK through the support of the Women in STEM full scholarships.
"In this regard, British Council Women in STEM Scholarships are designed to promote opportunities for women who are competent in STEM Education but wouldn't have had the opportunity to further their study with a Master's Degree in the UK. The British Council sincerely hopes that these scholarships will be the gateway to the future for more female careers in the field of STEM and by taking an active part in the British Council Women in STEM alumni group, that the scholars will play an important part in advocacy for future generations of girls and women not least representing influential role models," added Ms Helga.
For Academic Year 2021-2022, the British Council will, for the second year, be offering the Women in STEM scholarships for Thai women as well as another 7 countries in South East Asia including Laos, Cambodia, Myanmar, Vietnam, Indonesia, Malaysia, and the Philippines. More updates and information can be found on the website www.britishcouncil.or.th or Facebook Fan Page "British Council Thailand".
# # #
#BritishCouncil #JCCOTH
About the British Council
The British Council is the UK's international organization for cultural relations and educational opportunities. We build connections, understanding, and trust between people in the UK and other countries through arts and culture, education, and the English language. Last year we reached over 80 million people directly and 791 million people overall including online, and through broadcasts and publications. Founded in 1934 we are a UK charity governed by the Royal Charter and a UK public body. We receive a 15 percent core funding grant from the UK government.