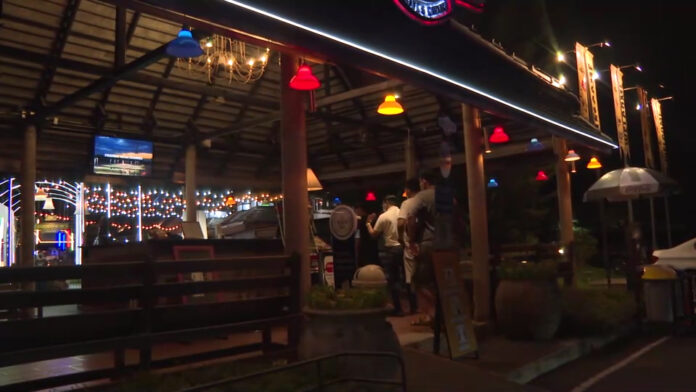 Chiang Mai –
Business sectors in Chiang Mai urge the government to allow alcohol sales as the country reopens to foreign tourists, stating that prohibiting drinking in the province is not profitable for local entrepreneurs.
Thanit Chumsaeng, President of the Chiang Mai Restaurant and Entertainment Association, revealed to the local media today, November 18th, that restaurant operators in Chiang Mai wanted to run their businesses while being able to sell alcoholic beverages for customers for dine-in. Some conditions may be applied for safety such as implementing the selling hours of between 5:00 PM. and 9:00 PM. increased spacing between guests, better lighting, etc.
"If permission is given, that would be a good thing. We now have to admit that drinking alcohol has become a part of Thai dining. The permission can preliminarily exclude the entertainment venues in the initial step, as we understand that is where much of the Center for Covid-19 Situation Administration's (CCSA) concern is based." he said.
Thanit further stated that local restaurants are now adapting, improving, and complying with the goverment's Covid Free Setting standards to create the highest level of safety and customer confidence when using their establishments. Additionally, Chiang Mai now has provided vaccination for entrepreneurs, employees, and workers in the tourism business sector. 80 percent of workers in the restaurant business that is currently operating have already been vaccinated, according to Thanit.
Previously, there were approximately 14,800 restaurants in Chiang Mai. However, after several outbreaks of Covid-19 Coronavirus, only 50-60 percent of them, or about 6,000-7,000 establishments, are still in business, according to Thanit.
"If the government said the city is now welcoming tourists, both Thais, and foreigners, but restaurants are not allowed to sell alcohol and there is no entertainment or nightlife, then all restaurants here may not earn any income from the opening at all. Many foreigners are skipping Chiang Mai, Pattaya, Hua Hin, etc for the few areas where alcohol is currently permitted like Phuket and Bangkok. This is not fair to business operators in other areas which also have high vaccination rates." the President concluded.
Pattaya business owners and operators and various tourism association groups have also been pushing to lift the alcohol ban in their own tourist-reliant areas. We recently covered one group, led by Punnipa Flowers and Lisa Hamilton, representing hundreds of business owners in Pattaya attempting to have the ban lifted here.
TPN media notes that Chiang Mai has had a number of Covid-19 outbreaks and cases recently although the majority of them have come from markets and nurseries, according to Chiang Mai governor Prachon Pratsakul. Thung Siew market at Moo 3 village in tambon Ban Klang in San Patong district was closed from November 15-28 and the Ko Mui market at Moo 3 village in tambon Yang Noeng, Saraphi district, was closed from November 14-16.
Meanwhile, a nursery at Moo 9 village in tambon San Mahapon in the Mae Taeng district was ordered closed from November 14-27.
Photo Courtesy: Manager Online
-=-=-=-=-=-=-=-=-=-=-=-=-=-=–=–=–=–==-
Need Covid-19 insurance for your next trip to Thailand? Click here.
Follow us on Facebook
Join us on LINE for breaking alerts!