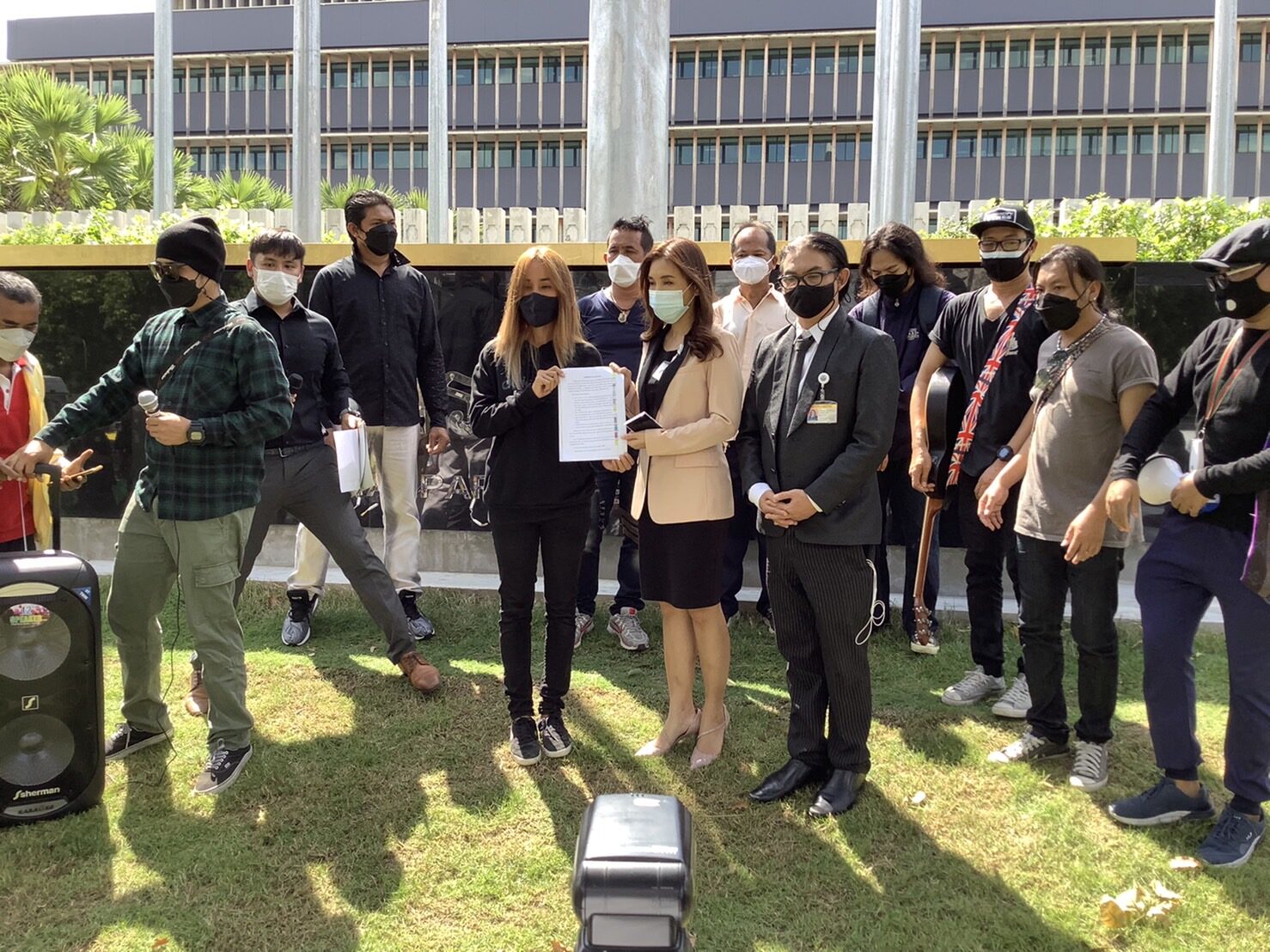 Bangkok –
Pressure has amped up on the Thai government over the past several days as operators and owners from the entertainment, hospitality, bar, nightlife, alcohol industry, hotel, and restaurant industry put increased pressure on the Center for Covid-19 Situation Administration or CCSA, to reverse or alter a decision to leave their businesses shuttered until after the holiday season.
First, a group of singers and entertainment venue representatives arrived at the Parliament House this afternoon, November 17th, to demand the reconsideration of the government's order of venues reopening after being postponed from December 1st to January 16th last week.
TPN media notes that the previous date of December 1st had only been a "consideration" but regardless the postponement had angered many in the nightlife and entertainment industry as if it sticks they would be closed for their busiest month of the year after already being closed for almost nine months this year and four months last year with little to no financial aid.
About 10 prominent representatives of nightlife business operators and freelance singers gathered in front of the Parliament Building to submit a request to a Thai Government representative after they have been affected by the government's orders of their business closures to prevent the spread of the Covid-19 pandemic for coming on two years.
This followed the CCSA general meeting announcement last week, chaired by Prime Minister Prayut Chan O'Cha, stating that the reopening of entertainment venues, including pubs, bars, and karaoke lounges, would have their business reopening postponed from December 1st to initially January 16th as the reopening would include gathering and activities that are still at risk of finding a high-risk group of Covid-19 infections.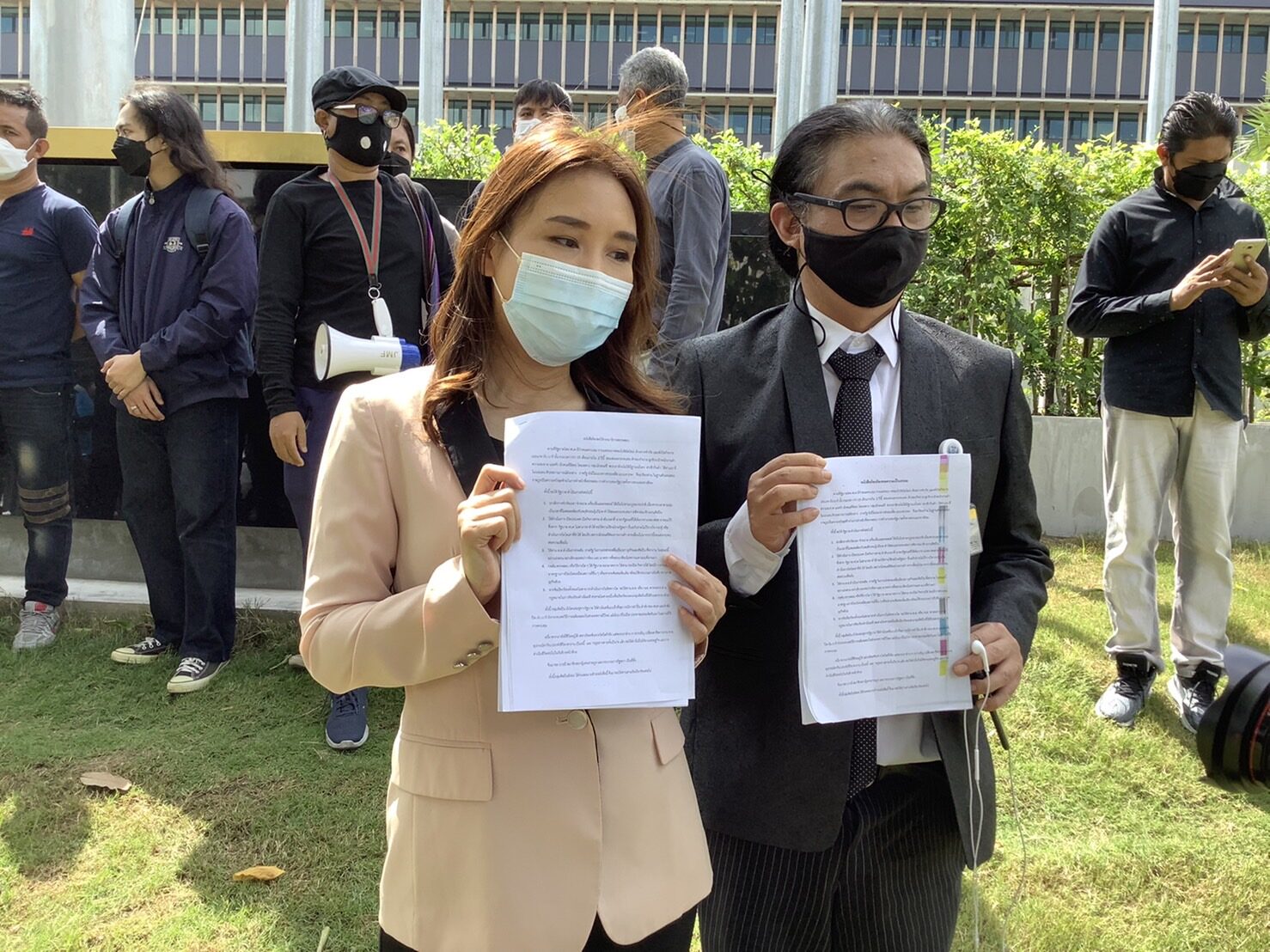 Ekkarat Udomamnuay, the leader of the group of entertainment entrepreneurs and street artists group, told reporters that the sudden postponement brings down hopes and plans of entrepreneurs and artists to work their jobs and earn their living after suffering from unstable wages and living conditions for coming on two years.
"We'd like to ask the government to revise the order and make it clear to entrepreneurs and nightlife workers groups when exactly they can reopen the entertainment venues. If it is final, the government should clarify what financial support measures or remedies they have for us, being that we would miss the busiest and most important month of the year." the president stated.
The group also gave 5 demands to the government, including:
To revoke the time limit for selling alcoholic beverages in approved restaurants until 9:00 PM.
To gradually reopen the country and businesses as previously planned and notified by the Prime Minister
To call for MPs to pressurize the government to help the entertainment business and unemployed artists urgently
To put pressure on any actions to allow the government to issue entertainment venues reopening under preventive measures like other businesses versus a blanket closure of all venues of all shapes and sizes.
If all claims cannot be made in any direction, the House of Representatives and relevant commissioners are urged to find legal litigation to the court on behalf of the affected artists.
Meanwhile, another group of representatives of pub, bar, and karaoke operators led by Anan Suwanpan, chairman of Saeng Chan Brewery, had met General Supot Malaniyom, secretary-general of the National Security Council (NSC), at the Government House to personally submit a similar letter to General Prayut Chan-O'Cha proposing guidelines for opening entertainment venues. This group represented major players in the alcohol industry who are also pushing for reopening. General Supot, notes TPN media, heads the Center for Covid-19 Situation Administration committee that deals with all restrictions and regulations proposals to the PM, Ministry of Public Health, and others.
After the discussion, the chairman, Anan Suwanpan, stated to the press that both parties had mutual understandings of each other. The group also stated that they are willing to follow the government's guidelines and measures as announced by the CCSA. However, they insisted the government grant the reopening of entertainment venues on December 1st as previously planned or as soon as possible.
Anan said: "After all, we are ready to adjust our business model like SHA+ restaurants to be in line with the CCSA regulations, such as proper airflow, crowd control, social distance, add more brightness to the venues, etc. to make it easier under safety standards and potentially reduce the risk of being a high-risk business. We are willing to make the venues more like restaurants in terms of crowd control, visibility, and seating if this would please the CCSA."
"In order to do so, the SHA standards must be included for our businesses to apply before making any adaptation to our venues to reduce risks. Currently, the entertainment industry cannot even register on SHA or SHA+, although they can complete Thai Stop Covid-19 Plus, which is being used now in Bangkok." Anan concluded.
The CCSA is reportedly going to take the suggestions seriously and discuss them in "the near future", although their next major meeting is not set until around November 26th.
Finally, as we covered yesterday, a group led by Mrs. Punnipa Flowers and Mrs. Lisa Hamilton representing over 400 bar and nightlife operators in Pattaya presented petitions and requests to the Mayor and Governor of the province to request that the alcohol ban at restaurants locally be lifted and their venues be allowed to open as an "exemption" similar to venues in Bangkok, Koh Samui, and Phuket. According to the Pattaya Mayor, Sonthaya Khunplume, the petitions and requests were also forwarded to the CCSA and relevant committees, including the one with General Supot and he fully supported the opening, but it needed the CCSA's approval. The Mayor also said he, the governor, and other relevant Chonburi officials would continue to meet and discuss with the CCSA to hopefully lift the alcohol ban and help local leaders and those who had filed and supported the petition.
In addition, eight major Chonburi tourism and hospitality associations also filed a formal request over the weekend to the CCSA to lift the ban, stating it was hurting tourism to the area overall and hurting every industry as it deterred foreign tourists. TPN media will continue to keep a close eye on this story and further developments as the interest from readers has been high, with hundreds of comments over the past several days. Two informal, unscientific polls conducted by TPN media on our social media channels showed roughly 80% of readers supported lifting the alcohol ban in Pattaya.
Photo Courtesy: Matichon
-=-=-=-=-=-=-=-=-=-=-=-=-=-=–=–=–=–==-
Need Covid-19 insurance for your next trip to Thailand? Click here.
Follow us on Facebook
Join us on LINE for breaking alerts!