Bangkok –
More restaurants in the capital with "Thai Stop Covid Plus" (TSP+) certification have been allowed to serve alcoholic beverages starting from Tuesday, November 16th, under similar requirements of SHA+ certified venues, following the Bangkok Metropolitan Administration (BMA) approval on Saturday.
TPN media notes, however, that the "Thai Stop Covid Plus" requirements are less stringent in terms of requiring a proper restaurant license or other steps which in theory, despite an ongoing "official" ban on entertainment venues and bars opening, has allowed bars to reopen as "restaurants" (largely without food) in the capital, Phuket, and elsewhere. Pattaya, despite business owners' protests, remains under a total alcohol sales ban.
According to the lifted restriction, eateries with TSP+ certification, authorized by the Public Health Department, can operate the same service, including selling alcoholic beverages, as the businesses that have SHA certification from the Ministry of Tourism and Sports.
Therefore, this means that more "restaurants" in Bangkok will be serving alcohol until 9:00 PM., according to the previous BMA announcement, effective from November 16th until the 30th or further notice.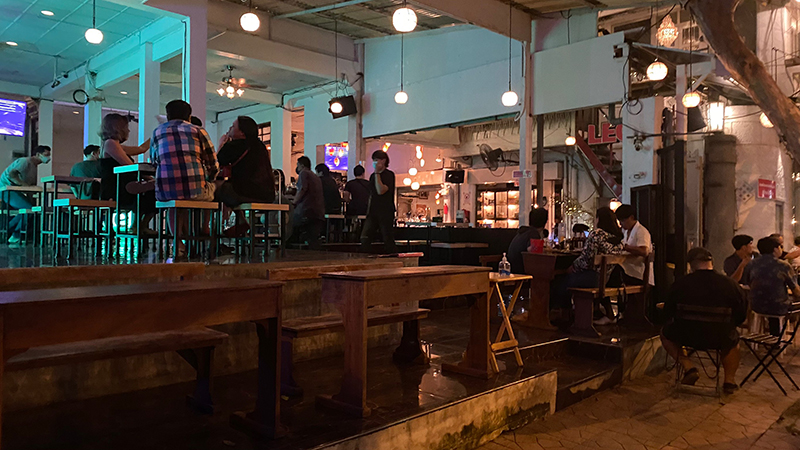 Dr. Sophon Iamsirithavorn, deputy director-general of the Department of Disease Control,  clarified the difference between the SHA and the TSP+ certifications in that the TSP+ will focus more on "the preventive practices of the venue and the providers and the recipients of the service."
"The SHA sign installed on the venues is to ensure health safety for customers when using the service. But the TPS+ strictly focuses on both parties to reduce the risk of the spread. A Covid-19 test will be conducted periodically among service providers and recipients while they must also be fully vaccinated and are not infected with the disease," he stressed.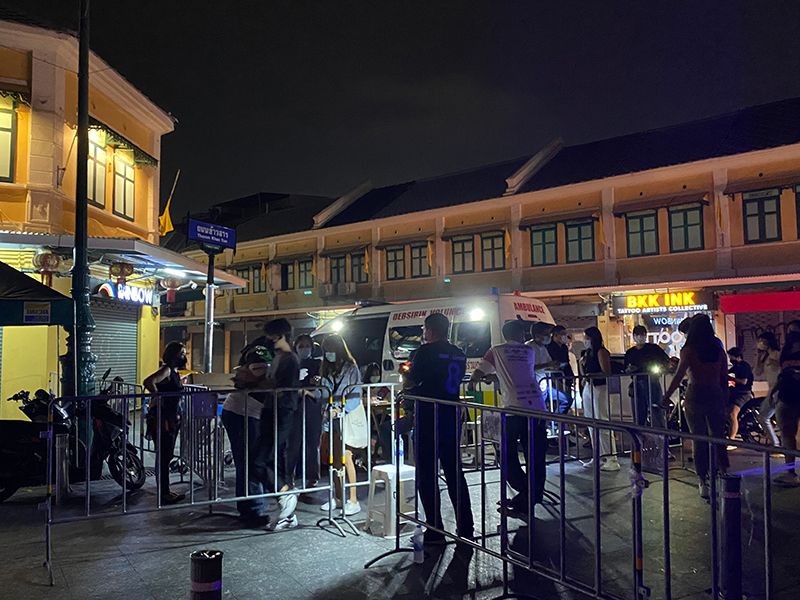 Meanwhile, Sanga Ruangwattanakul, president of the Khao San Business Association, said that most businesses on Khao San road have already applied their Covid-19 preventive measures that are similar to the TSP+ since November 1st, prior to the BMA announcement. TPN media adds that videos and photos of Khaosan bars (stated as restaurants, but not appearing to serve food) have gone viral on social media over the past week but Khaosan officials have clarified that with the measures they have taken and approval from authorities the current situation is permitted on the road.
He said: "We have already set up health screening points in Khao San Road and implemented our own measures to prevent the spread of Covid-19 since the reopening. Everyone who wanted to enter the area must go through either an ATK test, show proof of Mor Prompt health records, and/or proof that they are fully vaccinated."
"They are not allowed to enter if they are not vaccinated. And most of them not allowed to enter were Thais as most foreign visitors were already vaccinated from their homeland before traveling. However, we will still need to check their documents and vaccine certification to see if they received two shots for more than 6 months. They are also required to go through an ATK test just like others as well."
So far, more than 500 Thai and foreign tourists have visited the famous road and had gone through an ATK test with a service fee of 100 baht, according to his statement. None of them were proved positive yet, however, a hospital ambulance is always stationed in the area to deliver any tourists with positive ATK results for the RT-PCR test in case an infection was found.
Pattaya business owners have proposed a similar program to Khaosan in certain areas to allow parts of the cities famous nightlife and entertainment districts to reopen, but so far there has been no official response.
Photo Courtesy: isranews
-=-=-=-=-=-=-=-=-=-=-=-=-=-=–=–=–=–==-
Need Covid-19 insurance for your next trip to Thailand? Click here.
Follow us on Facebook
Join us on LINE for breaking alerts!