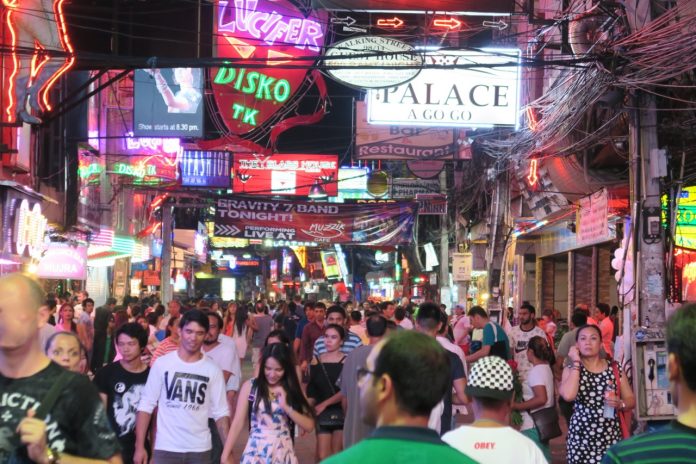 Thailand-
The following is our weekly feature in which we ask our readers a news topical question and get their insight and opinions. We then share their feedback a week later and pick a variety of diverse and interesting responses.
This week, we want to ask our readers the following question, prompted by the ongoing frustration from business owners and readers around Pattaya being a "dry zone" while Bangkok, Phuket, and others allow "restaurants" to serve alcohol once again.
Our question:
Would you support Covid-19 checkpoint areas (like on Khaosan Road in Bangkok) to allow parts of Pattaya's nightlife to reopen?
The context behind this question:
Pattaya remains, despite the best efforts by many business owners, banned from selling alcohol even at restaurants. The Center for Covid-19 Situation Administration, or CCSA, announced last week that bars, entertainment, and nightlife would stay legally closed until at least mid-January, disappointing many business owners, ex-pats, and tourists.
However, in reality, several areas, like Bangkok, Phuket, Koh Samui, Krabi, and a few others, have been legally allowed by the CCSA to reopen restaurants to serve alcohol. Rules differ by province and area. This has led to many "bars" becoming "restaurants", perhaps offering some chips or chicken nuggets or delivery food, and being allowed to open by local authorities without full restaurant licenses as they have passed assessments like the Thai Stop Covid-19 Plus assessment. This has seen areas like Bangla Road and Khaosan roar back to life with widely shared videos and photos on social media and Youtube, further frustrating Pattaya owners who cannot open in any form as a bar or restaurant owners who, legally, cannot sell a glass of wine with dinner like in Bangkok or Phang-nga.
Pattaya, arguably one of the most well-known nightlife and entertainment areas in the country, continues to have proposals by business owners to allow them to open. Chonburi is also, according to the Ministry of Public Health, the third most vaccinated place in Thailand, and Pattaya individually is nearing 90% fully vaccinated, according to Pattaya Mayor Sonthaya Khunplume.
One plan being proposed by some major roads and areas in Pattaya is what Khaosan Road is currently doing in Bangkok. What is the proposal? Good thing you asked!
Simply put, the road is restricted to only certain entry and exit points. At these points are staff checking vaccine status. If one is fully vaccinated against Covid-19 with proof, they can enter the street. If one is not vaccinated, they can take a rapid Covid-19 ATK test for 100 baht. If cleared, they can go enjoy the bars and street. If positive, however, an ambulance is on standby for a trip to the hospital, as in Thailand anyone positive, even vaccinated and fully asymptomatic, must be quarantined with a variety of options depending on the area. Each business open must close at certain times and also must pass Thai Stop Covid Plus assessments, which requires all their staff to be vaccinated and some other measures, but not as strict as needing SHA (Safety and Health Administration) approval or "proper" restaurant licenses.
Would you be ok with this for Pattaya, even if only temporarily, to allow certain areas to open legally once again? What are your thoughts of this system? What areas do you think this plan could potentially work for? What are the positives and negatives of such an idea, keeping in mind that, so far, Khaosan Road in Bangkok seems to be doing well with the plan and exemption?
We look forward to hearing from you! Tell us on our social media channels, in the comments below, or if you prefer your comment to be private mail us at Pattayanewseditor@gmail.com. We will publish the results and select a variety of diverse responses early next week, as always!