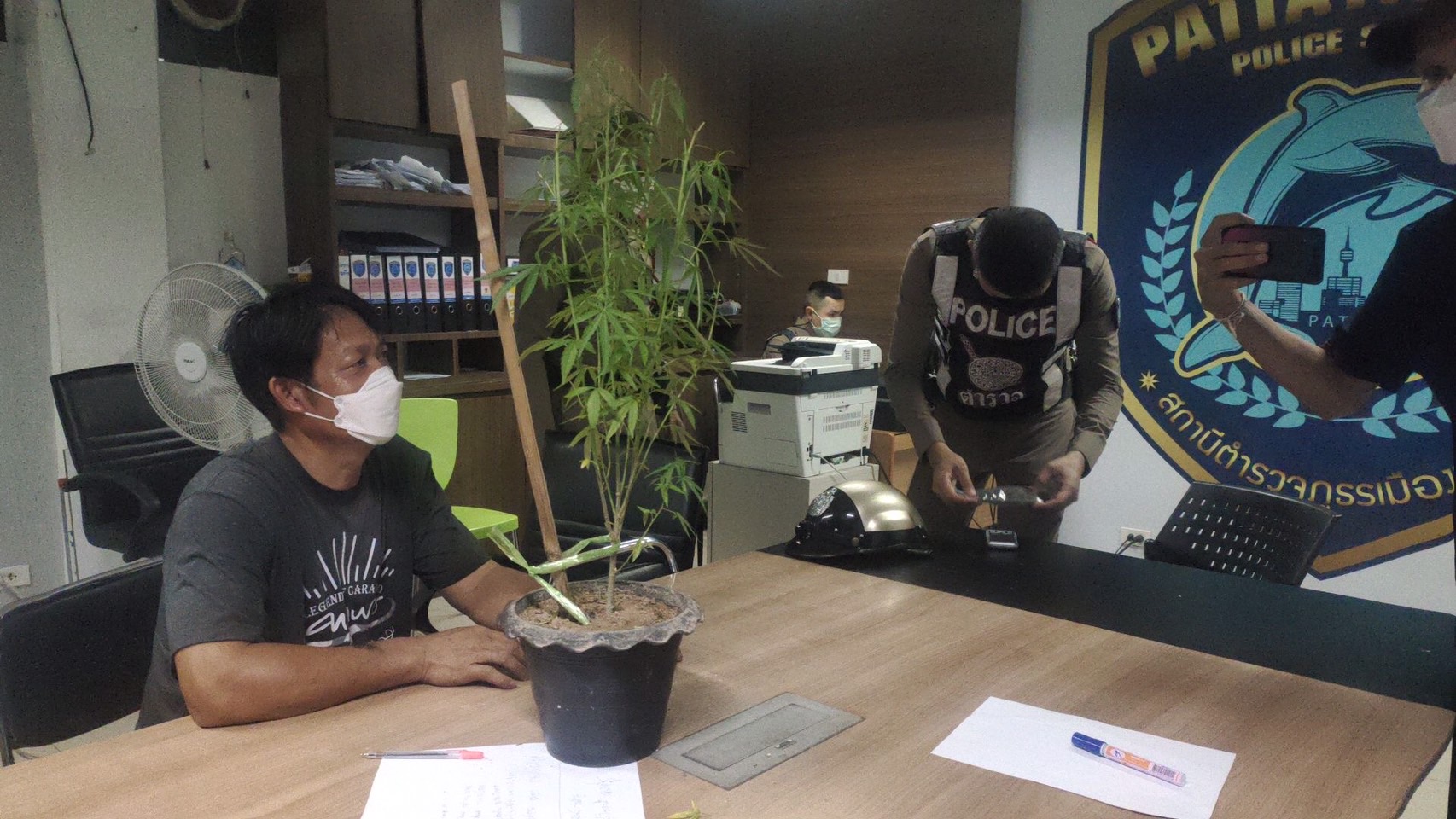 Pattaya –
A 56-year-old Thai national was arrested at the Pattaya Music Festival 2021 in the early hours of this morning, November 7th, for reportedly carrying an entire cannabis plant to the concert near Pattaya beach.
The plant was reportedly found explicitly inside a pickup truck with a Bangkok license plate while provincial police officials were patrolling around the concert area.
Car owner Somboon Sachan came back to his vehicle after the end of the concert at around 1:30 AM. on Sunday to find a group of officials surrounding his truck, waiting for him.
Somboon allegedly admitted to being the illegal plant owner and said that he was a Carabao fan and was going to meet and give the plant to another fan. He claimed that he was not planning to smoke the plant at the concert.
A bag of dried cannabis was reportedly found in the vehicle during the initial examination. Somboon was taken to the Pattaya police station for further interrogations and legal proceedings.
Pattaya Police also reported that they conducted inspections on several "restaurants" on Beach Road that was reportedly illegally serving alcohol whose owners were fined for violating the current Covid-19 orders that prohibit sales of alcohol at all restaurants and have closed bars and entertainment for roughly seven months. There were no reports, however, of customers being arrested which is a change from recent raids and the list of venues and owners were not released by police. Video footage and photos widely shared from the festival appeared to show many people drinking alcohol on the beach and public streets, despite a similar ban on alcohol in public areas.
TPN media notes that although marijuana rules in Thailand have eased over the past few years in terms of medical usage and leaf usage in authorized food and drinks, recreational usage of the plant, especially for the intoxicating qualities the plant possesses in terms of THC, is still illegal. However, some political groups in the Thai government have been pushing for eventual recreational legalization sometime in the future.
-=-=-=-=-=-=-=-=-=-=-=-=-=-=–=–=–=–==-
Follow us on Facebook,
Join us on LINE for breaking alerts!