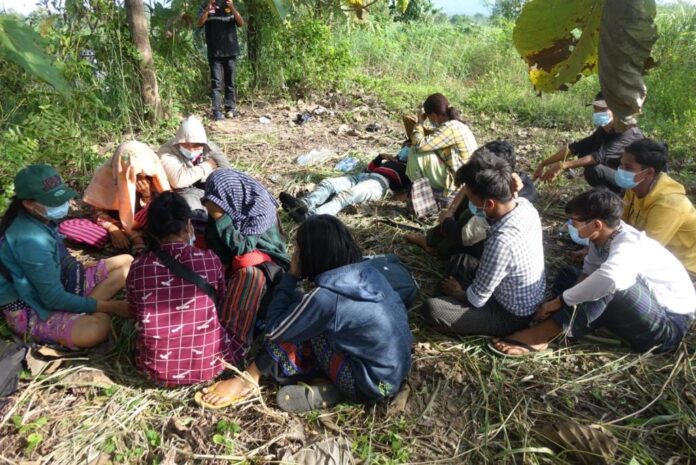 Kamphaeng Phet –
Three Myanmar migrants were found dead and four were in critical condition after reportedly being abandoned in a forest by their guide after allegedly illegally entering the country near the Mueang Kamphaeng Phet district yesterday, November 6th.
Police officers from the Mueang Kamphaeng Phet Police arrived at the scene on Saturday following a report from local residents, stating that a group of migrant workers had been abandoned by their guide and some of them were reportedly already dead.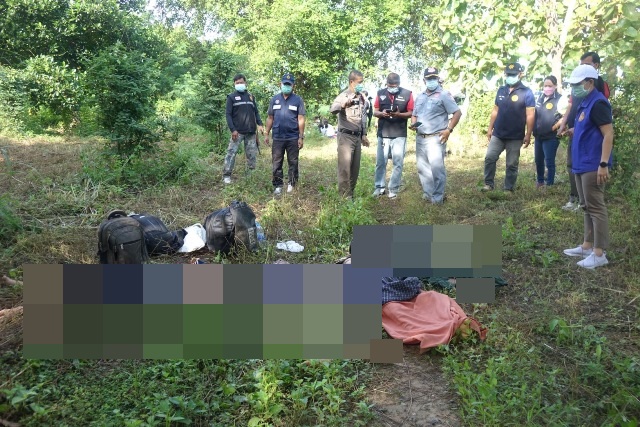 One of the Myanmar migrants told the officials that there were 23 migrants in total. All of them agreed to pay about 7,000-23,000 baht each to a broker who managed to help them cross the Thailand-Myanmar border to attempt to find work elsewhere in Thailand. TPN media notes that as Thailand has relaxed restrictions on Covid-19 and reopened to foreign vaccinated tourists without a strict quarantine that this has attracted many undocumented migrant workers from nearby countries looking for employment.
The group of migrants, led by a guide, reportedly took a pickup truck from the Mae Sot district of Tak province before encountering a severe road accident in which the vehicle had reportedly overturned downhill, causing injuries and death. When being asked about the exact location, the migrants could not identify where the accident occurred, according to Thai officials. Their Thai driver/guide, however, was not injured.
Another pickup truck, called by the guide, then came to pick them up before dropping them off in a forest, according to their statement. The driver told the group to wait in the woods while he would go and call for an ambulance but none of them showed up by the time local villagers reported to the officials.
The initial investigation revealed that all of them were undocumented migrant workers who attempt to cross the border into the Kingdom. Three people were deceased include one man and two women and four people were injured which were two men and two women.
Police Major General Phiphat Chummaneekun, commander of the Muang Kamphaeng Phet police, said that the remaining 20 migrants would be taken to a local hospital for a health checkup and Covid-19 test while the deceased was sent for an autopsy.
Meanwhile, police continued their investigation with Tak provincial police to check about the reported fatal accident in their area as no accidents were reported in Kamphaeng Phet. Major General Phiphat Chummaneekun stated that police were also hunting for the alleged guides who law enforcement believed may have panicked after the accident and fled, abandoning the sick and injured migrant workers. The guides are believed to be Thai nationals, however, the names or identity of those involved is still unknown and officers are working with the migrants to attempt to ascertain who was involved.
Photo Courtesy: Manager Online
-=-=-=-=-=-=-=-=-=-=-=-=-=-=–=–=–=–==-
Follow us on Facebook,
Join us on LINE for breaking alerts!