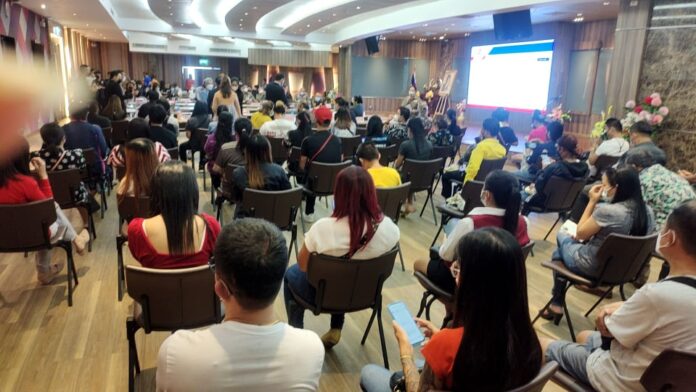 Pattaya, Thailand-
  The Chonburi Provincial Police held a meeting this afternoon, November 4th, 2021, with Pattaya business owners in the hotel, restaurant, bar, service, and entertainment industry to address concerns about a continued ban on alcohol sales at restaurants and the closure of bars and entertainment venues.
Entertainment venues have been closed for almost seven months straight in Pattaya due to "Covid-19" concerns, according to Chonburi Provincial Police. Prior to this, venues were closed for 4 months straight in 2020 and a month earlier this year in January, giving a grand total of a year of mandated closures. According to multiple Pattaya business owners, little to no financial aid or support has been given for these closures.
Business owners in Pattaya have been growing increasingly frustrated over the closure, even as other areas in the country like Phuket or Krabi have been given exceptions to allow alcohol sales in restaurants. Police have continued regular raids in Pattaya, normally well known for its nightlife, to any business daring to attempt to break the rules.
The meeting was prompted by Pattaya business owners continuing to ask why the city remained dry and their businesses closed.
This is despite Pattaya, according to Mayor Sonthaya Khunplume, being over 80% vaccinated currently against Covid-19 and recently "reopening" to foreign vaccinated tourists without a strict quarantine.
  Unfortunately, for now, the decision to ban alcohol sales at restaurants in Chonburi and Pattaya stands, according to the Chonburi Provincial Police. 
The police stated that all venues, however, will be allowed to open "soon" and venues should prepare for being allowed to reopen. In the meantime, Chonburi Police warned that businesses should not break the law and the rules and asked for patience.  They also stated that the rules came from the Center for Covid-19 Situation Administration, or CCSA, and were centrally administered by the government. The police stated that the decision was not theirs and they were only enforcing the law, not creating the rules.
TPN media notes that no specific timeline was given for allowing Pattaya's popular nightlife industry to resume and there was no specific explanation of what "prepare" meant in terms of businesses getting ready.
Meanwhile, as a point of contention amongst those attending, Pattaya will host a music festival that is set to welcome thousands of visitors starting tomorrow, November 5th, 2021. Unfortunately, business owners who sell alcohol and entertainment will not be allowed to welcome potentially interested customers and restaurants cannot legally sell alcohol at their venues.