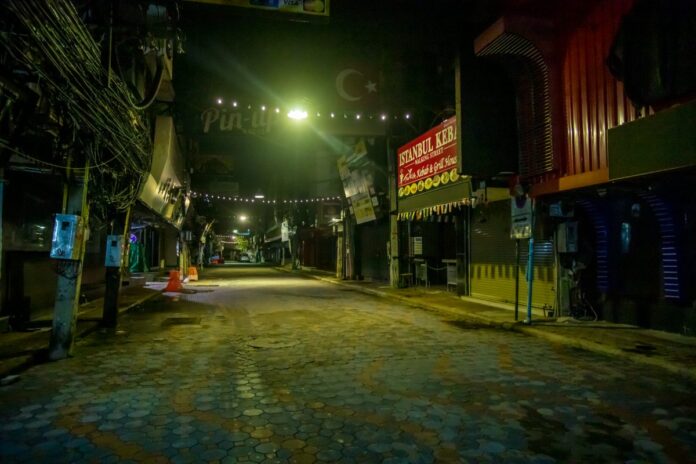 Pattaya –
Pattaya was still fairly quiet on the first few nights of the 'reopening' for foreign vaccinated tourists from low-risk countries that started from November 1st this month.
Meanwhile, Pattaya tourism and business operators continue to ask the Thai government to at the very least allow drinking alcohol in restaurants in Pattaya with rules as a step towards opening the cities famous entertainment and nightlife industry. 
According to local business owners, Pattaya Walking Street, LK Metro, and other popular bar and nightlife areas remain quiet, unaffected by the opening to tourism, primarily due to a Covid-19 related provincial mandate that bans alcohol sales at restaurants and keeps bars and nightlife shuttered.
In addition, local hotel, tourism, retail, and restaurant associations are complaining that even if the ban doesn't directly affect them, indirectly it is deterring visitors and tourists to Pattaya and costing everyone business and profits. Hotel association officials stated to TPN media earlier this week that they have seen some cancellations for Pattaya specifically once tourists and visitors learned that the city remains "dry" with alcohol sales banned and nightlife shuttered, with many choosing to go to Phuket instead. However, overall bookings on weekends, sparked by upcoming music festivals and fireworks festivals, remained solid, mostly from domestic tourists.
The owner of Sea Space Seafood Mr. Annop Panya told the associated local press, "I am wondering why only tourism cities as Phuket, Krabi and Phang Nga are allowed to sell alcohol in restaurants currently but we are still forbidden from doing so. Even Bangkok now allows limited selling of alcohol, although the rules are stricter than Phuket or Krabi."
"Pattaya is one of the most famous tourism cities in Thailand and is known around the world for its nightlife and entertainment but we are not even allowed to sell alcohol in restaurants," Annop added.
"Tourists, including domestic, who have visited Pattaya keep asking why we are not allowed to sell alcohol at all. In Western culture especially they like to drink alcohol with their dinner and so do many Thais." Annop stated.
"This is not fair to us. We need more income to feed our staffers and to continue our businesses. According to the Ministry of Public Health, Chonburi/Pattaya is the third most vaccinated place in Thailand, and barely behind Phuket. (Bangkok is first). Yet it remains illegal to sell alcohol here despite over 80% vaccination rates according to officials. However, areas like Krabi and Phang-nga, with less vaccination rates, can sell alcohol. Why? Curfew was recently lifted, but there is absolutely nothing to do at night except go to a convenience store. This isn't what tourists want." Annop asked.
"Yes, Chonburi still has a decent number of Covid-19 cases daily, although this has severely been reduced. Almost all of them seem connected to factories and migrant worker communities and not directly in Pattaya. Bangkok has more cases than Pattaya, yet can sell alcohol in SHA restaurants until at least 9:00. Again, it makes no sense why Pattaya remains closed yet other places can open and officials have not given a single solid reason why. We have gigantic music festivals and fireworks festivals and Loy Krathong scheduled for later this month that will bring tens of thousands of people to the city, many of who will want a drink with their meal. What sense does it make to hold these massive events but ban even small venues from opening or selling alcohol?" Annop concluded.
Meanwhile, in signs of hopefully preparing for the future, Pattaya City has improved the Pattaya Walking Street sign and added more lights to decorate the area for an opening to welcome foreign tourists. TPN media notes that Chonburi Provincial Police and Pattaya City leaders have invited owners of various venues, including service-related establishments that sell alcohol, to a meeting on Thursday afternoon at Pattaya City Hall to discuss the current situation. We will provide any updates given after the meeting.
Reference articles below:
Pattaya tourism and business operators are urging the Thai government to allow drinking alcohol in restaurants in Pattaya.
Pattaya business operators frustrated, angry, and confused at continued alcohol sales ban at restaurants and entertainment venues
The curfew in Pattaya and Chonburi province officially ended on October 31st, 2021 on a quiet Halloween Day after a three-and-a-half-month overnight curfew of varying hours.
Curfew ends in Pattaya on a quiet Halloween day, police vow to crack down on public drinking especially overnight
The Pattaya City mayor is confident that the re-opening will be a success as more than 80 percent of residents have been fully vaccinated against Covid-19.
Pattaya city opens for foreign tourists, Mayor says over 80% of Pattaya residents are fully vaccinated against Covid-19
=-=-=-=-=-=-=-=-=-=-=-=-=-=–=–=–=–==-
Don't forget to subscribe to our newsletter and get all our news delivered to you in one spam-free daily e-mail Click here! OR, enter your e-mail below!