Bangkok –
A group of pro-democracy protesters conflicted with Thai police officials in front of Din Daeng Police Station yesterday evening, October 29th, while gathering in memory of 15-year-old protester Warit Somnoi who was shot during a Din Daeng confrontation on August 16th and passed away Thursday.
The young protester was pronounced dead Thursday, October 28th, after spending about two months in a coma at Rajavithi Hospital. Warit was reportedly shot with live bullets while driving past Din Daeng Police Station on a night of a harsh confrontation between riot police and pro-democracy protesters. To this date, both sides have blamed either the other or "mysterious" third parties looking to cause trouble for the shooting. Nobody has been charged or held accountable for the shooting as of press time.
Warit was recognized to be the first protester who died while demanding and fighting for the resignation of Prime Minister Prayut Chan-O'Cha and his government.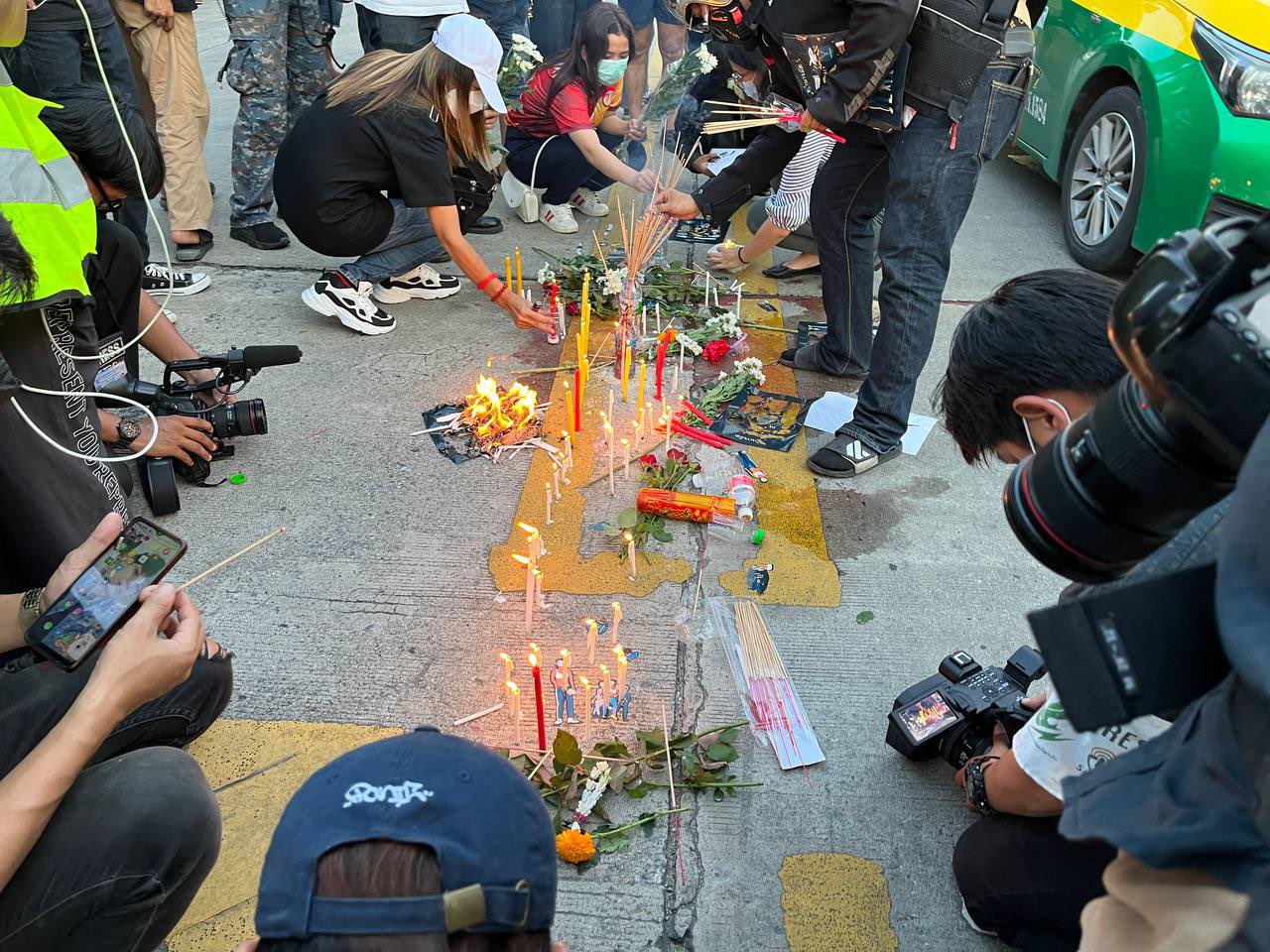 The gathering started at around 5:00 PM. Two regular protesters, Sam Samat and Worawan "Pa Pao" Sae-aung, became protest representatives to cross police barricades and go to the front of the station building to light candles as a part of the ceremony.
Protesters then started to gather as of 5:41 PM. in the middle of Din Deang Road, where the incident occurred, with lit candles, flowers, and wreaths in Warit's memory. Signs and banners were written and displayed prominently at the scene to demand justice for Warit and a proper investigation of the shooter.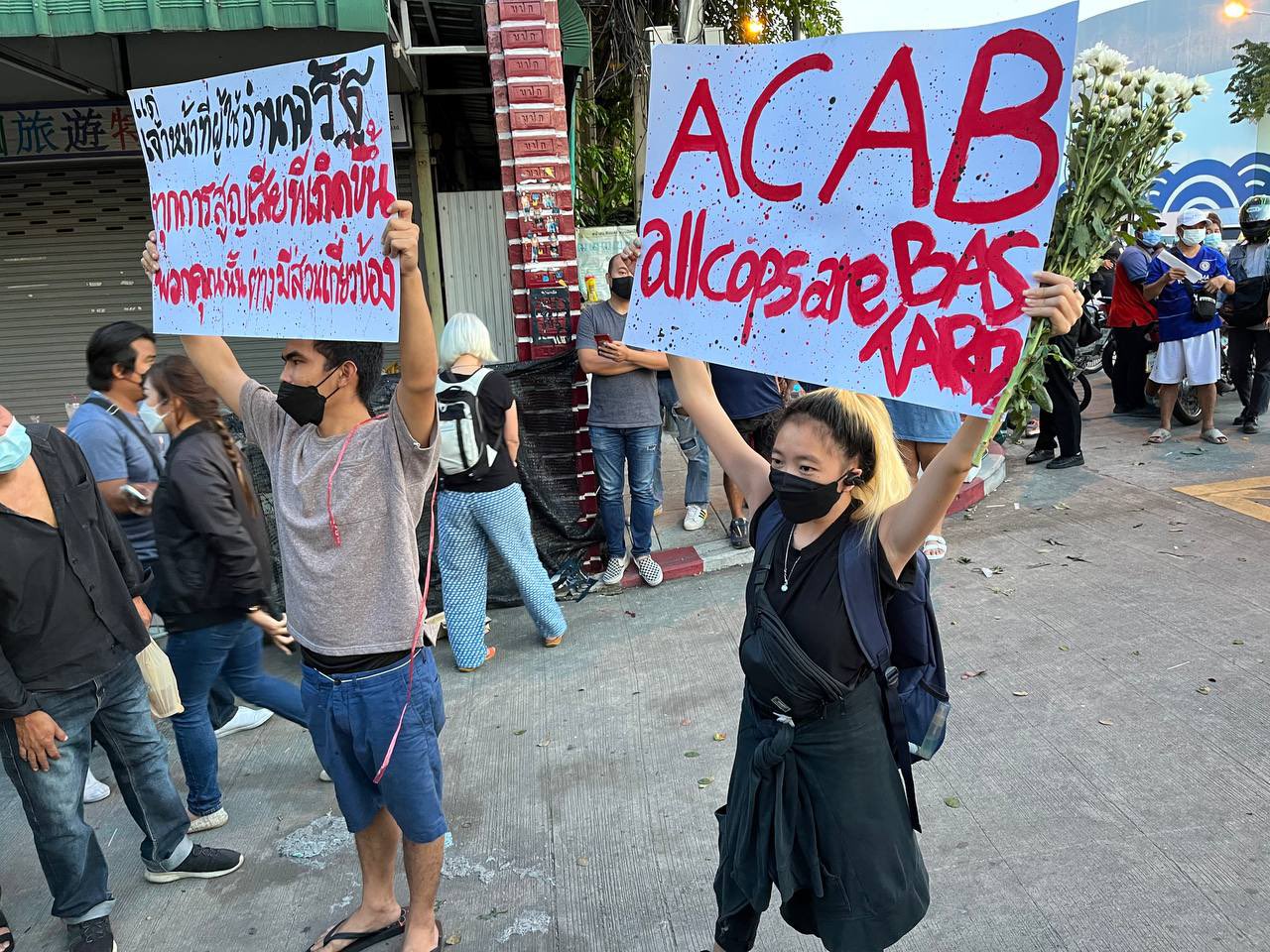 However, a crowd of armed uniform law enforcement reportedly broke the barricades and approached the demonstrators before arresting and taking some of them to the police station.
As of 6:10 PM., Sam Samat along with another two participants were arrested and would be taken to the narcotics bureau, according to a police officer speaking to local reporters. The remaining pro-democracy activists continued to pour red liquid onto a spirit house in front of the Police Station and raise three-finger salutes while shouting Warit's name to honor his death.
The group was told by police to call off the gathering as it allegedly violated the Emergency Decree to stop the spread of Covid-19. The crowd, however, continued to light candles on the road. About 10 police cars reportedly approached the scene as of 7:10 PM.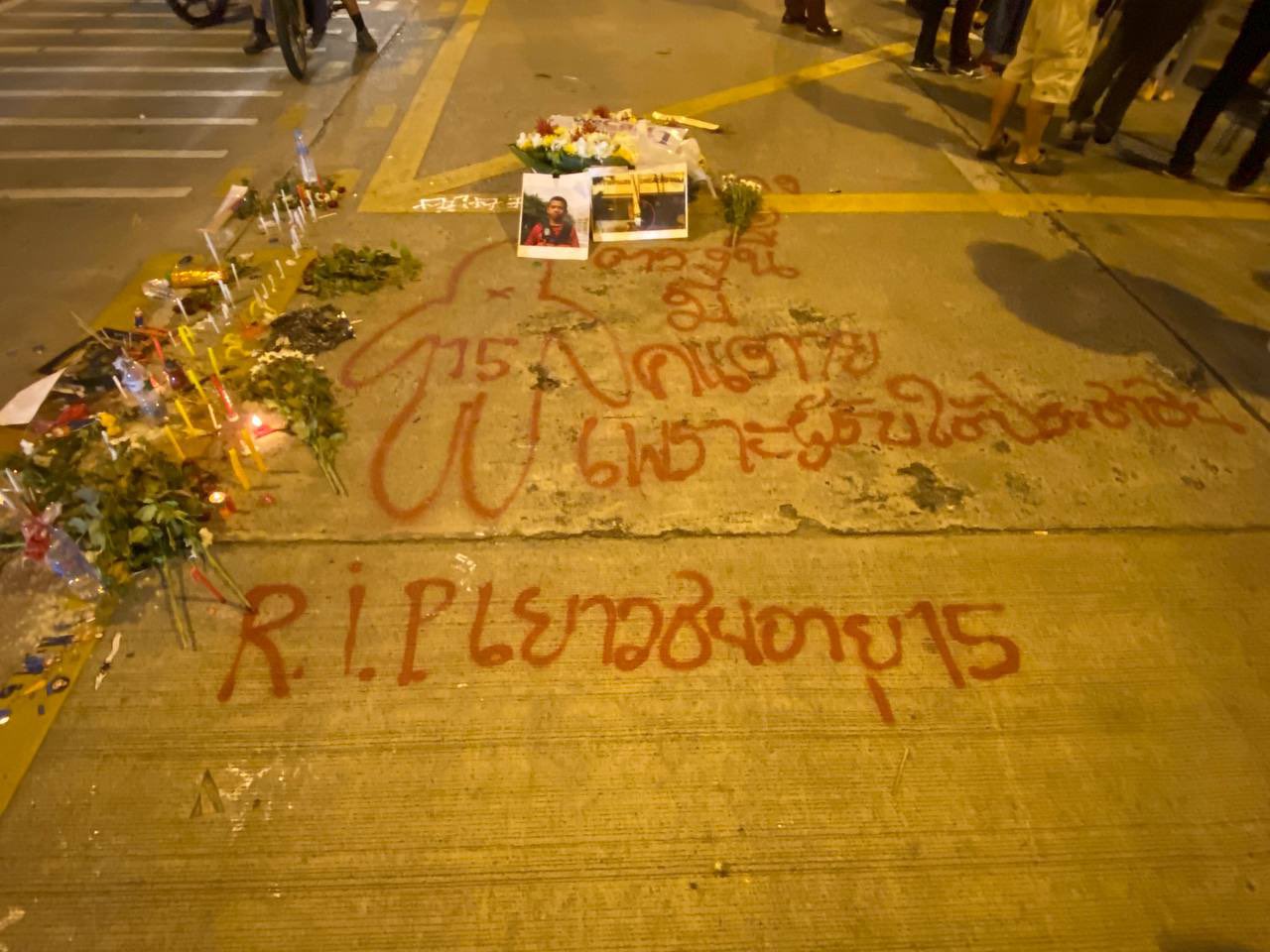 Another confrontation between both parties began around 9:39 PM. when protesters reportedly threw firecrackers at the police forces who then responded with two shots of chemical tear gas. Rubber bullets were reportedly fired at the crowd as well as nearby civilians, according to iLaw.
Law enforcement, including uniformed police and SWAT, seized the area in Prachasongkroh road at 10:00 PM. The situation was eventually eased when passing curfew hours, currently running from 11:00 P.M. to 3:00 A.M, but only for one more day, as curfew is set to expire on Halloween.
Protesters have pledged to hold more protests Sunday, despite the Thai government practically pleading with protest groups not to do anything to disrupt the "reopening" of the country in tourism next week. Protesters responded in their defense that the protests would not target tourists and have nothing to do with tourism.
Photo Courtesy: iLaw
-=-=-=-=-=-=-=-=-=-=-=-=-=-=–=–=–=–==-
Follow us on Facebook,
Join us on LINE for breaking alerts!