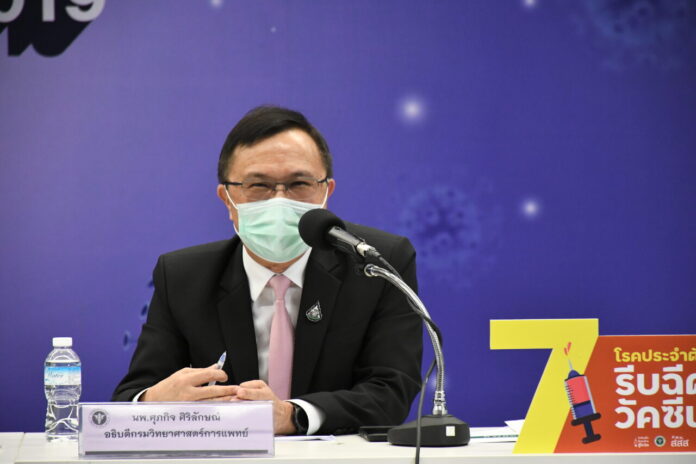 National –
The recently found "Delta Plus" variant case in Thailand is not AY.4.2 and a variant of concern, the Department of Medical Sciences confirmed yesterday, October 26th.
Dr. Supakit Sirilak, Director-General of the Department of Medical Sciences under the Ministry of Public Health, revealed to the Associated Press that in terms of Covid-19 variants found in the country the majority of them were Delta variants. Slight Beta variants were discovered in the southern provinces while the number of infections with Alpha species variants has begun to decline.
However, new Covid-19 mutants were recently detected in Thailand such as Alpha Plus (E484K), which has also been identified as an escape mutation, according to Supakit. Two E484K cases were found in Chiang Mai while the other 16 cases were reported in Chanthaburi and Trat provinces. All of them, 12 Cambodians and 4 Thais, were all working in the same company.
The E484K Alpha Plus was first found in the United Kingdom and is now having a heavy outbreak in Cambodia, according to Supakit.
Regarding the Delta variants, Thailand has discovered up to 18 species since the beginning of the pandemics such as AY.3, AY.4, AY.10, etc. The most common is Delta Plus AY.30 with 1,341 cases and AY.39 with 83 cases, according to the Director-General.
But recently, a new Delta Plus species of AY.1 (K417N) mutation was found for the first time in Kamphaeng Phet province and is now under a disease investigation.
However, Dr. Supakit noted that the AY.1 is not a mutation of concern as it is not as rapidly spreading and appears not to cause more severe symptoms as the AY.4.2, the recently discovered variant in the United Kingdom, that could potentially spread 10-15 percent faster and might give the virus more survival advantages.
Supakit stated: "None of the Covid-19 variants found in Thailand have shown any indications that they are spreading or causing more severe symptoms unlike the one currently prevalent in the UK called AY.4.2."
"We would like to officially confirm that the concerning AY.4.2 mutation has not yet been found in Thailand. We also want to ask the public to remain calm and not panic." Supakit concluded.
-=-=-=-=-=-=-=-=-=-=-=-=-=-=–=–=–=–==-
Follow us on Facebook,
Join us on LINE for breaking alerts!