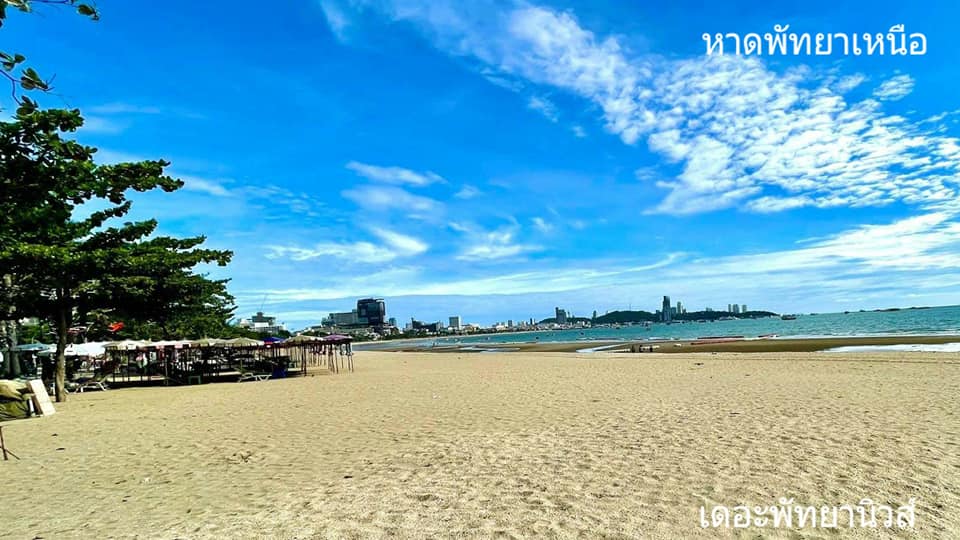 Thailand-
Just before 11:00 P.M. last night, October 21st, 2021, following an announcement by Thai Prime Minister Prayut Chan O'Cha on his Facebook that the list of eligible countries for low-risk arrival for vaccinated foreign tourists to Thailand starting from November 1st had increased to 46, official details were released by the Thai Government and published in the Royal Gazette.
Although not every detail was released and there will likely still be MANY questions, especially around children and the specifics of the Thailand Pass program which will be replacing the COE (Certificate of Entry), some details were made much more clear.
First, a recap of the proposal to open the country to low-risk tourists in November for those who wish to get caught up can be found by clicking here.
Next, the three programs for entering the country from November 1st.
From left to right: The left green column is for those from low-risk countries. The middle column is "Sandbox" areas that have been expanded. The red area is for those who are not fully vaccinated against Covid-19. All this is effective as of NOVEMBER FIRST.
The list of low-risk countries and additional sandbox areas, which includes Pattaya, is below the chart. A few points we want to be clear on:
1. You do not have to be a resident of a country to apply, only have to be in a low-risk country for 21 consecutive days for low-risk arrival. It is based on the country you are COMING FROM not your passport.
2. For those who are not from a low-risk country, you need to stay in a Sandbox zone for seven days. (It is not clear if you will be able to travel between all the zones yet, that information should come "soon". Low-risk country arrivals can travel where they wish following a negative Covid-19 test result, see 5.)
2a. For those in the Sandbox zones, you will need a SHA+ hotel for seven days booked in advance and two Covid-19 tests. The same rules as current Phuket sandboxes apply but have been expanded to other zones, including Pattaya.
3. List of countries will be "continually evaluated" for low-risk, likely at the start of each month.
4. Required medical insurance minimum has been lowered from USD 100,000 to 50,000.
5. Strictly technically speaking, it is not "true" no quarantine for the green group from low-risk countries. You must still have at least one night in a SHA+ or quarantine hotel until you get your Covid-19 test results from your first test. Then you are free to go if you are not positive. It does NOT appear you can wait at your own home if you have your own residence.
6. Hotels must be booked in advance, Thailand Pass should be booked in advance.
7. This was literally announced late at night and it will likely take some time to get to embassies and consulates around the world. Thailand Pass details are not yet concrete and as a result, many embassies may not yet have a plan for booking, Thailand Pass, etc. Give them a few days 🙂
8. Exact details of "transit" arrival at airports are not yet entirely clear, including popular questions if you will finally be able to transit through Bangkok airports to go to Phuket, etc. It is LIKELY but not yet crystal clear. They do note about airports at the bottom of the below chart.
9. You must book a hotel within two hours of your airport where you arrive. For instance, if you arrive at Suvarnabhumi in Bangkok, you can book a hotel in Pattaya for your first night, but if you want to go to say, Koh Chang, which is further than two hours away, you would need to stay in Bangkok or Pattaya for the first night while waiting for your results.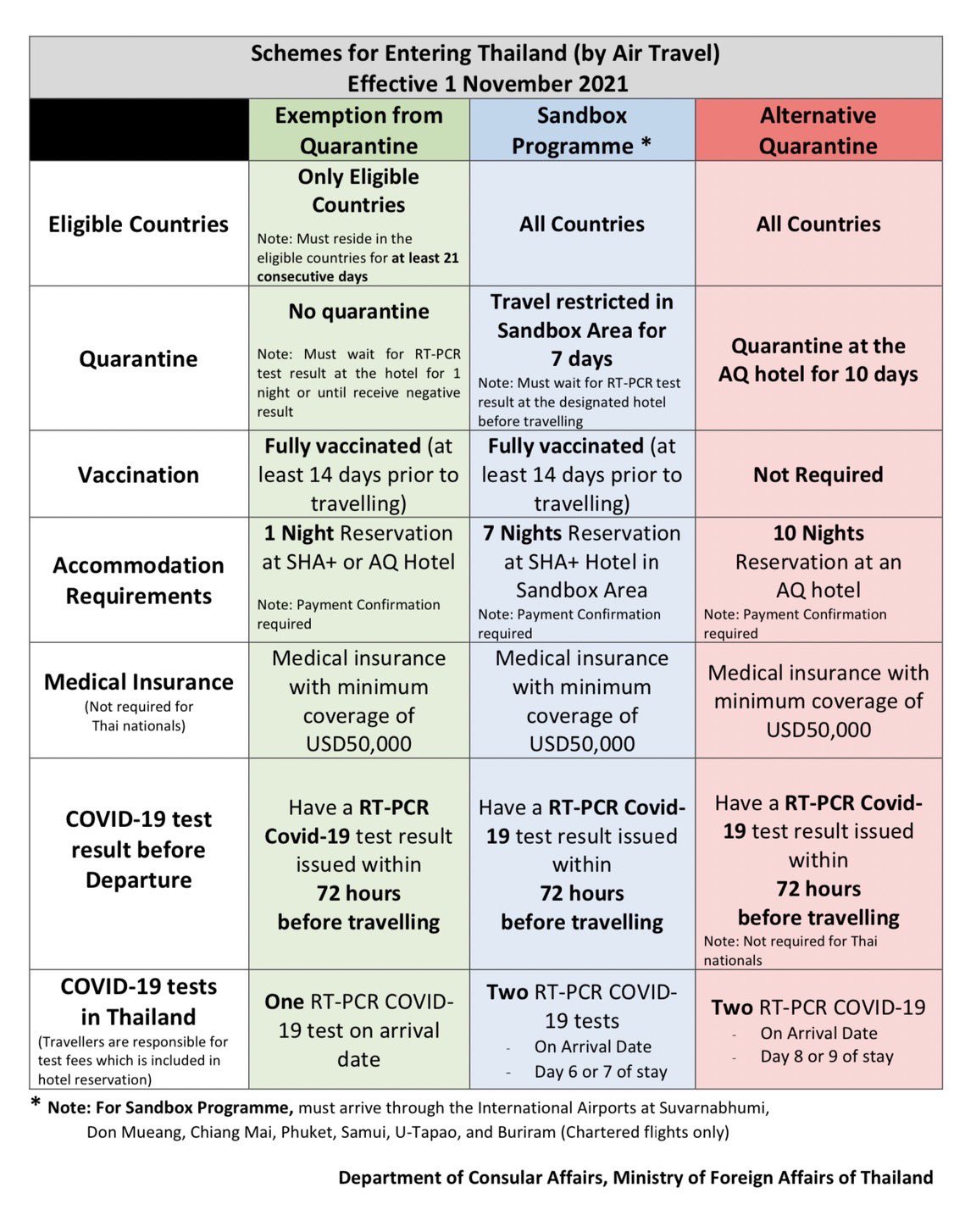 Now, for the expanded "Sandbox" zones.
As stated previously, if you do not fall into a low-risk country but are fully vaccinated at least fourteen days prior to traveling you may stay in one of seventeen Sandbox zones for at least seven days before being able to freely travel the country.
This has been greatly expanded from Phuket and parts of Surat Thani.
All Sandbox zones will have curfew lifted on the night of October 31st, 2021 as part of being a Sandbox "BLUE" province. (They may very well dump the curfew overall on November 1st, we will see.)
However, according to the Royal Gazette notice (In Thai at the bottom of this article), bars and nightlife will remain closed. BUT, provinces can apply for special permission for exceptions from rules and exemptions, such as legally selling alcohol in restaurants like Phuket did. It is unclear if Chonburi (Pattaya) will do so and will be based on the governor. The moment we get more information about this, we will post it.
The additional Sandbox/BLUE (Business, Lesuire, Ultimate Experience) zones, on top of Phuket and Surat Thani, are from November 1st:
-Bangkok, Samut Prakan (Suvarnabhumi airport area only), Krabi, Phang Nga, Prachuap Khiri Khan (Hua Hin and Nong Kae only), Phetchaburi (Cha-am only), Chonburi (Pattaya, Banglamung, Na Jomtien, Bang Saray, Koh Si Chang, Si Racha only), Ranong (Koh Phayam only), Chiang Mai (Mueang, Mae Rim, Mae Taeng, Doi Tao only), Loe (Chiang Khan only), Buriram (Mueang only), Nong Khai (Mueang, Si Chiang Mai, Tha Bo, Sangkhom only), Udon Thani (Mueang, Na Yung, Nong Han, Prajak Silpa, Komphawapi, Ban Dong only), Rayong (Koh Samet only), Trat (Koh Chang only)
We expect more specific details in the near future and the CCSA (Center for Covid-19 Situation Administration) announced they will be covering some of the fine details at today's press conference around lunchtime. Keep in mind, this is a developing story and although some details now appear "final" there are many things that could change and many small points (like policies for children) to still be made crystal clear.
We will continue to update our readers on the official, final, details as they are released. We will attempt to answer questions as we get them, however, keep in mind not every single detail has been released in order to do so.
This is a developing story. We may add extra details here as we get them.