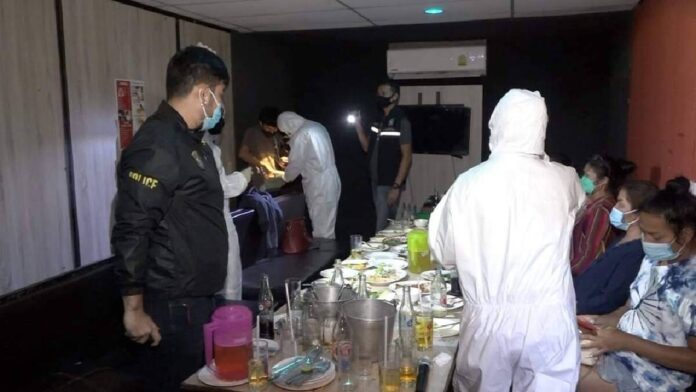 Khon Kaen –
A total of 235 customers, including nine juveniles, were captured at a local establishment in the Mueng district of Khon Kaen province in the early hours of this morning, October 20th, for allegedly illegally gathering and drinking alcohol which violates the provincial orders to prevent the spread of Covid-19.
More than 200 officials from the Khon Kaen Provincial Police led a raid at the restaurant located on Maliwan road in the Ban Ped sub-district at around 1:00 AM. today after being alerted by a "concerned citizen" that a lot of customers, which reportedly exceeded the limited number as ordered by the provincial committee, were visiting the place outside of legal operating hours and breaking Covid-19 rules that prohibit parties and social gatherings.
Upon the search of so-called VIP rooms at the venue, ​​nine customers who were under 18-years-old were discovered among hundreds of partygoers. Alcohol drinks were also found in soda bottles and containers while pitchers of beer were placed discreetly on the tables, in a futile attempt to disguise the fact the venue was serving liquor against current Covid-19 orders.
The police then confiscated all the related evidence and detained all 235 customers for screening for Covid-19 ATK tests at the customer's expense, background checks, and personal records at a nearby university auditorium, which is an open area in order to reduce the risk of the spread of the Covid-19 as the infection rate was still significantly high in Khon Kaen.
Initially, all 235 customers were charged for illegal gatherings and conducting any activities that are at risk of the spread of the Covid-19 Coronavirus. Under strict emergency decree-laws, the customers will face stiff fines of up to tens of thousands of baht and potential jail time.
Entertainment venues, like bars and nightclubs, have been legally closed nationwide since April of this year, approaching 7 months, in Thailand. Restaurants are banned from serving alcohol except for a few areas with exceptions such as Phuket and Samui for tourism-related reasons. Even then, alcohol is only supposed to legally be served with full meals and part of a dining experience, not for partying and mingling according to police.
The ongoing nationwide ban on nightlife and alcohol-related venues has been increasingly criticized by citizens, tourists, and ex-pats alike as daily raids across Thailand continue to arrest hundreds of customers, especially in areas like Pattaya and Bangkok which were previously known for their famous nightlife scene. Many people on social media have expressed their concerns about the effect the ongoing prohibition will have on tourism, especially in regards to the potential of arresting tourists for simply having a beer, many of who expect to go to nightlife venues as part of their holiday.
The Center for Covid-19 Situation Administration, or CCSA, has stated they will "consider" the opening of entertainment venues and bars by December 1st but has not promised this, leading to even more criticism and a growing number of business owners, who claim they have had zero financial assistance for the extended ban and closures, breaking the rules. Most business owners recently arrested said they were simply trying to feed their families and make a living as they had no other option. It was unclear what action was taken against the business owners at this venue in Khon Kaen.
Photo Courtesy: nationtv
-=-=-=-=-=-=-=-=-=-=-=-=-=-=–=–=–=–==-
Follow us on Facebook,
Join us on LINE for breaking alerts!