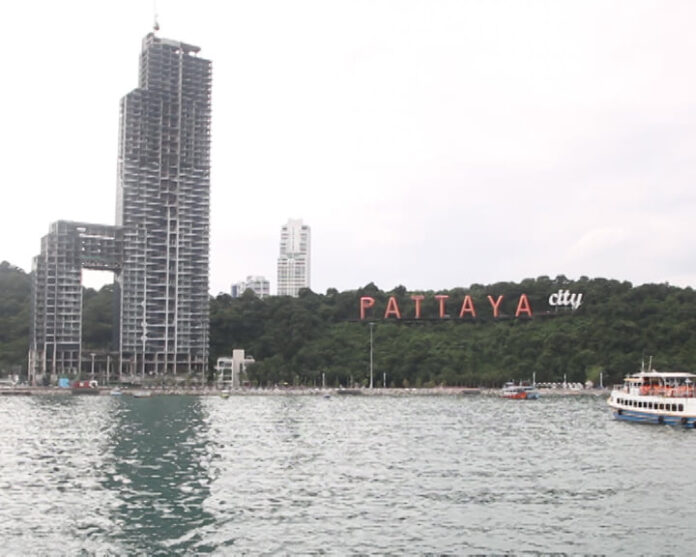 The following is our exclusive weekly feature in which we ask our readers a news topical question and then give you a week to answer it on our various channels, compiling a diverse range of answers and opinions to present to you, our valued readers. Here are the results from our last question…
Last week, we asked you the following:
What do YOU think should happen with the Waterfront Condo at Bali Hai Pier?
The context around the proposal was the following:
This week, we want to hear what our readers think, in their opinion, should happen to the Waterfront Condo, long under construction and tied up in literally dozens of lawsuits and countersuits over its development at Bali Hai Pier.
What do YOU think should happen?  It has been about seven years since the building "paused" construction in 2014 and the legal drama between tenants, environmental groups, private citizens, government agencies, and the owners of the condo began.
Here is what you, our readers, had to say as our editors selected some of the most diverse responses to highlight different points of view. Obviously, we can't post everyone's opinion here so selected a variety of the most diverse opinions. As always, the opinions and statements below are the reader's own and may not reflect those of TPN media. There have been minor edits for spelling and grammar only:
We note, by the way, before we begin, that the vast majority of comments seemed to support tearing it down. We had almost two hundred comments or messages, and about 80% wanted it gone.
-=-=-=-=-=-=-
Stephen S-Knock it down. It's beyond repair, an eyesore, and blocks the view. Do something better with the land.
-=-=-=-=-=-
Rod M-It's been part of the landscape for so long let them finish building it
-=-=-=-=-=-=-=-
Geir P-nonsense, same bs as before. The decision is made, so tear it down. Architectural embarrassing, so small units it's a rip-off and ruins the bay area
-=-=-==-=-=-
Kevin S-Demolish it. Sell tickets to watch. Make a media event of it.
-=-==-=-=-=-
John M-Leave it sit for another seven years and then bring up the subject again.
-=-=-==-=-=-=
Guido V-North shore building has been kept like that for more than 10 years , in 2006 was complete by someone else and sold for a very high price.
-=-=-=-=-=-=-=-
Curtis C-It could have been demolished 7 times already. Quit talking and get that eyesore out of there.
-=-=-=-=-=-=-=-
Dane S-Tear it down. It is the biggest eyesore in all of Pattaya
–=-=-=-=-=-=-
Brett J-demolish it. it's an eyesore and becoming a hazard
-=-=-=-=-==-
Marc S-Complete it! It's a mess as it is and will add a bit of class to an otherwise drab area…
-=-=-=-=-=-=
Dion W-
IF it is illegal, how about this:
1. Bring the officials who signed the documents to justice.
2. Bring the directors of the company who signed the documents to justice.
3. Confiscate the property
4. Knock the top off to a reasonable height and use it for public facilities, restaurants and hotels, with the proceeds going back to the community.
OR if it is not illegal, then let them take the top off and continue to build.
-=-=-=-=-=-=-=-=
Clifford P-Ripped down and no one allowed to build in that area
-=-=-=-=-=-=-=-
Rob F-A Wrecking Ball should happen to it.
=-=-=-=-=-=-==-
Greg L-The company that owns the building clearly has funds, IF as reported, they want to complete the project, so they should have the money to demolish it too. Anyone with little knowledge of the effects of saltwater will be aware of the damage it can do to unprotected metal. Now is a good time to do it, with Walking Street closed and very few tourists.
-=-=-=-=-=–=-==
James F-At the very least a number of the top floors should be removed so it's around half the height it is now
-=-=-=-=-=-=-=-
Marcus H-Take a little off the top. Turn it into a 5-star hotel and give the people who bought the condos a small equity stake. Hopefully, they get paid back in 20+ years
-=-=-=-=-==–=-=
Phil T-As usual, there is too much talk and not enough action. Just tear it down and see who squeals loudest! The government has shown huge contempt for small and medium businesses by mercilessly shutting down the nightlife and entertainment industry, with absolutely no care for the consequences to business owners and workers, so let's see how big their kahunas are when it comes to a big business project!
-=-=-=-=-=-=–=-
Anthony P-I think it has deteriorated too much to be useful now.
–=-=-=-=-=-=-=
Richard G-Demolition. As it has been exposed to the elements far too long. Unsafe
-=-=-=-=-=-=-=-
Jeff M-Be a shame if Thailand's new submarine fires at it by accident when it arrives.
-=-=-=-=-=-=-=-
That is all for this week, as usual, we will have another Reader Talkback question early this week. Thank you as always for your insight, it helps us communicate with local authorities and create editorials and opinions. If you didn't get the chance to chime in e-mail us at Pattayanewseditor@gmail.com or post your thoughts in the comments below!