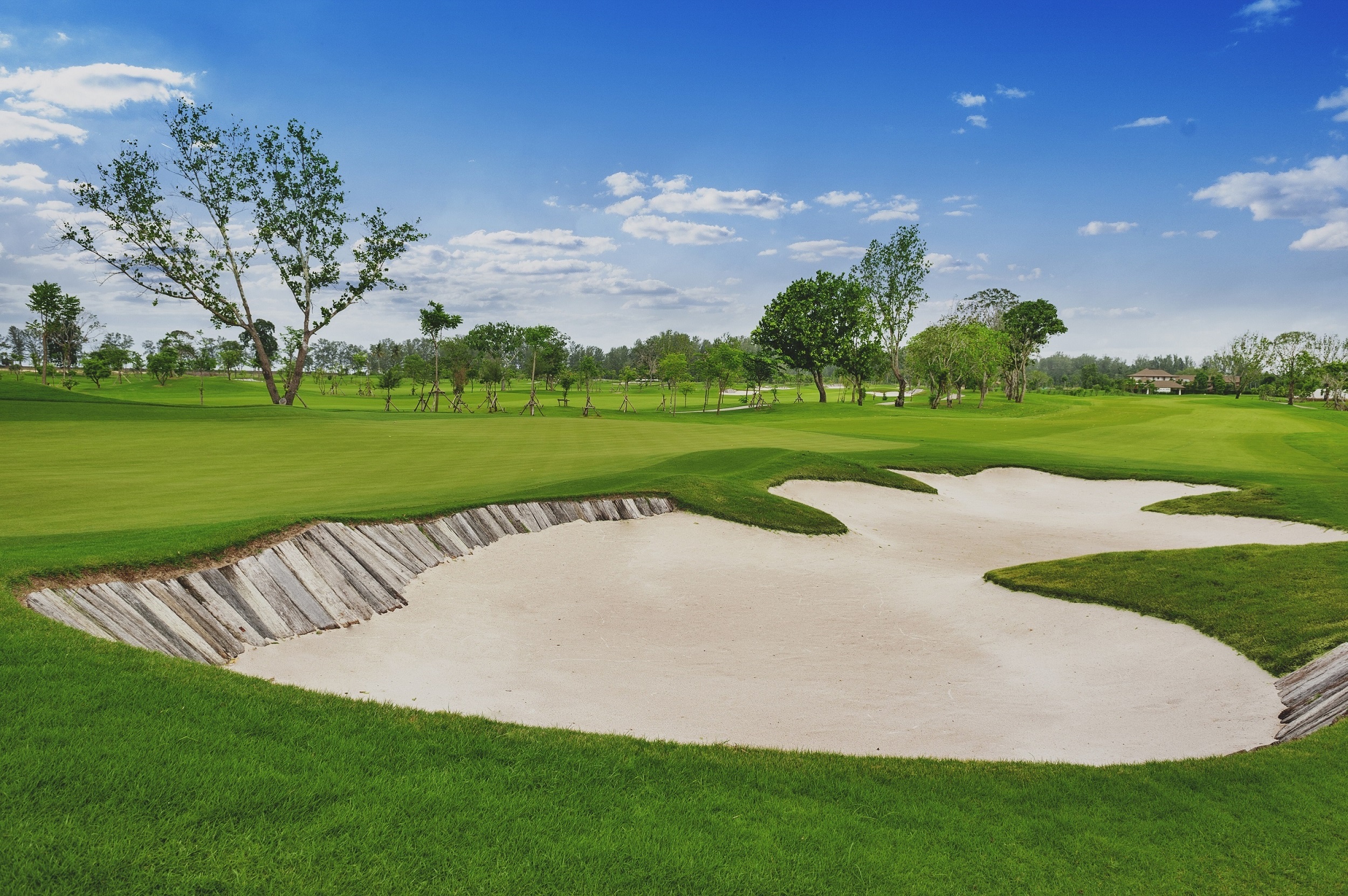 Phang Nga, 15 October 2021 – The Aquella Project pushes forward with the development of Aquella Golf & Country Club to prepare for its grand opening of the championship course and mini-golf as Thailand plans to open its borders from October. The priority remains to create the highest health and safety experience for guests up to the SHA Plus standard.
Aquella Golf & Country Club, a par-72, 7000+ yard championship golf course featuring 18 holes hugging the Andaman coastline, is the centerpiece of the Aquella Project that takes up 1,075 rai in the Tai Muang District of Phang Nga province. The facility is managed by Absolute Golf Services (AGS), which has set the goal to become one of the top courses in Thailand and Asia.
The club has opened its doors, enabling guests to experience the unparalleled course layout since August, and has received remarkable feedback from both local and foreign golfers. While the course was built on the area previously known as the Tai Muang Golf Club, Aquella was completely redesigned and has taken on its own unique identity. The project premise spans over 2 kilometers along the Phang Nga coastline where luxurious villas, condominiums, beachfront resorts, a beach club, and many more facilities will be built in the near future.
Absolute Golf Services is a renowned Bangkok-based golf and leisure management and consulting organization with over 11 years of expertise in the region. AGS was selected to manage Aquella Golf and Country Club at the end of 2019 and its main focus since has been to develop the spectacular clubhouse facilities and championship golf course boasting an impeccable layout and unrivaled playing surfaces. As a focus for the rest of 2021, AGS plans to complete the establishment of the surrounding practice facilities and a mini-golf course. The fitness center and spa are now finished and will be open for service in 2022, additional developments will include swimming pools and numerous restaurants that will be completed as the master plan develops.
Undoubtedly, the Covid-19 pandemic has taken a blow on the tourism industry in Thailand, including the golf industry, due to the lack of incoming tourists. This created a challenging situation for many golf courses in Thailand where the golf industry was already highly competitive. James Shippey, the Managing Director of Absolute Golf Services, shared his take on managing golf courses through such conditions,
"For a golf course to be seen and accepted in high regard, there are many important aspects that need to be delivered correctly, in addition to the course layout and condition. Equally as important as the playing surfaces are the service side of the whole golf club experience, which requires dedicated and focused management, along with dedicated teams. While the pandemic is still very much affecting our lives and the golf industry, club management teams should focus on their most urgent operational needs and look for new and innovative ways to generate revenues to ensure profitability to owners and investors. Perhaps, this could be to do with improving and creating unrivaled customer experiences in order to attract more guests and improve repeat business. I believe this is something that many courses are struggling to come to terms with, as many only focus on lower rates to attract golfers, which without question displaces revenues and weakens the industry, although it is good news for the golfer. We face truly challenging times no matter what industry you are in, this is why our team is determined to step up to the "tee" and help as many golf courses as we can in order to speed up business recovery, as we emerge from the impact of the pandemic". AGS is also offering free consultations for up to 30 days.
"With regards to Aquella Golf & Country Club, the highlight, of course, is its location, which overlooks the beautiful Andaman Sea. As you play through the beautiful course, you are welcomed by vistas of mountain, beach, and ocean views. It is a great challenge since windy conditions are common along the coastline, while the fairways are fairly tight and well-guarded by strategically placed bunkers. The greens are quite small, so that's where course management will be crucial to scoring well. As the pandemic situation improves, we hope to have more domestic guests and international tourists coming in. Aquella is located ideally for all golfers wanting to experience something special since the course is only 25-30 minutes away from Phuket International Airport", said James Shippey.
The relaxed travel restrictions have been announced by the local government to allow free commute between Phuket and Phang Nga for a convenient visit to Aquella Golf & Country Club via the Sarisin bridge. For any golfers who are interested in coming to experience the Andaman golfing paradise, the club now offers soft-opening rates for Thai residents from only 1,650 Baht and tourists from 1,750 Baht. The aforementioned prices include an 18-hole green fee, caddy fee, and golf cart equipped with Visage GPS, along with one tray of practice balls. Special early bird membership rates are available from only 99,000 Baht per year per person and for children below 18 years of age from 25,000 Baht per year per child. Corporate membership starts from 175,000 Baht per year. These early-bird rates are only valid until 31 October 2021. For more details and inquiries about the membership, please contact our membership office at Tel. 076-679-308 or email us at membership@aquellagolf.com.