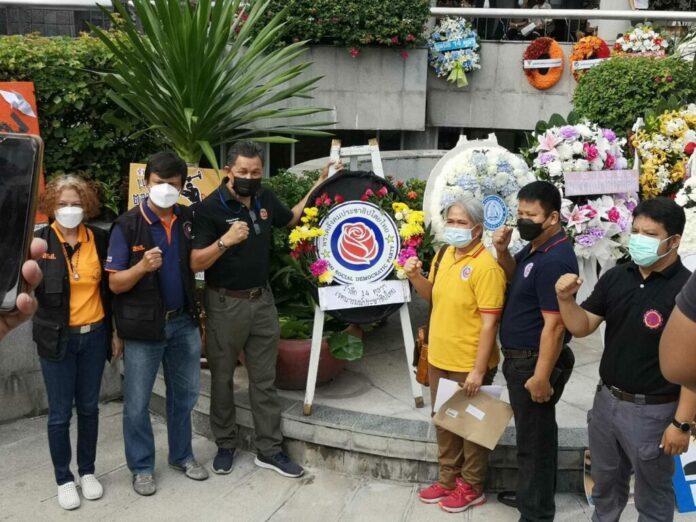 Bangkok –
A group of pro-democracy activists, politicians from both parties, and relatives was gathering at the October 14 Memorial in Bangkok today, October 14th, to commemorate people, students, and activists who were killed during the student-led popular uprising in 1973 against the military dictatorship of anti-communist Field Marshal Thanom Kittikachorn.
The ceremony began at around 6:55 AM. with ritual ceremonies of Buddhism, Christianity, and Islam to pay tribute to those who passed away for calling for the restoration of constitutional rule 48 years ago.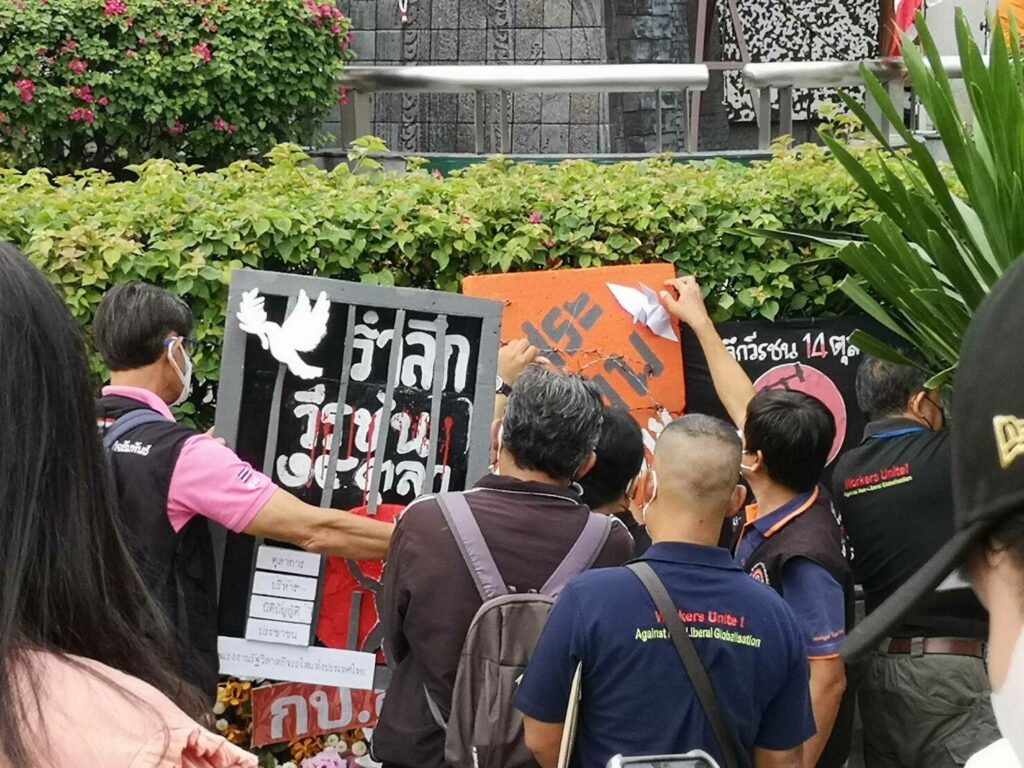 Wreaths from political party members, the Human Rights Committee, and various organizations were laid in front of the memorial. Old soul-stirring songs with democratic messages were also heard throughout the ceremony.
A minor conflict occurred when some members of the event's organizers, set up banners with contradictory messages, including political reform, raised by the anti-government "Talu Fah" group without their consent. The group then removed some of the banners.
Apart from "Thalu Fah", several pro-democracy groups, including "Thalu Gaz" and "People" groups, also planned to gather today to reflect on the significant loss and the fight for political ideologies throughout the day.
"Thalu Fah" and several pro-democracy groups continued to stage the gathering at the memorial after the ceremony, featuring political speeches with free space to allow the general public to express their feelings towards the tragic uprising.
The Popular Uprising in 1973 was a turning point in Thailand's government. Massive numbers of student activists were gathering in Rachadumnoen Avenue to call for people's power and the eradication of military dictatorship, led by Field Marshal Thanom Kittikachorn at the moment. The massive crowd ended up with violence, 77 people were killed and 857 were shot by soldiers, leading to the exile of leading military politicians and the appointment of a new Prime Minister by His Royal Majesty King Bhumibol Adulyadej.
Photo Courtesy: Matichon
-=-=-=-=-=-=-=-=-=-=-=-=-=-=–=–=–=–==-
Follow us on Facebook,
Join us on LINE for breaking alerts!