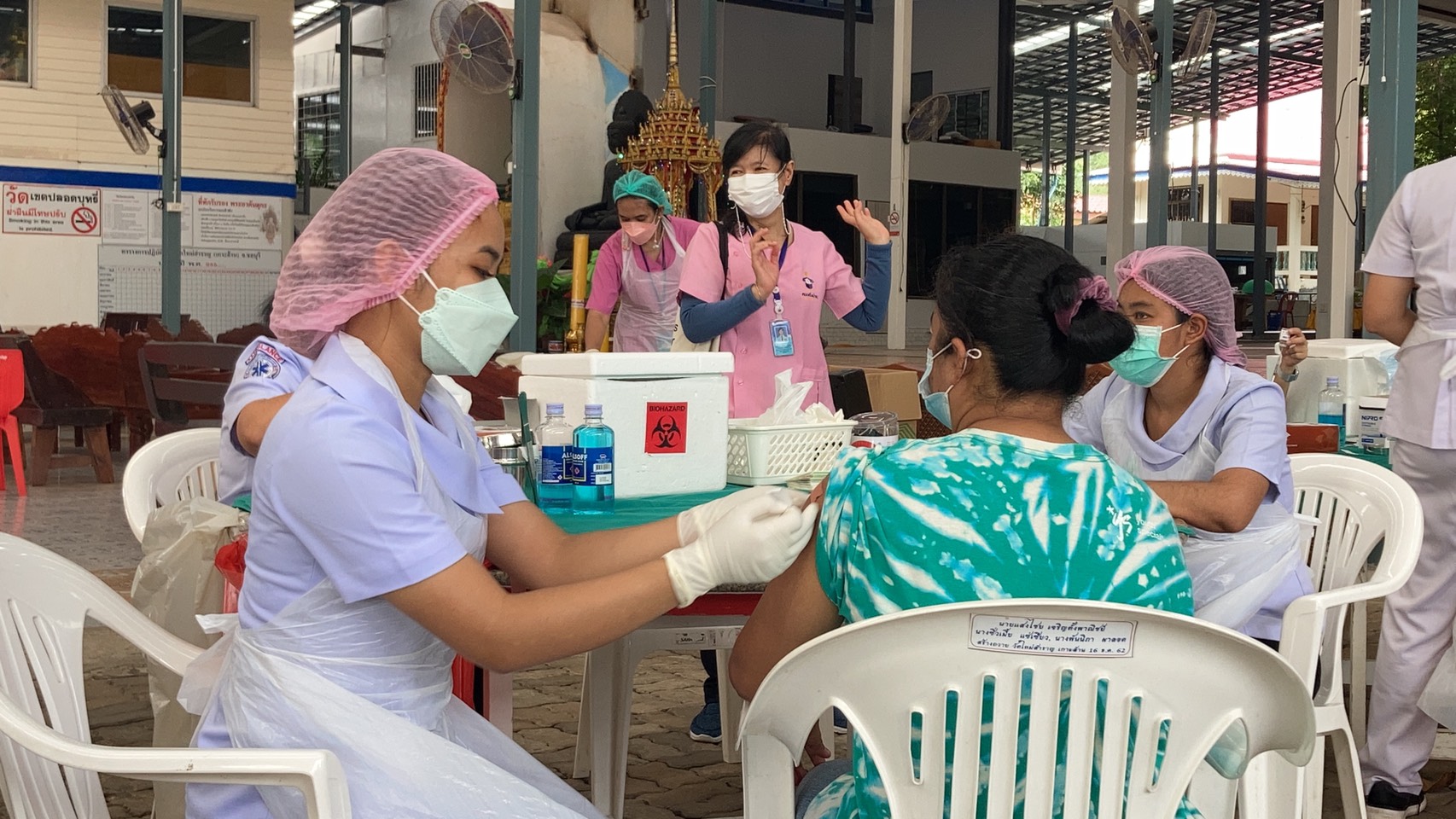 Pattaya –
Almost half of the residents on Koh Larn, one of Pattaya's biggest tourist attractions, are officially now getting a third Covid-19 vaccine shot as a booster, effective as of today, October 5th, 2021. The island is being targeted by Chonburi officials to be what they call a 'BLUE Village for tourists' with zero Covid-19.
You can see the video of this story here:
BLUE stands for Business, Leisure, and Ultimate Experience, according to Tourism Authority of Thailand officials, and is part of a plan to reassure foreign and domestic tourists as to the safety of areas that are vital for tourism.
The Pattaya City Mayor Sonthaya Khunplume told The Pattaya News reporters earlier last week, "Our first priority for the booster program is people on Koh Larn who have already get their first and second dose of a Sinovac vaccine from March to May and will now receive a third dose of the AstraZeneca vaccine."
You can read our original article about this campaign below.
Some Koh Larn residents to get a third Covid-19 vaccine shot as booster prior to planned November "opening"
This morning, (October 5th), Mayor Sonthaya and his team visited Koh Larn at the vaccination area for the official kickoff campaign of the booster program.
Mayor Sonthaya told The Pattaya News, "The Public Health Department has continued sending Covid -19 vaccines to Pattaya. We are trying to vaccinate residents as fast as we can to be ready for a planned November 1st opening to vaccinated foreign tourists."
TPN media has covered the proposal, which is still not officially confirmed to take place but is moving forward, multiple times recently. You can click here to read more about the proposal to open Pattaya to foreign-vaccinated tourists without a strict stay-in-room quarantine here.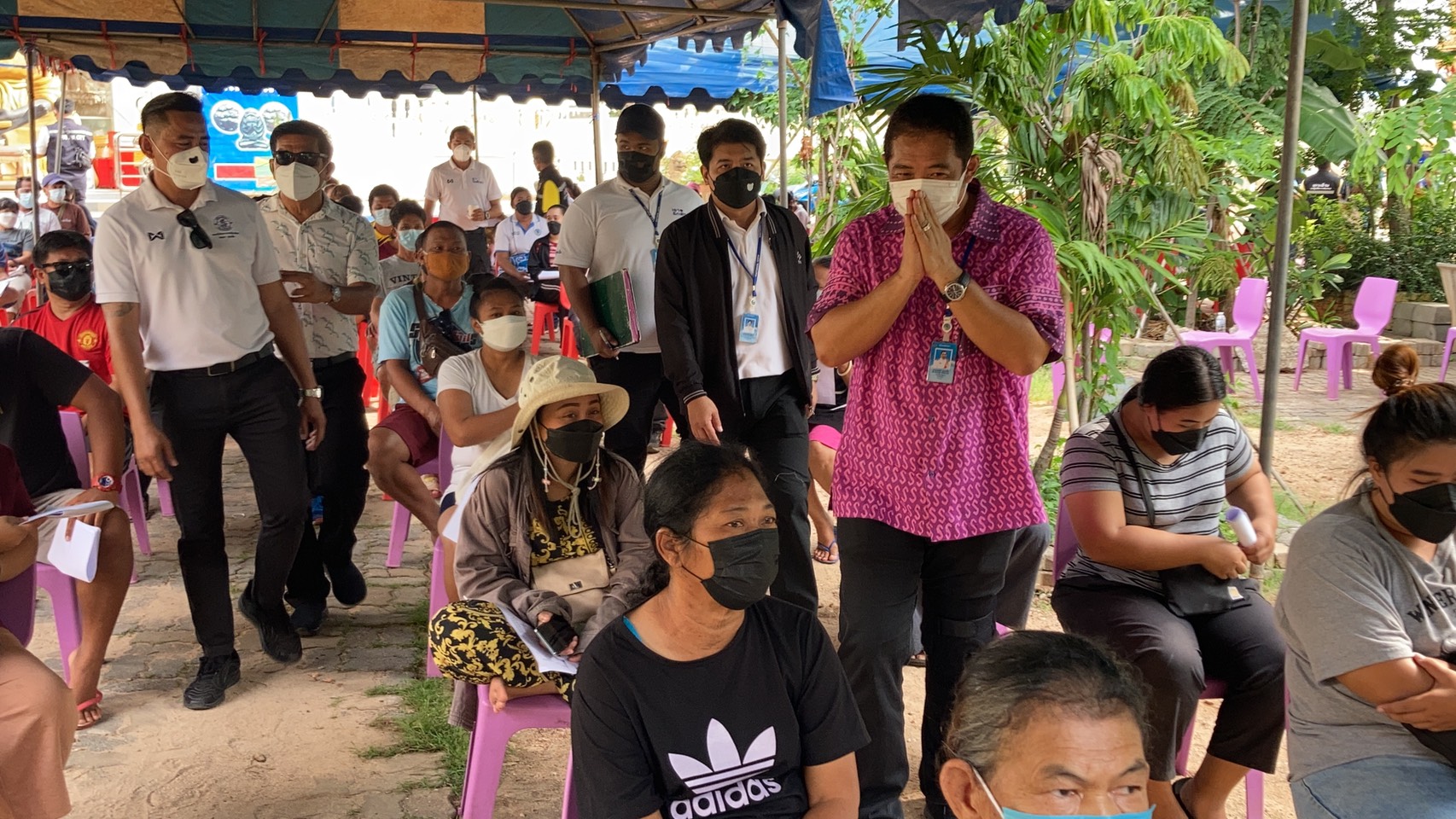 "Koh Larn is also a model for our 'BLUE Village' project designed to have zero cases of Covid -19 and make tourists feel confident about their safety. There are 980 people on Koh Larn who have previously registered to receive a third Covid-19 shot booster. The island has a total population of about 2,500 people, although some are children and not yet eligible for a Covid-19 vaccine. We are mostly focusing on the earliest adopters of a Covid-19 vaccine and the elderly and vulnerable for the third booster." The Mayor stated to the local press.
"For today, Tuesday, October 5th, 2021, which was the first day of the vaccination campaign, 782 people have already been vaccinated while 444 more are waiting to get a vaccine today, many of them "walk-ins" who had not originally registered but have decided to also get a booster shot after speaking with health officials and having any doubts or questions answered." The mayor added.
"In total now, Koh Larn is 100% vaccinated with at least double doses for those who are eligible. We hope to be able to get the majority of the island a booster shot before November and continue to overcome objections and reassure the populace that the vaccines are safe and effective." The Mayor concluded.
Koh Larn has been busier every weekend, notes TPN media, with domestic tourists and prior to Covid-19, would welcome an average of well over 10,000 tourists a day, many of them foreign.  Should November be truly green-lit for foreign vaccinated tourists to stay in Pattaya without quarantine, Koh Larn is expected to be a major part of the program, with many resorts on the island already having or planning to be a SHA+ hotel and allow foreign visitors to stay.
SHA+, or Safety and Health Administration, means that the business has met health requirements from the Department of Public Health and that 100% of the staff is vaccinated. A business cannot get the certification without the vaccine requirement, which is why many business owners have "nudged" their staff to get vaccinated.
The Mayor also added that those working in the tourism industry in Pattaya proper, as well as the elderly and vulnerable, would likely receive the opportunity for a booster shot in the near future, especially those who had only had Sinovac previously.
=-=-=-=-=-=-=-=-=-=-=-=-=-=–=–=–=–==-
Want to advertise with us or inquire about promoting your business, event, charity, or sporting event? E-mail us at Pattayanewseditor@gmail.com
Have a General news tip, press release, question, comment, etc? We are not interested in SEO proposals. Mail us at Pattayanewseditor@gmail.com