Bangkok –
The official Facebook page of the Education Ministry had released an apology statement yesterday, September 28th, after publishing what appeared to be an altered photograph showing the Deputy Education Minister visiting a flooded area.
The photo, which was posted online yesterday on the Education Ministry's social media, seemed to show  Deputy Education Minister Kanokwan Wilawan wading through floodwaters. The caption stated that the Deputy Minister had visited a flooded area as she was concerned over students and school officials in areas affected by tropical storm 'Dianmu' last weekend.
However, many Thai social media users noticed that the photo was likely to be edited as her image was seemingly cropped and photoshopped into an image of an unknown flooded area. Some also posted another photo and stated that the original photo was actually during her visit to a flooded area in 2020. Thai social media users also pointed out the lack of a shadow and other signs of the image being photoshopped.
The controversial image was deleted shortly afterward before the Education Ministry's Facebook page released the announcement yesterday morning that the Ministry and the Deputy Minister were not involved in any process of the photo publication and the public relations administrators was wholly responsible for publishing such altered image. It was not immediately clear who the individuals who posted the photo were and if they were being held accountable for the incident.
The status read: "Administrators of the official Facebook page of the education ministry would like to apologize for the incident and would accept all suggestions and comments in order to improve our duty and operation."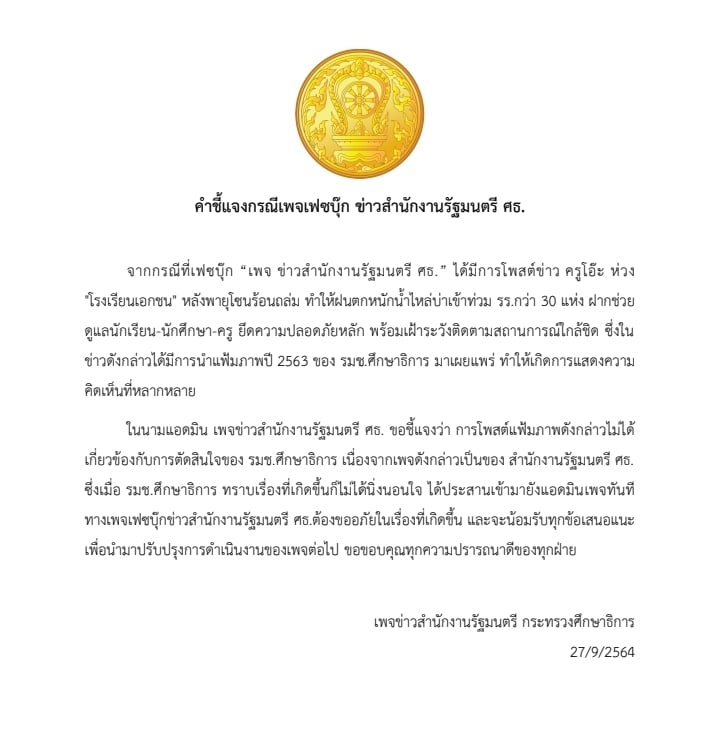 Regarding Thailand's flood situation, the Department of Disaster Prevention and Mitigation reported that the floods, caused by tropical storm 'Dianmu', had affected 30 provinces since September 23rd, including 145 districts, 584 sub-districts, and 2,401 villages. A total of 71,093 households were damaged while 6 people were reported dead and 2 were reportedly missing.
The situation has been resolved in 7 provinces, namely Chiang Mai, Lamphun, Lampang, Buriram, Nakhon Pathom, Yasothon, and Surin, but still present in 23 provinces. The authorities along with provincial staff and volunteers are monitoring the situation and continue to reach out to victims in the flooded areas in 23 provinces.
-=-=-=-=-=-=-=-=-=-=-=-=-=-=–=–=–=–==-
Follow us on Facebook,
Join us on LINE for breaking alerts!