Pattaya, Thailand-
  The Pattaya Mayor, Sonthaya Khunplume, spoke to The Pattaya News yesterday afternoon and other local press and announced that the Pattaya Music Festival, the first "scheduled" event in about half a year in Pattaya, will be moved to November.
We had first announced the music festival several weeks ago in this article here.
The festival, which still needs final approval from the Center for Covid-19 Situation Administration, or CCSA, was planned to be over multiple weekends and a way to "kick-off" the city reopening to vaccinated foreign tourists. For more information about the plan to reopen Pattaya to tourism (with rules), you can click here to reference our recent articles and the mayor's statements on it.
According to the Mayor and the CCSA, and referenced in the article linked above, Pattaya and other areas planning to "reopen" have been postponed a month to November 2021. As a result, and based on suggestions from relevant agencies, Pattaya has moved back the plan to run a music festival starting the weekend of October 22nd to the weekend of November 5th. This will also serve as the official "welcome back" for Pattaya to both domestic and foreign tourists. TPN media notes the music festival is primarily geared at domestic tourism, however, and always has been.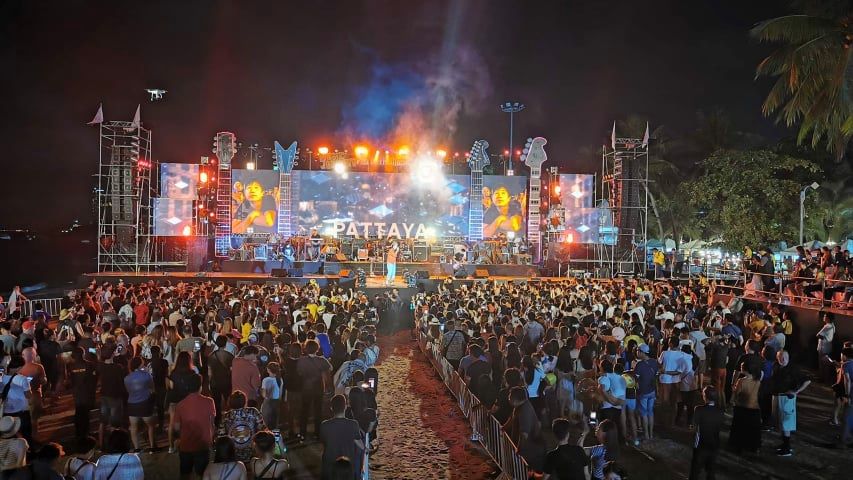 As previously stated, the festival still needs approval from the CCSA. Large events and gatherings are still banned, with the gathering limit in Pattaya set at 25 people currently and an overnight curfew in place, although this is expected/hoped to be lifted by November. The mayor, however, is confident based on discussions with the central government that approval will be given for the event, and city leaders are moving forward with planning. Pattaya successfully ran outdoor music festivals previously during the pandemic with social distancing, limited seating, and other precautions and plans to do so this year as well. By November, Pattaya proper hopes to be at 80% fully vaccinated for the city and expects that most visitors will be from the Bangkok area, which is also heavily vaccinated.
The Mayor stated that details on access to the event, rules, line-up, and more information will be released over the next several weeks. He concluded by saying that Pattaya officials had been reviewing and learning from other countries that have already started festivals again and will be utilizing their best practices, along with what the city learned last year at their own festivals, for a successful event.
Pending, of course, CCSA approval, which although Pattaya officials expect this to happen, is not yet "set in stone".