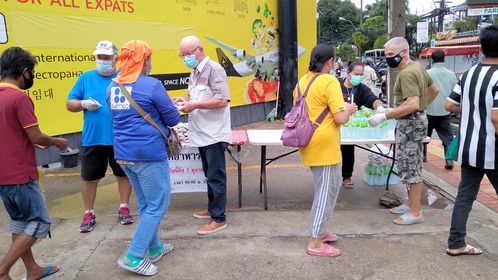 The following is a press release from a group of local residents helping those most in need in Pattaya. The content is their own.
150 meals for 150 days and we continue.
Located on the second road near an under-construction airplane cafe, behind Soi 6, Pattaya, every morning at 8 a.m.
The work initiated by Mr. Olivier Gachoux will see the 150th distribution of meals on September 28 for this year 2021.
This very generous donor of Swiss nationality may not have thought that his approach would last so long and unfortunately, it is not over. A big thanks to him from the community, volunteers, supporters, and us.
Thanks to many other donors, volunteers, and Thai friends, who provided logistics and security, the distributions take place in a very friendly atmosphere that encourages teamwork and cooperation to assist those most in need.

Even during recent floods and rain when the weather was not always good, it did not disrupt distributions.
Special attention is paid to children and thanks to the generosity of donors, they have punctually distributed clothes, shoes, toys, or 20 baht bills. The adults were also given supplements with hygiene products, toothbrushes, masks, clothing, fruit, rice, or 50 baht bills.
Pattaya will probably not reopen to vaccinated foreign tourists and allow all closed businesses to reopen until at least November 1st, 2021, so our work will continue for one more month.
This is why we are appealing to donors for this extension, you can contact us by email: jpthai43@gmail.com or during distributions directly located on Second Road near Soi 6, as listed above.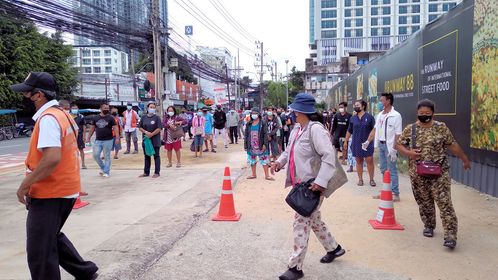 Our greatest reward: the smile addressed to the volunteers who make the distributions, but also the smile addressed to the donors.
Thank you to everyone who made it possible and will allow our Thai friends in need to have a little morning comfort.
For more information, it's on this site http://covid21.pattaya-thailande.com. You can also see prior coverage of the events here on TPN.
PS: If we take into account the distributions that we made in 2020, to date we have distributed more than 50,000 meals over approaching two years