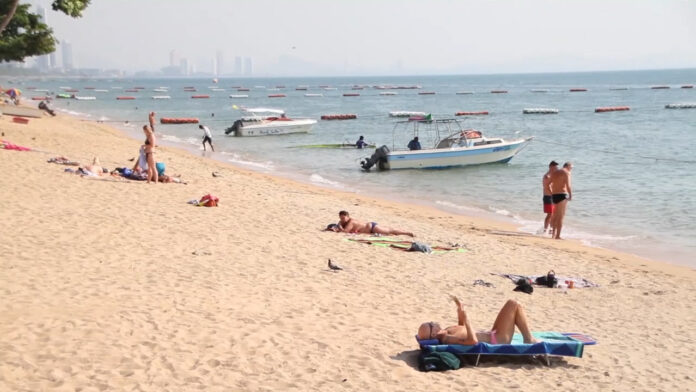 Pattaya –
The Pattaya City Mayor has officially confirmed the city "reopening" to vaccinated foreign tourists delay to November 2021, which corresponds with an announcement made by the Center for Covid-19 Situation Administration, or CCSA, earlier today, September 27th, 2021.
First, get caught up on the CCSA announcement which can be found by clicking here. We will not be detailing the opening proposal in this article, please reference this article for more information.
The Pattaya City Mayor Sontaya Khunplome told The Pattaya News over the past weekend, "Multiple provinces have been delayed from October to November in regards to reopening to foreign tourism, including Chonburi."
"The Public Health Department pays attention to the number of vaccinations overall when it makes decisions on easing restrictions and opening things up. Due to the proposed places to open, as a whole, not reaching the goal of the Ministry of Public Health (MOPH) of 70% fully vaccinated against Covid-19, they have requested with the CCSA to delay any reopening to foreign tourists at this time." The mayor confirmed.
"In Pattaya (including Jomtien), Banglamung, and Sattahip, more than 70 percent of people here have already been vaccinated but only for their first doses. Pattaya City proper has reached around 70%, however, greater Banglamung has not and that is a concern to the MOPH. This is based on house registration and permanent residents living in the area." The mayor noted.
"The Public Health Department wants to ensure that more people have received Covid-19 vaccines so that they have more Covid -19 protection. The major focus of the MOPH is to ensure hospitals are not overwhelmed when tourists return with Covid-19 patients. Therefore, the MOPH is not ready to authorize Pattaya and other areas to reopen to foreign vaccinate tourists until November, which the CCSA confirmed this afternoon, September 27th." The mayor explained.
"Ninety percent of staff who work in tourism businesses have already been vaccinated. We have about 20,000 people we are still working on getting vaccinated with their second doses of a Covid-19 vaccine, overcoming their concerns, and getting to them. This should be complete within the next week or so." The mayor added.
"About four thousand people in Pattaya are being vaccinated every day, including foreign ex-pats. This is taking place at a number of locations including the Pattaya City Hospital and Central Festival." The mayor said.
"Many business operators are now worried if the delay will confuse foreign tourists. I understand their concerns and wanted to address them. First, the new zones will not be "Sandbox" zones but will be referred to as BLUE zones…Business, Lesuire, Ultimate Experience is what it stands for. A covid-free environment and safe experience is an utmost priority of the blue zones open to vaccinated foreign tourists. The CCSA and MOPH are working with provincial and local leaders on safely reopening business sectors and attractions to both domestic and foreign tourists. However, the entertainment sector (bars, pubs, nightlife, nightclubs, gogos, etc) is considered the most high-risk venue by the CCSA and we cannot guarantee to those owners they will be allowed to open when the city does at this time or provide a timetable to them for their opening. We know they have been closed for almost six months and how difficult this is. We understand their frustration and sympathize but the CCSA and MOPH have to allow these venues legally to open before they can do so and continue to stress it is about safety and health in regards to these venues. Therefore, we are going to focus on the many other great attractions Pattaya has to offer, like beaches, malls, islands, sports, restaurants, temples, nature, golfing, tourist attractions, and more." The mayor explained
"For me, I think the Tourism Authority of Thailand has repeatedly publicized about the tourism situation in Thailand. They are doing their best to work with the CCSA on reopening and both sides understand each other's importance." The mayor stated.
"Foreign tourists will not get confused or have less confidence about the opening delay. They will understand why we have to postpone the opening, many are coming from countries far more vaccinated than Thailand and understand the importance of being properly covered before opening wider." The mayor added.
The mayor concluded by saying that the main focus of the city was on domestic tourists for Quarter 4 and was planning multiple events, still pending CCSA approval, to help attract them to the area and assist business owners in moving forward. The mayor added that he understood that some of the restrictions, like staying in SHA+ hotels only or having to stay in the same area for 7 days, would still be restrictive for some tourists. He added that he believed more wide-scale tourism with relaxed restrictions would take place from January of 2022.
Reference articles:
The President of the Eastern Thai Hotels Association, in a discussion with Thai media, said the association is prepared for the likely announcement that opening for vaccinated foreign tourists in Pattaya will be postponed to November 1st.
Eastern Thai Hotels Association discusses opening for foreign vaccinated tourists without quarantine in Pattaya likely being postponed to November 1st
The Pattaya Business and Tourism Association (PBTA) plans to focus on Indian and Russian tourists first when the city is open to vaccinated foreign tourists.
When Pattaya opens to foreign tourists, city plans to focus on Indians and Russian visitors first
=-=-=-=-=-=-=-=-=-=-=-=-=-=–=–=–=–==-
Follow us on Facebook, Twitter, Google News, Instagram, Tiktok, Youtube, Pinterest, Flipboard, or Tumblr
Join us on LINE for breaking alerts!