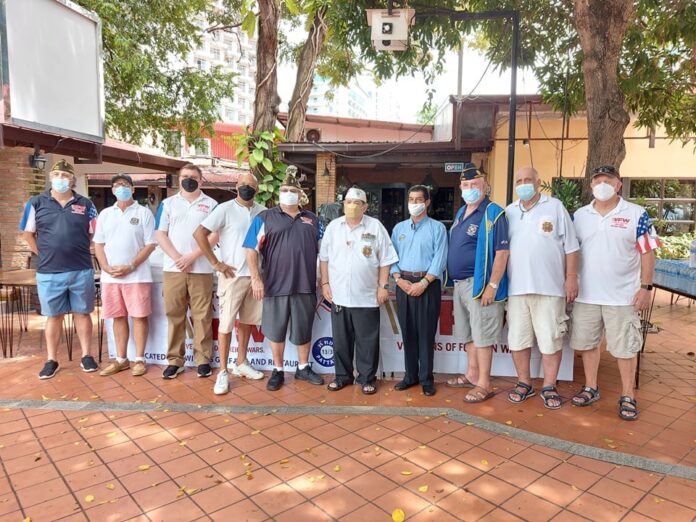 Pattaya, Thailand-
The VFW (Veterans of Foreign Wars of the United States) Post 9876 Food Drive Project has continued helping those most in need in association with Trattoria Pizzeria Toscana Pattaya.
600 meals were prepared and distributed at the Trattoria Pizzeria Restaurant on Beach Road in North Pattaya. Assisting VFW Members in the distribution of meals were the VFW Post 9876 Wives Club, Pattaya American Legion Post TH02, and Mr. Bobby Brooks, the U.S. Embassy Warden.
Yesterday's food drive marks a total of 3,000 meals distributed since the fourth of September 2021. Also, V.F.W. Post 9876 made a 30,000 baht (Close to $1,000 USD) donation to the Baan Kru Boonchoo Foundation in the Sattahip District to assist with the care of disabled and special needs children.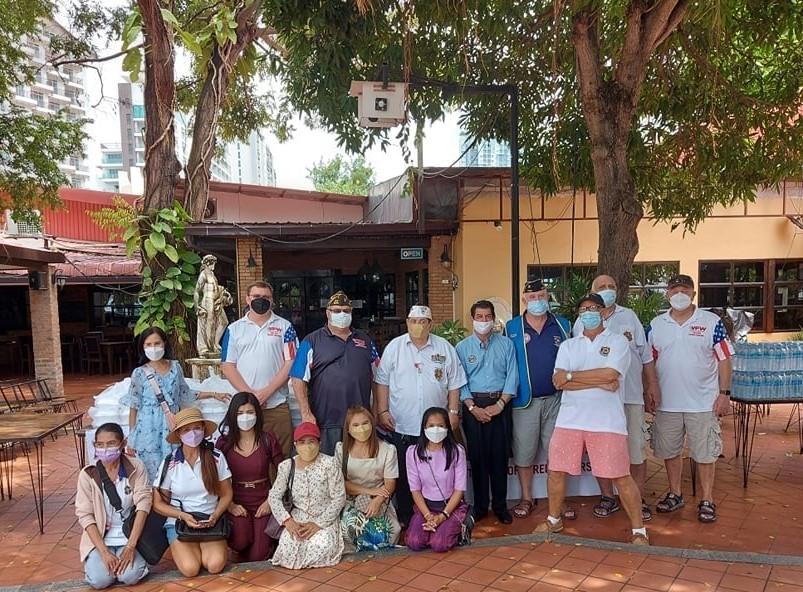 The donation funds were presented to Foundation President Mrs. Boonchoo Moangmaithong. The VFW plans to continue its efforts and food drives to assist those most in need in Pattaya.
Due to Covid-19 restrictions, Pattaya, which is a city reliant on tourism for an estimated 85% of its GDP, has been particularly hard-hit by the disease and related measures to control its spread. Nightlife, entertainment, bars, and similar establishments, a major economic driver and tourist attraction for Pattaya that employs tens of thousands of people has been closed by government mandate since April 10th.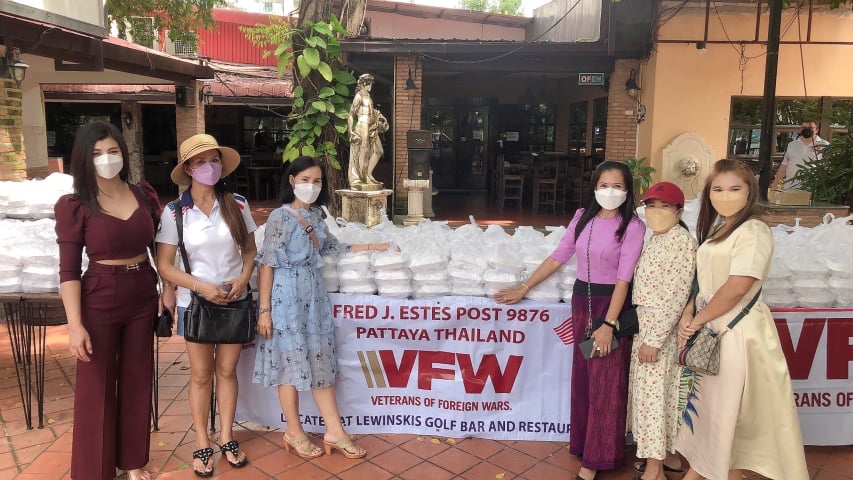 Additionally, foreign tourists are unable to visit Thailand without a restrictive quarantine or certain limited programs, such as Phuket. Prior to Covid-19, Pattaya welcomed an eye-popping ten million foreign tourists in 2019, the 19th most visited city in the world. Additionally, the city welcomed about 7 million domestic tourists. Since Covid-19, however, this has plummeted to nearly nothing, devastating nearly every single business sector in the area and putting thousands of people out of work, out of their livelihoods, and many unable to afford even a meal or a home.
Although some business sectors have been allowed to reopen and there are plans to welcome back foreign vaccinated tourists without a restrictive quarantine in the future, this is still some way off. As a result, many people are still in need in Pattaya. VFW and related agencies continue to make a difference in the local community and help those who are most in need.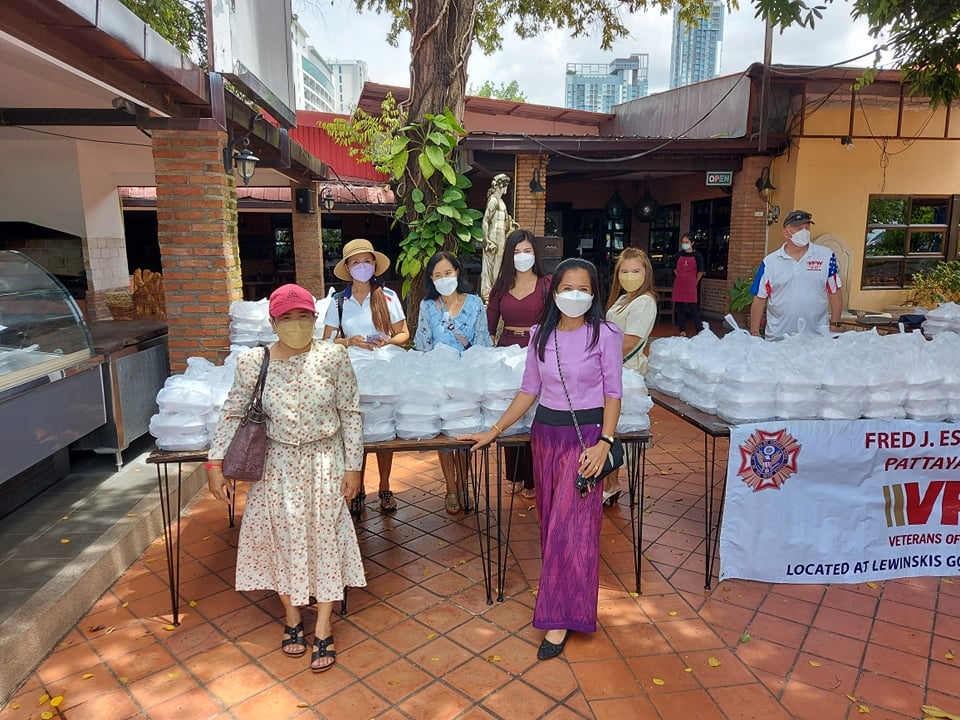 If you wish to donate to further these important endeavors, please contact Judge Advocate Hart: (halhart@yahoo.com).
For more information on VFW post 9876 in Pattaya and more photos of their recent charity events, which is located at Lewinski's Golf Bar and Restaurant in Pattaya, you can visit their Facebook page located here.
As for some general information on the VFW, directly from their website here:
The Veterans of Foreign Wars of the United States is a nonprofit veterans service organization comprised of eligible veterans and military service members from the active, guard, and reserve forces.
We trace our roots back to 1899 when veterans of the Spanish-American War (1898) and the Philippine Insurrection (1899-1902) founded local organizations to secure rights and benefits for their service. Many arrived home wounded or sick. There was no medical care or veterans' pension for them, and they were left to care for themselves.
In their misery, some of these veterans banded together and formed organizations that would eventually band together and become known as the Veterans of Foreign Wars of the United States. After chapters were formed in Ohio, Colorado, and Pennsylvania, the movement quickly gained momentum. Today, membership stands at more than 1.5 million members of the VFW and its Auxiliary.
Our voice was instrumental in establishing the Veterans Administration, development of the national cemetery system, in the fight for compensation for Vietnam vets exposed to Agent Orange and for veterans diagnosed with Gulf War Syndrome. In 2008, we won a long-fought victory with the passing of a GI Bill for the 21st Century, giving expanded educational benefits to America's active duty service members, and members of the guard and reserves, fighting in Iraq and Afghanistan. We were the driving force behind the Veterans Access and Accountability Act of 2014 and continually fight for improved VA medical centers services for women veterans.
Besides helping fund the creation of the Vietnam, Korean War, World War II, and Women in Military Service memorials, in 2005 the VFW became the first veterans' organization to contribute to building the new Disabled Veterans for Life Memorial, which opened in November 2010. And in 2015, we became the first supporter of the National Desert Storm War Memorial which is planned for construction at our nation's capital.
We have many programs and services that work to support veterans, service members, and their families, as well as communities worldwide.