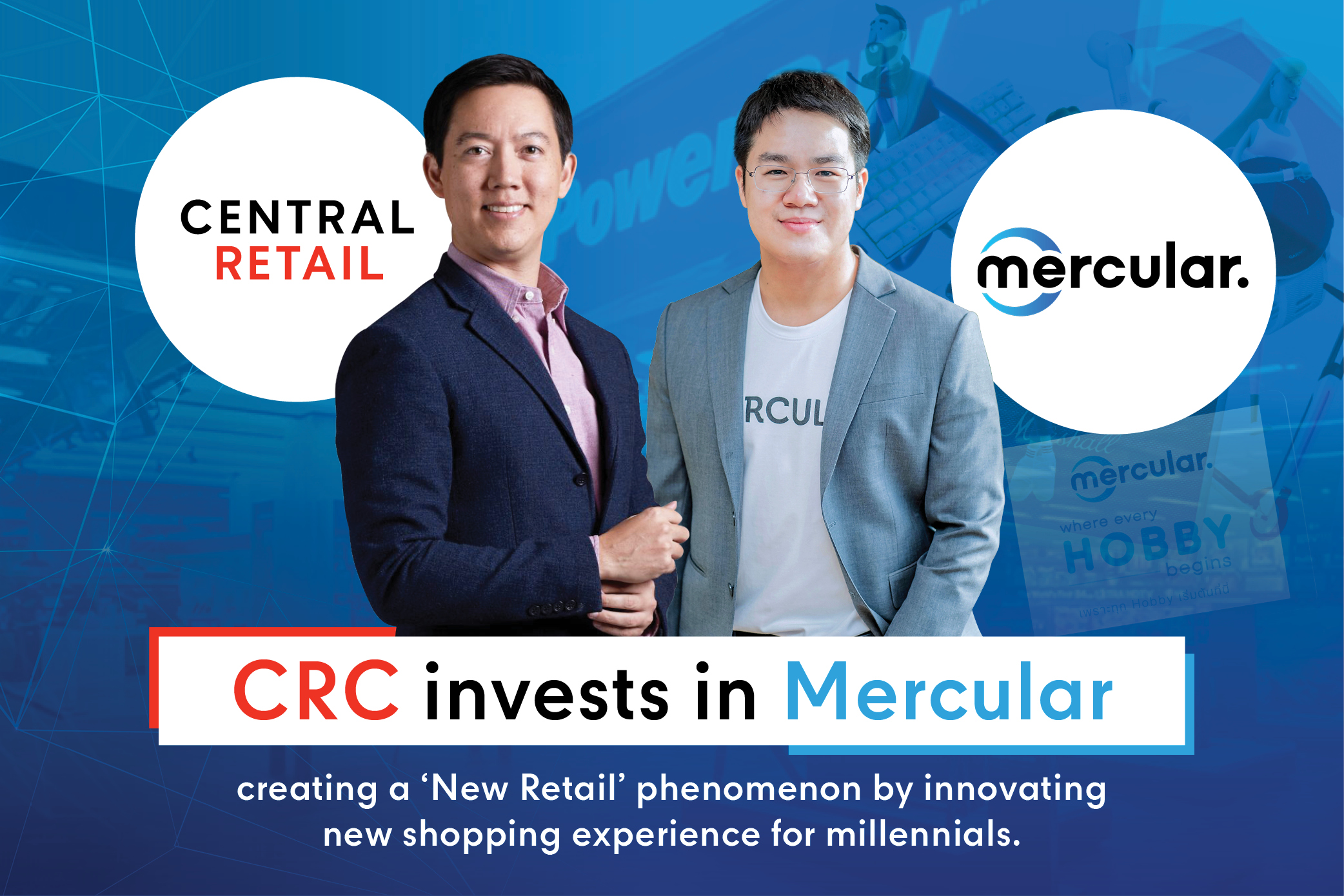 The following is a press release, their thoughts and opinions are their own.
Bangkok – September 13, 2021 – Central Retail Corporation (CRC) has announced its latest investment in Mercular, a Thai rapid growth e-commerce startup that has the highest online sales in the Hobby & Lifestyle category. Closed the Series A funding deal on August 31 this year, Mercular raised more than $4 million from local and international investors. For this investment, CRC is committed to driving Mercular's rapid and sustainable growth using its indefectible retail ecosystem, so the company has invested in Mercular through Power Buy, an electronics retail leader under the Central Retail Group, to extend from the existing e-commerce sales channel to an omnichannel platform. The investment is also expected to grow market opportunities for Hobby & Lifestyle products and deliver a 'New Retail' experience while building an authentic consumer community.
Mercular is a Hobby Lifestyle community commerce platform and is a Thai startup that has been growing by leaps and bounds in a fiercely competitive market where multinational players are flocking in. The unique strength and competitive advantage that clearly set the new community commerce platform apart from its competitors is that it focuses on creating value for customers rather than just waging a price war. The key point is to be a leader in the Hobby & Lifestyle segment and to understand the lifestyle needs of hobbyists while having a strong commitment to creating a good customer experience – from offering a distinctive and complete range of products, providing insightful product knowledge, building a friendly community, and having a responsive after-sales service model that is different from other marketplace platforms. As a result, the company differentiates and creates sustainable competitiveness.
Mr. Ty Chirathivat, Deputy Chief Financial Officer of Central Retail Corporation Public Company Limited (CRC), said "The recent investment in Mercular represents CRC's commitment to supporting potential Thai startups driven by the young and energetic new generation. We are empowering these people who have creative and fresh thinking to grow businesses rapidly by allowing them to fully take advantage of our strong retail ecosystem."
"This also reflects the DNA of CRC that has the ceaseless vision for growth. We understand the modern consumer trends and target to reach out to the millennial customers with high purchasing power. Hobbyists have grown impressively by 11.26% and the market value for this segment is expected to reach 100 billion baht by 2025. This growth potential makes Mercular a very attractive business and it definitely posts a high chance for growth."
"Together, we will create a 'New Retail' experience through Central Retail's omnichannel and Mercular's expertise in the field of e-commerce and consumer community for Hobby & Lifestyle products. Featured products include headphones, cameras, gaming devices, toys, and collectibles, among others. Tailored to meet various needs, the combined effort will start from cooperating with Power Buy in terms of sales channels and looking for more opportunities to expand to other business units of CRC in the future."
Mr. Woragun Wattanasakchai, co-founder and CEO of Mercular.com, said, "Partnering with CRC will help accelerate our business growth concur Hobby & Lifestyle market, and be the market leader in Thailand.  The investment will be used to build a community commerce experience that brings in all hobbyists. Together with the fact that only a few competitors understand the customer needs, the community commerce growth strategy is very promising as Hobby Lifestyle market has a large market size and high growth potential."
"We, therefore, believe that this collaboration will enable Mercular to build a competitive edge by establishing integrated omnichannel shopping experiences – both online and offline across Thailand. Also, it is a perfect combination of community commerce and 'New Retail' experience where it will innovate fun and exciting shopping. This unique positioning will bring us to the market-leading position, and it is a milestone for international expansion in the very near future."
"Our investment in Mercular is an unconventional approach that reinforces the dynamic vision of CRC. Apart from developing and growing from within, we pay great attention to and are open for the opportunities to invest in emerging startups and high potential business partners. By collaborating in this way, we see the spirit of mutual business reinforcement and uninterrupted growth amidst challenges in the New Normal." Mr. Ty Chirathivat added.
# # #
#เซ็นทรัลรีเทล #Centralretial #CRC #JCCOTH
About Central Retail
Central Retail Corporation Company Limited (Central Retail) is the retail leader in Thailand and the flagship company at the roots of Central Group. It has a network of 3,687 branded stores (as of 30 June 2021) offering multi-category products through multi-format channels such as department stores, convenience stores, specialty stores, supermarkets, hypermarkets, plazas, and online sales through omnichannel platforms. Central Retail's business is organized into 4 operating segments based on business units; (1) Fashion, which focuses on apparel and accessories under Central Department Store, Robinson Department Store, Supersports, Central Marketing Group (CMG), and Rinascente; (2) Hardline, which focuses on electronics and home improvement under Thai Watsadu, Baan and Beyond, Power Buy, Nguyen Kim, OfficeMate, B2S,(3) Food, which focuses on groceries under Central Food Hall, Tops Market, Tops Daily, FamilyMart, Big C/GO! and Lanchi Mart; and (4) Property, which focuses on leasing retail property to third parties and to its own stores under Robinson Lifestyle Center, Tops Plaza, and BigC/GO!. As of 30 June 2021, Central Retail has its presence in 3 countries – in 54 provinces of Thailand, 39 provinces of Vietnam, and across key cities in Italy (as of 30 June 2021).
About Mercular
Mercular Company Limited, a Thai startup with the most online sales in the Hobby & Lifestyle category, currently sells more than 20,000 Hobby & Lifestyle products on the website (as of September 1, 2021). The company's range of products include headphones, speakers, smart home devices, computers and accessories, gaming gear, smart gadgets, mobile accessories, toys and collectibles, game consoles as well as drones and cameras. Mercular acts as the main distribution channel for these products, with a mission to create the most value for every hobby. Being committed to creating a friendly shopping experience and easy access to hassle-free online shopping, the company considers the needs of hobbyists and focuses on building a purposeful community commerce platform that meets different needs and determines the highest possible value.