Phetchaburi, Thailand-
  A Dutchman, who had been missing since Tuesday, August 31st, was found alive and in decent condition in a forest reserve in the Tha Yang district last night.
This is, notes TPN media, the second case of an older foreigner lost in the woods in Thailand this week, with a similar case reported by us yesterday here.
The man, 79-year-old Francis Kas van Rossum, had gone missing Tuesday after drinking beer, according to his wife Mrs. Rachot Chanwijit, 61-years-old.  He had last been seen riding a motorbike near the Khao Noi Monastery in Ban Khong Ta Bang.  Rachot had managed to speak with her husband over the phone on the morning of September 2nd, in which he stated he was lost in the woods in the Tha Yang area. It was unclear how or why he had entered this area, which is a dense forest reserve. After this, she lost contact as Francis' battery on his phone had run out.
A team of about 30 officers from the Tha Yang Tourist Police, part of the Phetchaburi Provincial Investigation Division, searched for Francis following the phone call information in a zone of about 20 kilometers.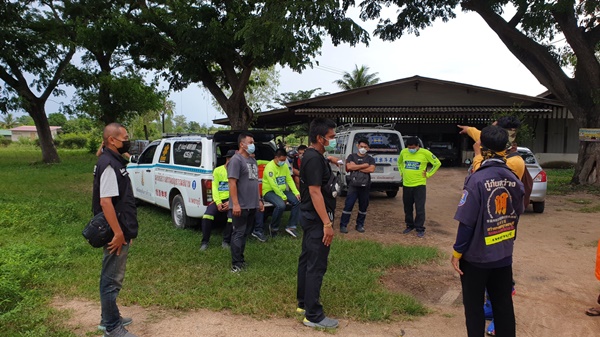 At 11:00 P.M. last night, September 3rd, 2021, Francis was located about 700 meters from a city road in a thick forest reserve in the Huai Mae Phiang sub-district of Tha Yang. He was found sleeping in a small puddle, wearing a t-shirt and shorts, and other than mosquito bites and some scratches, as well as exhaustion, appeared to be in good physical condition. Rescue workers brought him to his relatives at the Tha Mai Ruak Police Station.
Francis had been located by local villagers at a farm nearby who while searching for potential food in the reserve saw Francis's blue motorcycle parked in the woods and later located him lying in the puddle. The villagers immediately called rescue services and teams for assistance.
Francis was taken to a hospital for a checkup, which he passed, and was allowed to return home with his family to rest and recuperate. He did not give a statement on how he had become lost or what had taken place over the past several days to associated local press or rescue teams.
Photo credit: Manager online