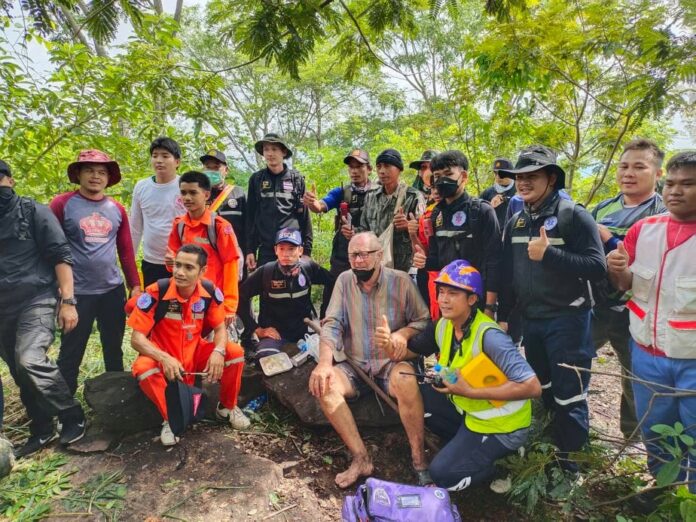 Khon Kaen, Thailand-
  An elderly British ex-pat was rescued this afternoon after spending three whole days and nights in the jungle in the Khao Suan Kwang district in the Phu Kao Phu Phan Kham mountain range.
Mr. Barry Leonard Weller, 73, was found by Ubon Rattana police and rescue workers after days of searching the dense jungle in Khao Suan Kwang.
The rescue team was dispatched after the significant other of Mr. Weller, Tawee Chaisaenrit, 49, reported him missing on the evening of August 31st, 2021, to Ubon Rattana police. Mr. Weller had reportedly left on his motorbike, telling Tawee that he was going hiking, which was not unusual. Mr. Weller, according to his own statements and Tawee's, often went hiking in the area alone and enjoyed nature.
Tawee became concerned when he did not return home at night, as usual, stating that Mr. Weller did not speak Thai and although in good shape was an older man as a reason for filing a police report.
Mr. Weller parked his motorbike near a rice field in Ban Nong Saeng on Tuesday afternoon, August 31st, and proceeded to go hiking up into a nearby mountain range, a remote and difficult to reach area with dense jungle and undergrowth. Mr. Weller later told rescue workers that he had become turned around while hiking in the mountains and lost his way, unable to successfully locate the path back to his motorbike. His motorbike was found by rescue teams earlier in the week, but Mr. Weller was still missing.
Mr. Weller stayed lost in the woods, drinking from streams and eating fruit found in the jungle, until this afternoon, September 3rd, when rescue teams successfully located him in a thick forest on a mountain, quite some distance from where he had originally gone missing. Despite the harrowing experience, Mr. Weller managed to hike down the mountain on his own, shoeless and covered with scratches, with the rescue teams where his significant other Tawee was waiting for him.
Tawee greeted Mr. Weller with an emotional and teary reunion, afterward both giving their sincere thanks and appreciation to rescue workers for helping him.
As for Mr. Weller, he appeared to be in good health and spirits but agreed to be taken to Khao Suan Kwang Hospital for an examination out of precaution. If everything checked out, he would be allowed to return home later this evening.
Photos: Rescue Sawang Association Ruamjai