Nakhon Sawan –
The Thai National police chief today, August 24th, has discharged Mueang Nakhon Sawan police superintendent Thitisan Uttanaphon and conducted legal actions against 13 supposedly involved officials for allegedly being involved in suffocating a drug suspect to death.
Police General Suwat Chaengyodsuk announced at a press conference this evening following viral leaked footage that went viral on social media earlier today. TPN media will not be linking the video due to the graphic nature of the footage that may disturb sensitive viewers, although it has widely been shared on social media. The footage appeared to show four men in what appears to be a police office who were seen covering a suspect's head with a plastic bag while beating him. The National Police has initially discharged the superintendent while evidence is being gathered for further legal proceedings, including another 12 officers who were allegedly involved.
According to the video captions, the suspect was an alleged drug dealer who was being suffocated by Police Colonel Thitisan Uttanaphon as he and his official colleagues were reportedly extorting 2 million baht from the suspect. The suspect was pronounced dead afterward.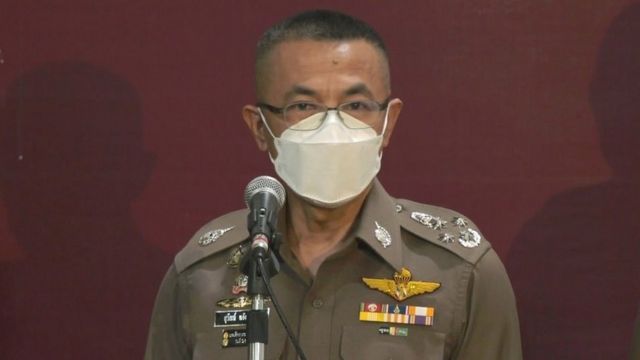 A retrospective criminal investigation among the police officials in question will also be carried out, according to General Suwat. Meanwhile, officials from the Border Patrol Police, the Immigration Bureau, and the Provincial Police Region 6 will closely monitor them from escaping during the internal investigation as many of the suspects remain at large.
Furthermore, the Inspector General of the National Police is ordered to investigate the background and past complaints of the superintendent and his crew, including their personal situations and financial histories which may prompt such brutal actions. Prime Minister Prayut Chan O'Cha has personally asked for the investigation to be transparent and factual.
Suwat stated: "All police officers should look at the case as an example that if they do something bad, there will be no exceptions. A rotten apple must be eradicated. But I believe that most of the police are still good apples. Still, those who do bad things must get their consequences. We rule by law. If people don't trust us, the country will be in chaos."
The victim in the video is believed to be Jeerapong Thanapat, 24, according to multiple sources, who had been arrested reportedly with 100,000 pills of illegal drugs previously. The suspect was stated as having died on August 6th.
A team of police from Bangkok had planned to perform an autopsy on the corpse of Jeerapong, however, he had already been cremated with a local hospital stating that the cause of death was a possible drug overdose. The overall case remains under investigation.
-=-=-=-=-=-=-=-=-=-=-=-=-=-=–=–=–=–==-
Follow us on Facebook,
Join us on LINE for breaking alerts!