Bangkok –
The pro-democracy movement in Thailand, especially in Bangkok, has intensified since the beginning of the month with many significant incidents among protesters and protest leaders. TPN Media has summed up what they had recently gone through during their fight to achieve their political demands.
On Sunday, three recently detained protest leaders, Parit "Penguin" Chiwarak, Sirichai "New" Nathuang, and Promsorn "Fah" Veerathamjaree, tested positive for Covid-19. They were believed to have been infected while in detention at Thanyaburi District Prison after being charged for violating the Emergency Decree for a pro-democracy gathering on August 2nd.
Pro-democracy supporters expressed concerns over Penguin's health condition as he was also suffering from asthma. Moreover, he was denied by prison officials to be transferred to Thammasat University Hospital for treatment, according to his lawyer's statement, with prison officials citing security concerns without clarifying.
Corrections Department spokesperson Thawatchai Chaiwat revealed Penguin's lung x-ray results conducted on Monday, August 16th, that there were slight infiltrations on his right lung, causing the treatment to be less effective than expected. As for his congenital disease, an inhaler and medicine used for basic asthma were provided by his own doctor.
"The Corrections Department and Correctional Hospital aim to provide medical and public health services to inmates under standardized technology and equipment. Therefore, we urged the public to have confidence in our treatment and our healthcare system," the spokesperson added.
Additionally, all of the nine protest detainees were denied bail for the second time by the Thanyaburi Provincial Court on Wednesday, August 18th, for similar reasons that they acted fearlessly against Thai law and public orders to prevent the Covid-19 spread in the Kingdom.
Meanwhile, former government supporter turned pro-democracy activist Tanat "Looknut" Thanakitamnuay who was critically injured in his right eye from a tear gas canister during the police crackdown on last Friday, August 13th was going to file legal charges against police forces after he permanently lost his eyesight, saying the authorities had crucially failed to follow the international standard of firing tear gas.
The Thanakitamnuay family later announced that they promised to take all criminal, civil, and other legal action possible against any responsible individuals and/or organizations involved in the unprofessional dispersal, as claimed by the family.
Unfortunately, Looknut was not the only one being critically injured at the recent protests. A 14-years-old protester was still in a coma at Rajavithi hospital after being reportedly shot on his neck/head area during the dispersal on Monday, August 16th, with a bullet found in his brainstem.
As the police denied the use of live bullets, Deputy Commissioner Piya Tawichai of the metro police added that another young teenager who was also shot at the scene told the officials that the alleged shooters who reportedly used live bullets were not the police but were from another group of teenagers that he did not know. The incident is still under investigation.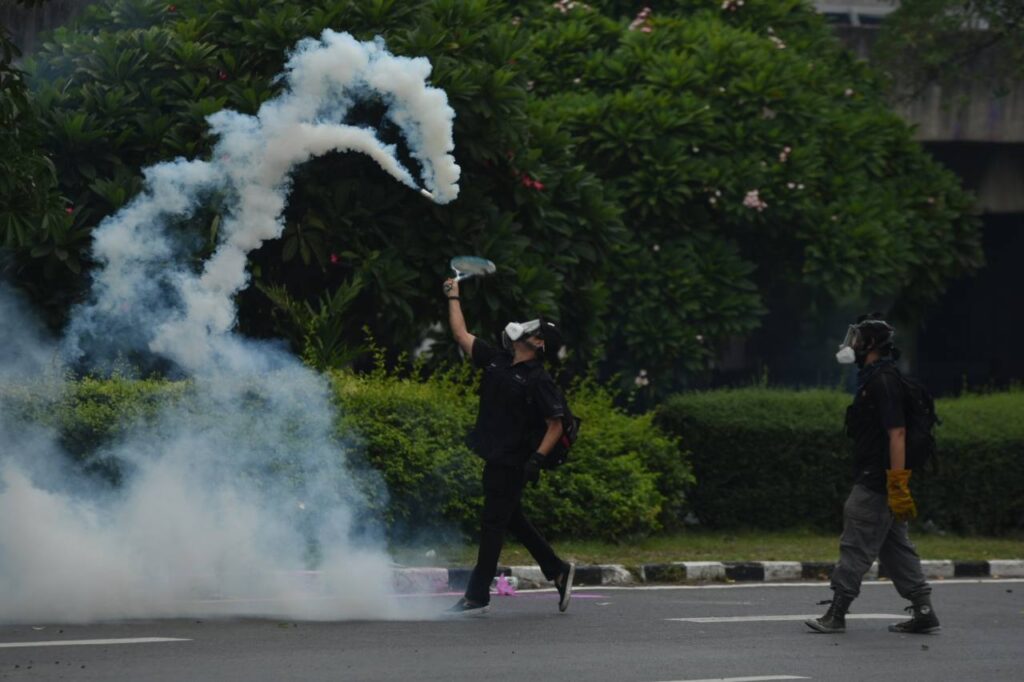 To potentially prevent violent confrontations with the force, the CyberCrime Investigation Bureau (CCIB) yesterday, August 19th, performed a major firecrackers crackdown and arrested three suspects who reportedly sold and distributed giant firecrackers and handmade bombs to the protesters to block and injure the crowd-control police at Sam Liam Din Daeng junction for several days.
Recently, pro-democracy protests had recently been staged nearly every day and would be staged more frequently, despite the current implementations of the Emergency Decree and the Communicable Disease Act that prohibit all forms of gatherings, mainly to demand the Prime Minister's and his government's resignation as they, according to the protesters, had terribly failed to manage the Covid-19 situation and vaccine management.
-=-=-=-=-=-=-=-=-=-=-=-=-=-=–=–=–=–==-
Follow us on Facebook,
Join us on LINE for breaking alerts!