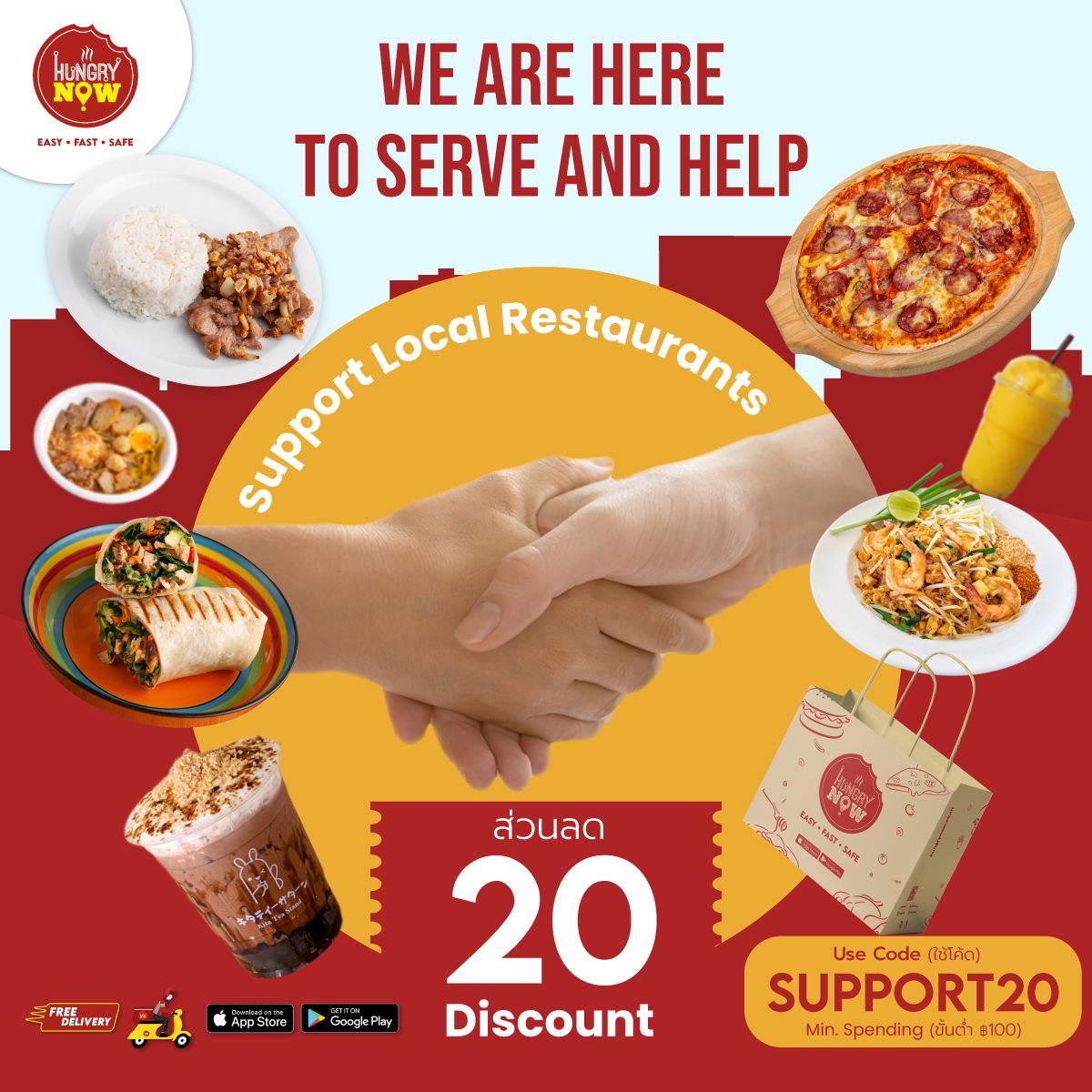 Pattaya/Bangsaen/Chonburi-
August continues, and with it, Chonburi currently remains a "dark red zone", also called a maximum control zone, for the entire province under the Thai government's current Covid-19 related orders and measures.
In a nutshell, this means many tough measures are taking place to control the situation and most people are preferring to "Stay Home" and "Stay Safe" currently until the Covid-19 outbreak improves both regionally and nationally.
Unfortunately, for many of our favorite restaurants, this means they are restricted to only take-away and delivery. In fact, if a restaurant is located in a mall or department store, they are currently only allowed to offer delivery options. Our friends at HungryNow understand how difficult this is for restaurants that choose to remain open and will help you save some hard-earned money while supporting your favorite restaurant.
HungryNow also understands how difficult this is for customers who want to support their favorite restaurants or often prefer to eat in, but want to let you know you are STILL giving your favorite venue your support by using HungryNow in partnership with them.
HungryNow, Chonburi and Pattaya's delivery leader, already has great options like free delivery within 20 kilometers, thousands of participating restaurants with more added every week, and killer daily deals and promotions that ALL users can take part in and not just limited users or "VIP" members. 
HungryNow wants to support its restaurant partners and help you support your favorite restaurants by saving money. For all of August, here is a very special offer for you:
Valid till 31st AUGUST
CODE: SUPPORT20
Get a ฿20 discount when one purchases at least ฿100 at ALL RESTAURANTS
The code can be used only 5 times per user

The code can be used from 11:00 AM onwards

The code cannot be used in already discounted items

The code can be used only when the order is equal or greater than the required minimum order only.

 
It's a tough time for everyone, but simply by making an order, you are supporting your favorite places until you can once again visit them in person.
Keep in mind as well, HungryNow started during the first outbreak of Covid-19 last year and has ample experience in delivering safe, contactless delivery to you and your family.
You can browse their menu, find your favorite restaurants, and order today by clicking right HERE.
About HungryNow
HungryNow is a fast and reliable food delivery service in Pattaya, Bang Saen, and Amata Nakorn connecting people with the best restaurants in the city. They do this by empowering local businesses and in turn, generate new ways for people to earn, work and live.
They started by facilitating door-to-door delivery, but they see this as just the beginning of connecting people with possibilities — easier evenings, happier days, bigger savings accounts, wider nets, and stronger communities.
HungryNow is headquartered in Bangkok, Thailand, and has the first branch office in Pattaya and the second in Bang Saen. For more information, please visit https://hungrynow.co.th
Contacts
For HungryNow: