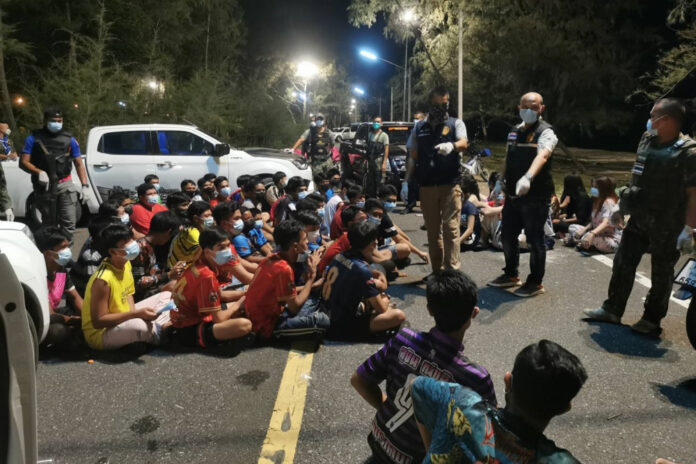 Songkhla, Thailand-
  As Thailand continues to fight against rising Covid-19 infections, law enforcement also accelerates efforts to crack down on illegal gatherings.
According to Songkhla Governor Jaruwat Kliangklao, 61 people, mostly youth, were arrested last night on Wang Nao Beach in the Na Thap sub-district.  They were reportedly drinking alcohol, socializing, mingling, and partying, with many allegedly not social distancing or wearing masks according to Khuan Meed Police.
Additionally, loud music was playing from parked cars nearby and most of the youths appeared to be celebrating a birthday party, according to police. Songkhla is a maximum control province, which means that gatherings of over 5 people are prohibited, and all gatherings around alcohol, parties, or entertainment-style events are currently illegal. Penalties under the emergency decree could mean up to years in jail and stiff fines.
Governor Jaruwat stated the youth were also violating  Songkhla Provincial Communicable Disease Committee orders which could bring additional fines and penalties.
Of the 61 people at the event, thirty were under the age of 18, police stated. The juveniles, who will also face charges for consumption of alcohol if they were under 20, will be sentenced at the  Juvenile and Family Court in Songkhla Province.
The adults were taken to  Na Thawi Provincial Court, with the Governor warning the maximum penalties would be considered for people violating Covid-19 rules and, in his words, placing the community at whole at risk.