Chonburi –
The Chonburi Department of Public Health announced a record-breaking high of 1,147 new and confirmed cases of Covid-19 today with one new death, August 1st.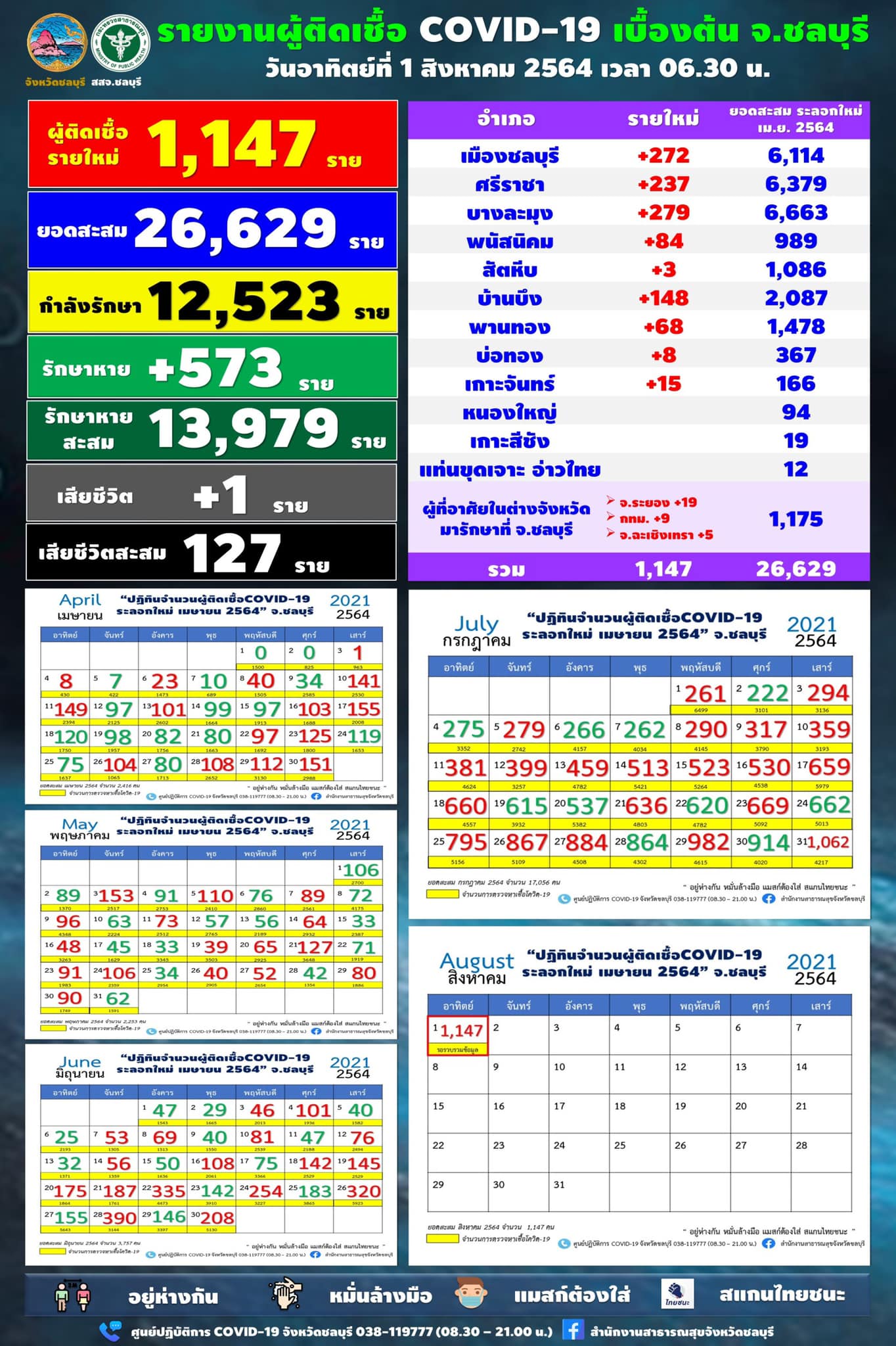 This makes a total of 26,629 cases of Covid-19 in the current round of infections, with 12,523 still under medical care/supervision, and with a total of 127 recorded deaths in Chonburi since the start of this recent round of infections in early April. The details on yesterday's new death were not given, which is standard for the health department.
Additionally, 573 people were also released and recovered yesterday in Chonburi. 13,979 people in total have now been released from medical care and recovered in Chonburi since this current wave began.
This record high comes as Chonburi has been under strict Covid-19 restrictions as a maximum control zone for almost two weeks now, as critics state the measures are draconian, like an overnight curfew, ban on dine-in, closure of most types of business that is not "essential" like food and medicine, and even the closure of beaches and parks. Critics also claim the measures don't seem to be working, as cases have been rising overall. However, supporters of the restrictions claim that cases and hospitalized would be about 20 percent higher without the measures.
A review of the restrictions by the National Center for Covid-19 situation Administration, or CCSA, is set for this afternoon.
The district-level new cases were as follows today:
Mueang Chonburi 272, Si Racha 237, Banglamung (Pattaya) 279, Panat Nikhom 84, Sattahip 3, Ban Bueang 148, Pan Thong 68, Bor Thong 8, Ko Chan 15, and 33 new cases transferred from other provinces for medical care.
The details on the cases are as follows:
1. Cluster Dae-A Electronics (Thailand) Co., Ltd., Ban Bueng District, 10 cases
2. A risky occupation, meeting a lot of people-28 cases. This is described as an occupation that is primarily customer-facing, like taxi drivers, cashiers at supermarkets, etc.
3. Many enterprises in Rayong province, 13 cases
4. Other provinces travel to receive treatment in the province (Bangkok) 1 case
5. Provide a history of traveling to other provinces
5.1 Bangkok 4 cases
5.2 Samut Prakan Province 1 person
6. Close contacts of confirmed patients
6.1 in 262 members of families
6.2 out of 152 workplaces/co-workers
6.3 Close friends 53 persons
6.4 Joined a party of 3 people
7. Touch the confirmed patient (under investigation) 180 cases
8. 440 cases are under investigation in general
A total of 1,534 close contact searches were received today with 622 initial proactive searches, and more proactive search reports are pending.
There are currently, in Chonburi, clusters of Covid-19 at 21 establishments and five markets, 10 construction worker camps, and four communities. TPN media notes that this cluster information appears to be outdated but is what was provided by authorities.