Banglamung, Pattaya, Chonburi-
  Banglamung police raided an illegal beach club in the Pattaya beach last night, July 26th, 2021, allegedly finding both foreign nationals and Thais mingling, drinking, partying, and socializing despite strict Covid-19 rules currently in place in Chonburi province to stop the spread of Covid-19.
The raid took place at 8:30 P.M. last night, just before a 9:00 P.M. curfew as part of Covid-19 related measures in Chonburi, at the Bamboo Beach Club located off of Moo 5 in Nongprue, Banglamung, in the Pattaya area.
The raid was led by Mr. Pornchai Sangsai from the Banglamung District Office and ordered by Mr. Wuttisak Singhadecho and involved multiple officers from Chonburi and Banglamung.
The raid followed Banglamung authorities sending an undercover agent to the venue to confirm that they were open and breaking Covid-19 rules. This allegedly followed multiple concerned citizens reporting the venue previously for being open, serving alcohol, and not following other related Covid-19 measures. The concerned citizens were reportedly worried about the spread of Covid-19 which is why they reported the venue. Currently, due to Covid-19 measures, all restaurants are closed for dine-in, sales of alcohol are forbidden, beaches are completely closed, all tourist attractions and entertainment venues are ordered closed, gatherings of over five people are forbidden (and over one person around alcohol), and a variety of other Covid-19 related rules and restrictions in the Pattaya area.
Banglamung officials, led by Mr. Sangsai, reported dozens of customers eating, drinking alcohol, socializing, partying, and mingling at the venue against the aforementioned rules, many reportedly without masks and not socially distancing.  Several of the customers reportedly tried to escape when police arrived but failed.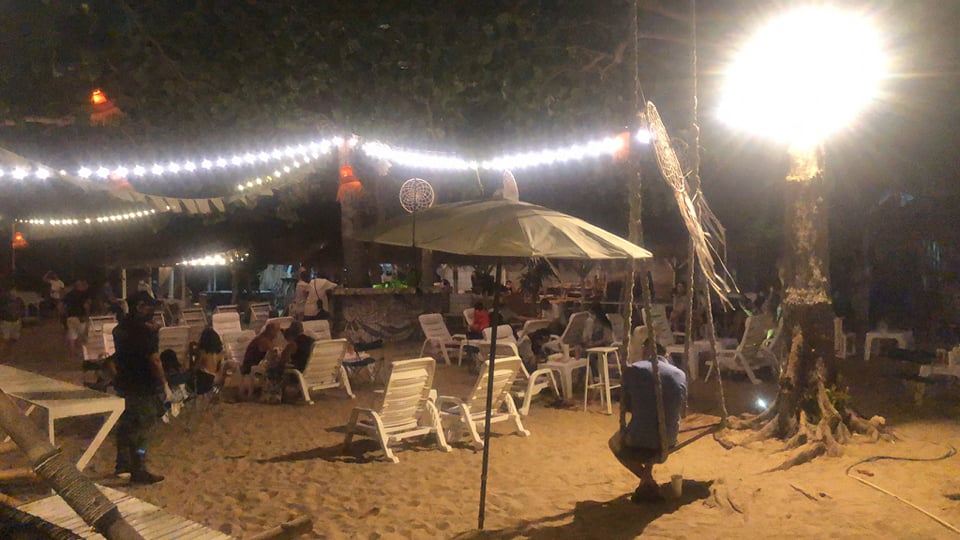 A total of 66 people, 37 Thais, and 29 foreigners were arrested at the venue, according to Mr. Sangsai. The shop administration will be charged as well under Chonburi orders 62/2564, although they were not named by Banglamung Police specifically. Under the emergency decree, those arrested, including customers, could face stiff fines and even potential jail time. The arrested individuals were brought to the Banglamung Police Station for further processing and will face court as early as tomorrow morning.