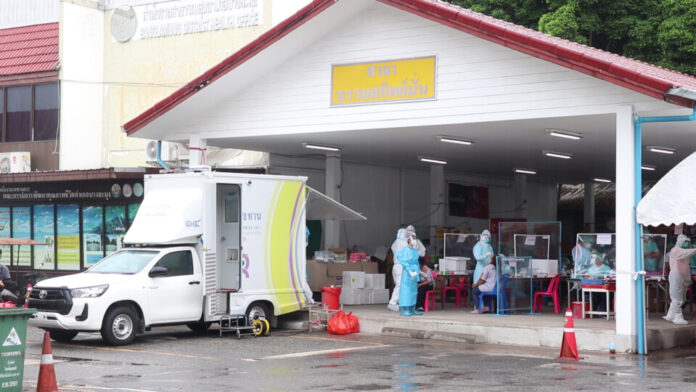 Chonburi –
The Chonburi Department of Public Health announced 615 new and confirmed cases of Covid-19 today with two new deaths, July 19th. Today is the first time in 12 days cases have dropped.
The drop will be reassuring for many local residents and 150 people were also released and recovered yesterday in Chonburi. However, there were also three new deaths.
This makes a total of 15,990 cases of Covid-19 in the current round of infections, with 6,770 still under medical care/supervision, and with a total of 81 recorded deaths in Chonburi since the start of this recent round of infections in early April. The details on yesterday's three new deaths were not given, which is standard for the health department.
Additionally, 9,139 people in total have now been released from medical care and recovered in Chonburi since this current wave began.
The district-level new cases were as follows today:
Mueang Chonburi 117, Si Racha 201, Banglamung (Pattaya) 175, Panat Nikhom 21, Sattahip 40, Ban Bueang 34, Pan Thong 8, Bor Thong 5, Ko Chan 2, and 12 new cases transferred from other provinces for medical care.
The details on the cases are as follows:
1. Cluster, a school in Phanat Nikhom District, 6 cases
2. Cluster, Prime Products Industry, Bor Thong District, 2 cases
3. Central Festival Pattaya Beach, 28 persons
4. 18 enlisted soldiers, their exact location was not named
5. An establishment in Mueang Chon Buri District, 13 cases (was not named)
6. A risky career, meeting a lot of people (High contact roles like taxi drivers)-10 cases
7. 8 medical personnel
8. Emerson Electric (Thailand) Co., Ltd., Rayong Province 2 persons
9. Shiraiichi Calcium (Thailand) Co., Ltd., Rayong Province 2 persons
10. Gameball (Thailand) Co., Ltd., Rayong Province 2 cases
11. Atosa Catering Equipment (Thailand) Co., Ltd., Rayong Province 1 person
12. Q-Con Eastern Co., Ltd., Rayong Province 1 person
13. Provided a history of traveling to other provinces
13.1 Bangkok 2 cases
13.2 Phuket Province 1 case
13.3 Prachinburi Province 1 person
14. Close contacts of a confirmed patient
14.1 20 close persons in general
14.2 Joined a party-3 people
15. Close contacts of confirmed patients
15.1 A total of 131 family members
15.2 Co-workers at workplaces-63
16. Close contacts of confirmed patients (under investigation) 166 cases
17. 135 cases are under investigation in general.
A total of 506 close contact searches were received today with 1,738 initial proactive searches, and more proactive search reports are pending.
There are currently, in Chonburi, clusters of Covid-19 at 15 establishments and five markets, 10 construction worker camps, and four communities.
Chonburi was announced as a "Maximum Control" province, or "Dark Red" by the Center for Covid-19 Situation Administration (CCSA) yesterday, July 20th, If you missed that you can read the changes here:
Chonburi, Chachoengsao, and Ayutthaya added to maximum control provinces, effective this Tuesday, Royal Gazette announces this morning