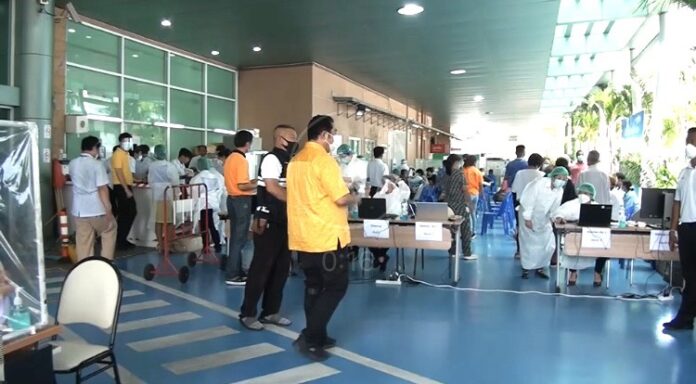 Hello Pattaya News Readers and Supporters!
The following is our weekly feature in which we highlight the top local stories in our area, Pattaya and Chonburi, for the past week. The number of stories differs from week to week.
These are chosen and curated by our editorial team and are designed for our readers to get a quick "catch-up" of important stories they may have missed. We publish many stories daily and it is easy to lose track of important events or changes in our area. We do national recaps in a separate article, this is only the top local stories in our area and province.
They are in no particular order of importance but roughly in order of publishing. These are from Sunday, July 11th, 2021, to Saturday, July 17th, 2021. 
Let's get started and see what the top local stories were!
1.  Pattaya's world-famous nightlife has been closed for three months and counting…when will it end?
Pattaya, nearly entirely reliant on tourism, which is also heavily reliant on the nightlife and entertainment scene, has now been "paused" for three months and no end in sight as the Covid-19 situation in Thailand seems to worsen by the day. Here is our report on the current situation.
Pattaya's famous nightlife now closed for three months with no end in sight, Covid-19 vaccination program still moving very slowly concerning business owners and residents
2.  Chonburi Governor orders new stay-at-home overnight "request"
Effective this Tuesday, however, July 20th, it moves to a mandatory order after the Center for Covid-19 Situation Administration moved Chonburi from a "controlled" province to a "maximum control" province.  It will no longer be a request.
Chonburi Governor releases new order: Stay at home request for cooperation overnight, Closure of many businesses overnight
3.  Pattaya area officially starts operating Covid-19 checkpoints
As the province moves into a maximum control zone, as stated above, these will increase. They are meant to "discourage" travel and encourage people to stay home.
Banglamung and Chonburi officially starts operating checkpoints screening to prevent the spread of Covid – 19
4.  Si Racha Tiger Zoo closing for now, but it could be back down the road in a different form
This particular news got mixed reactions with many Thais and Asian tourists sad at the closure but many Western tourists, where zoo and animal attractions have fallen out of favor, pleased.
Si Racha Tiger Zoo closing for now and 'may' open with another project in future
5.  Koh Larn still open, for now, announces new boat schedules
As of press time today, they are STILL open but with Chonburi moving to maximum control this could change at any minute.
Koh Larn island officials announce new boat schedules, rules for island visitors
6.  Chonburi drops gathering limit, stricter rules for charity donations
As a note, the gathering limit now has dropped even further to 5. Yes, 5, from 50 previously.  Donation lines MUST get approval from Banglamung authorities and have become much stricter as authorities are trying to avoid lines and crowding that could spread Covid-19.
Chonburi releases new order dropping gathering limit in half, requiring permission for charity events, temporarily closing another factory
7.  Pattaya residents catch fish on flooded roads
How about a non-covid story and people making the best of a bad situation?
Pattaya residents catch fish on flooded roads during recent storms
8.  Woman stabs her boyfriend to death at Pattaya home, allegedly in self-defense
A very sad story from last week.
Woman stabs her boyfriend to death at Pattaya area home allegedly in self defense
9.  Pro-democracy protesters hold car rally in Pattaya
The protesters wanted the Prime Minister, Prayut Chan O'Cha, to resign and were upset at Covid-19 related restrictions, vaccine rollouts, and measures.
Pro-democracy protesters hold car protest rally in Pattaya against Thai government, Covid-19 measures and vaccine program policies
10. Couple hangs themselves after falling into debt with loan sharks due to Covid-19 related debts
Another sad story from last week that drew a lot of comments.
Couple, both food cart vendors, found hanging in Chonburi, were reportedly in severe debt due to Covid-19 crisis
That is all for this week. We appreciate all your support and hope you and your family stay safe during these difficult times!