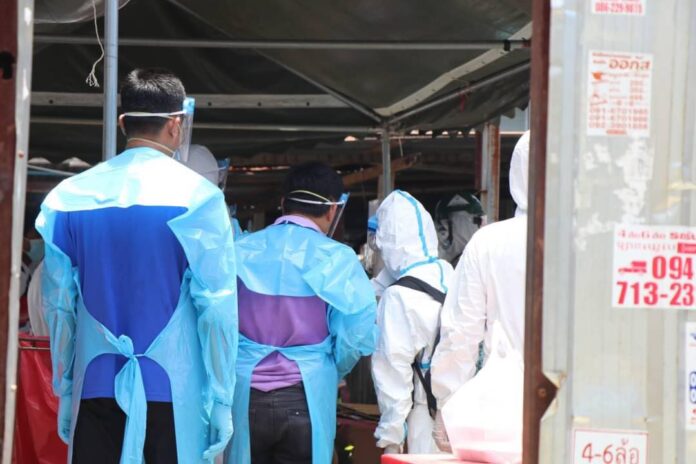 Chonburi –
The Chonburi Department of Public Health announced 660 new and confirmed cases of Covid-19 today with two new deaths, July 18th.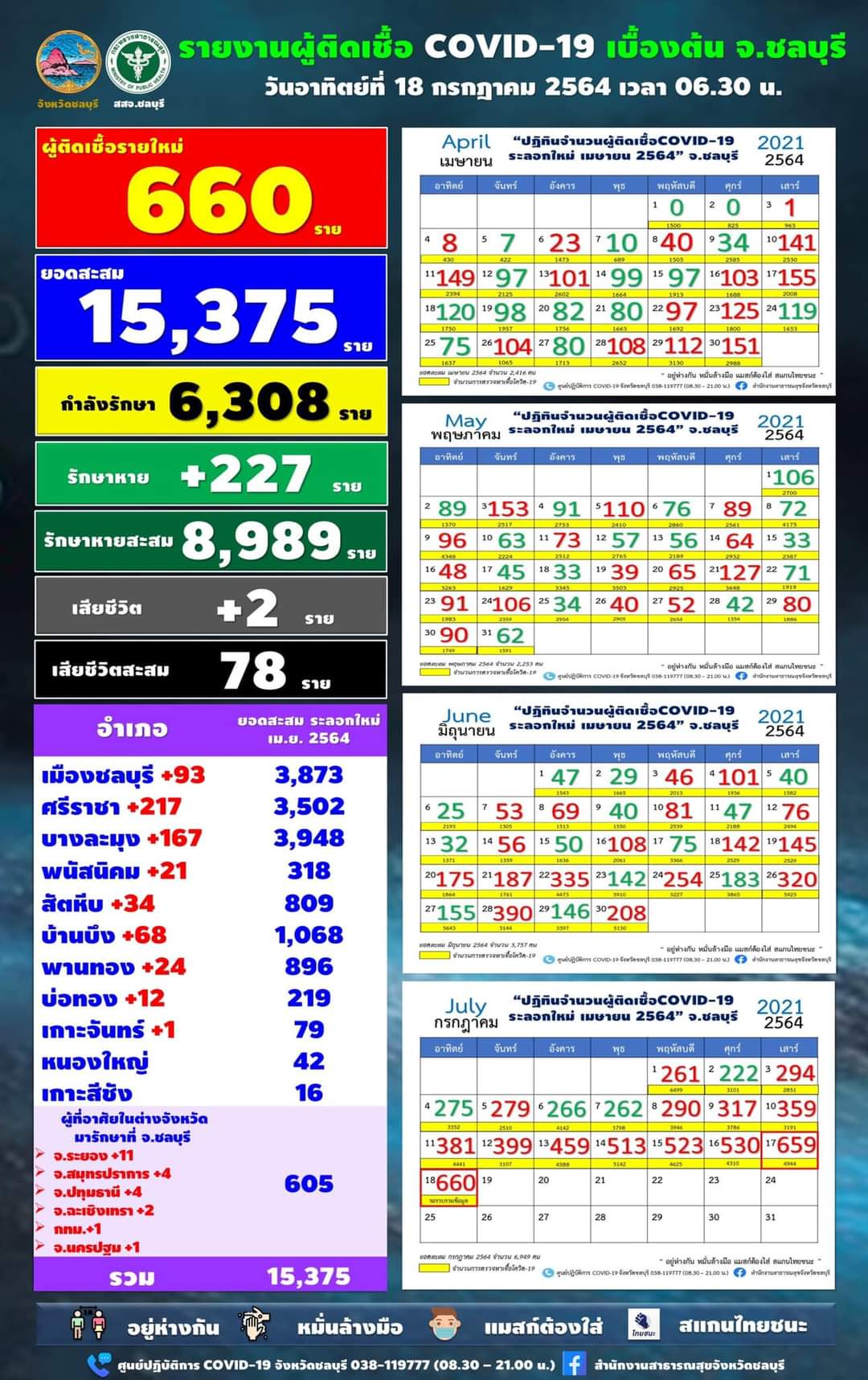 660 is a new record high for cases in the province, but only one more case than yesterday. However, 227 people were also released and recovered yesterday in Chonburi.
This makes a total of 15,375 cases of Covid-19 in the current round of infections, with 6,308 still under medical care/supervision, and with a total of 78 recorded deaths in Chonburi since the start of this recent round of infections in early April. The details on yesterday's deaths were not given, which is standard for the health department.
Additionally, 8,989 people in total have now been released from medical care and recovered in Chonburi since this current wave began.
The district-level new cases were as follows today:
Mueang Chonburi 93, Si Racha 217, Banglamung (Pattaya) 167, Panat Nikhom 21, Sattahip 34, Ban Bueang 68, Pan Thong 24, Bor Thong 12, Ko Chan 1, and 23 new cases transferred from other provinces for medical care.
The details on the cases are as follows:
Cluster, Prime Products Industry, Bor Thong District, 10 cases
Cluster, Charoonrat Products Company, Ban Bueng District, 4 cases
Cluster, a school in Phanat Nikhom District, 2 cases
Central Festival Pattaya Beach Shopping Center 13 cases
Risky career, meeting a lot of people 7 cases
4 medical personnel
Maxis International (Thailand) Co., Ltd., Rayong Province 1 person
Star Technology Industrial Company Limited, Rayong Province 2 persons
Provide a history of traveling to other provinces
9.1 Bangkok 2 cases
9.2 Pathum Thani Province 2 cases
9.3 Chachoengsao Province 1 case
9.4 Samut Sakhon Province 1 person
9.5 Tak Province 1 case
9.6 Samut Prakan Province, 1 case
Close contacts of confirmed patients
10.1 21 close friends
10.2 Joined a party, 7 people
Other close contacts of patients
10.1 In 149 family members
10.2 Co-workers 114
Close contacts of confirmed patients (under investigation) 144 cases
Currently under investigation in general 174 cases
A total of 997 close contact searches were received today with 1,874 initial proactive searches, and more proactive search reports are pending.
There are currently, in Chonburi, clusters of Covid-19 at 14 establishments and five markets, 10 construction worker camps, and four communities.
More restrictions are widely expected to be announced by the Center for Covid-19 Situation Administration or CCSA sometime soon as announced by Prime Minister Prayut Chan-O-Cha Friday night.