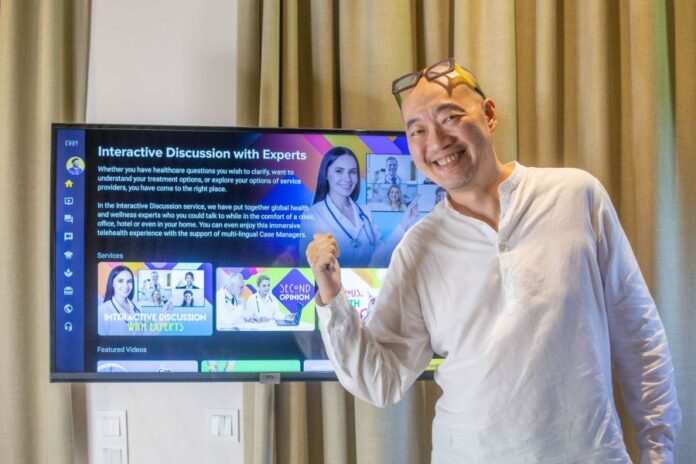 The following is a press release. Their statements are entirely their own.
Borderless Healthcare Group unites global and local medical doctors to activate immersive health cloud services via the Borderless.clinic platform in different venues such as the home, office, hotel, and the community.  
Immersive health cloud services offered via the Borderless.clinic platform goes beyond the mobile health experience. The enablement of a big-screen TV with a multi-lingual video concierge support allows a state-of-the-art hospital-like experience without going to the hospital or risking Covid-19  cross-infection during the transportation or queuing process. Although Borderless.clinic is not designed to replace the function of a hospital, the adoption of such a platform where multiple health professionals can interact with one consumer to design the best treatment or management plan can reduce a lot of unnecessary risks, time, and expenses.  
As the capacity and function of hospitals are limited by the impact of Covid-19, many consumers already prefer to have non-emergency cases managed in other non-hospital environments such as the clinic, home, hotel, or office using immersive cloud services before deciding on the need to go to the hospital. At Borderless.clinic, all the telehealth services are supported by multilingual case managers. In addition to the selected doctors, family members, the patient's own doctors, and even caregivers can partake in the video call as well.  
Borderless.clinic, with the support of Mithmitree Medical Group (MMT), is expected to transform the existing practice of home health, corporate health, travel health, and community health by democratizing specialists' knowledge into premises outside the hospital and make the delivery of healthcare more agile and responsive with more than 70 GP clinics throughout Thailand.  
"We look forward to leveraging the Borderless.clinic platform to serve clients beyond the reach of our clinics and we hope that this unique combination of online-to-offline health can help us scale larger and faster throughout Thailand," says Mr. Worasak Manit, CEO of MMT. 
"With the opening up of Thailand to inbound travelers, we hope the doctors in Thailand can export their services into the overseas homes of Thai nationals as well as the homes of international clients who are interested to visit Thailand. This new model of service will complement the medical tourism infrastructure in the pre-arrival triage of inbound medical travelers and even help to create a new hospitality 'plus' economy which converges health, technology, and tourism in Thailand",  says Dr. Wei Siang Yu, Chairman, and Founder of Borderless Healthcare Group. 
##
About Borderless Healthcare Group 
Borderless Healthcare Group is a global pioneer in consumer-centric healthcare economy where technology, service, content, media, product, and data science are made interoperable across a  global ecosystem of business groups spanning from healthcare, agelessness, wellness, food,  technology, media, bio-banking, cloud services, artificial intelligence, hospitality, and investment.  Most of BHG's initiatives are the world's firsts and many are aimed at disrupting or transforming the existing distribution and supply chain of healthcare.  
About Mithmitree Medical Group (MMT) 
Mithmitree Medical Group (MMT) is a leading primary healthcare organization operating over 70  medical clinics across Thailand. MMT provides medical services by multidisciplinary medical teams, including health checkups and health promotion programs enabling people to live healthier and more independent lives through high-standard care. MMT prioritizes the accessibilities of basic healthcare for everyone by locating medical clinics in the heart of the communities and ensuring that the communities will live healthier lives sustainably.