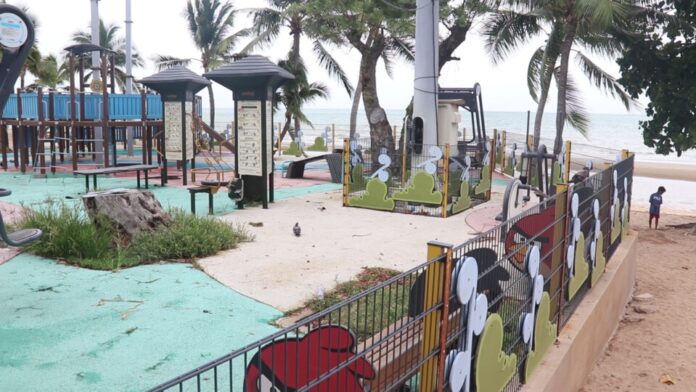 Pattaya, Thailand-
A children's playground located on Jomtien Beach by the Night Market made local media over the weekend, including with us, as residents and parents posted their concerns about the condition of the park.
To the credit of Pattaya City leadership, they responded only one day after the playground was covered in the local news media. Led by Deputy Mayor Manoch Nongyai and Witchawut Pinyo, head of the local park department, a team of officials and reporters visited the playground yesterday afternoon, July 12th, 2021.
The playground has been closed by government orders for about three months (like many things in Pattaya, including the entire entertainment sector and nightlife) and remains closed according to Deputy Mayor Nongyai. However, the regular maintenance and cleaning of the park had clearly fallen into disrepair.
According to Witchawut, the actual equipment and playground were about 80% functional and the major issue with the playground was the special surfacing used which was cracking and have weeds and plants growing through it. Additionally, trash and other materials had accumulated in the park.
The reason for the lack of maintenance, according to Witchawut, was that the keys to the park gate and who had the responsibility for them were unclear, causing cleaning staff to be unable to access the area….for three months.
The keys were reportedly in the custody of several municipality officials and were later located and will be provided for cleaning staff. From now on, according to both Witchawut and Nongyai, the park will be cleaned daily, even if it isn't opened to the public, as it is highly visible for all those exercising and around the Jomtien area. The park will also be resurfaced in the near future.
However, Deputy Mayor Nongyai noted that playgrounds remain closed by government order, and even if it is immediately repaired the park would not be able to open to the public until the Governor orders it. Regardless, the park will be completely restored in the near future, according to Nongyai.