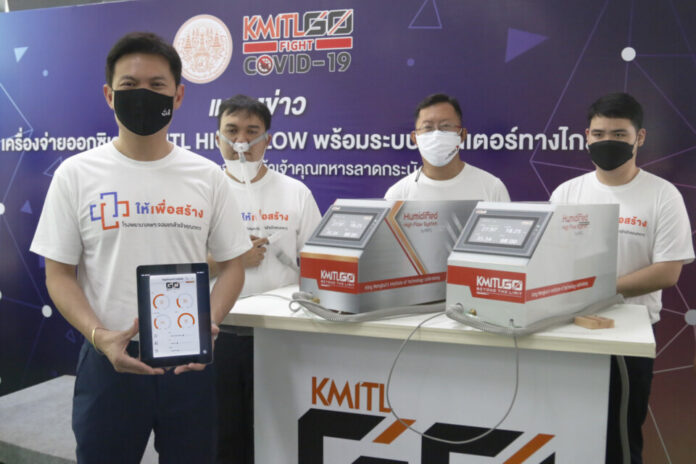 The following is a press release. Their statements are entirely their own.
Designed especially to deal with the emerging wave of COVID-19, newly launched high-flow oxygen concentration units cost 3-4 times cheaper than imported instruments
 KMITL High-Flow Oxygen Concentrator, which is developed by a team of KMITL researchers, can deliver up to 21 – 100% oxygen with the help of application-based remote real-time monitoring mode
Bangkok – July 5, 2021 – King Mongkut's Institute of Technology Ladkrabang (KMITL) today unveiled the prototype of KMITL High-Flow Oxygen Concentrator which provides highly continuous oxygen flow and features a remote monitoring system. Designed especially to support the new wave of COVID-19 patients and cost 3-4 times less than imported instruments, the newly developed high-flow oxygen concentrator comes with a large digital LCD screen to view critical patient details including air flow rate, oxygen content, air temperature, blood oxygen level, and so on.
In addition to efficiently supporting oxygen delivery flow and breathing in patients suffering from pneumonia and respiratory problems, it also allows doctors to monitor and catch up on respiratory failure on a real-time basis. System settings can be changed or adjusted without in-person visits so that continuous treatment and care during the pandemic can be improved while increasing safety for healthcare professionals and reducing the risk of infection in vulnerable areas.
The development cost of the device is 55,000 baht each. With patent registration by KMITL Research and Innovation Services (KRiS) underway, the new prototype is now ready for technology transfer and commercialization.
"KMITL has continued to develop medical innovations to cope with the COVID-19 pandemic from the first wave to the present. By integrating the latest in medical science and our engineering expertise, we have put the effort to invent and build ventilators, in particular, to meet the multiple and complex needs of patients with critical illness," said Prof. Dr. Suchatvee Suwansawat, President of King Mongkut's Institute of Technology Ladkrabang (KMITL).
"We started with our KMITL Mini Emergency Ventilator for critical cases in patients with pulmonary infections during the referral process or while waiting for access to a fully functional ventilator in the hospital. At first, the prototype was not widely recognized for its performance, but finally, it was put into production after repeated tests and distributed to more than 350 hospitals nationwide."
He also said, "The second invention is the Emergency Transport Ventilator – KNIN II designed to be easy to use and supports multiple operation modes. There are four models of this, which have been distributed to more than 1,000 hospitals with urgent needs."
"Recently, we are satisfied with successful invention and development of the prototype of KMITL High-Flow Oxygen Concentrator, the first oxygen concentrator that delivers unconventionally high flow rate with remote monitoring capabilities to reduce mortality associated with COVID-19 while shrinking workload and the risk of infection in wards and relevant units. This enables healthcare professionals to perform duties in other parts of the hospital in a fully efficient way."
"Soon, KMITL will be rolling out a plan to develop temperature-controlled vaccine storage cabinets that are best for ensuring vaccines remain safe and effective. The pharmacy-grade vaccine refrigerators allow relevant healthcare professionals to monitor temperature and the cooling process around the clock, thus reinforcing the institute's vision to become a World Master of Innovation and take a big step toward driving Thailand's public health and medical systems. This is truly aligned with the campaign, Made by Thais, Made for Thais, for the Survival of Thailand so that all Thai people can get through this crisis and return life to normal – together," said the president.
Anawat Sermsawan, M.D., Deputy Dean of Faculty of Medicine at King Mongkut's Institute of Technology Ladkrabang (KMITL) and a co-researcher of KMITL High Flow Oxygen Concentrator, pointed out that the newly developed life-saving machine assists patients in breathing. He said, "The doctor completes pre-settings of airflow, determines the required oxygen concentration, and controls over temperature and humidity using the nasal cannula for optimal performance and consistency. As a result, patients are provided with the most accurate and stable concentration of oxygen to prevent rebreathing the air remaining in the upper respiratory tract. This functions in compliance with international standards for high flow oxygen concentrators."
A special addition to the latest development is IoT. Together, it helps healthcare professionals control and monitor changes in patient conditions remotely on a real-time basis. Ventilation can be adjusted without in-person visits using an application. In addition to the ability to assess patient conditions at any time, it also reduces the use of PPE and protects medical staff from the risk of airborne infections in wards. When a patient gets too low on oxygen, the ventilator triggers an alarm signal automatically.
"In the near future, our R&D team is preparing to further develop the device to analyze and adjust the oxygen concentration according to changes in blood oxygenation. This is in line with our vision to integrate AI into every piece of KMITL's future medical devices," said Dr. Anawat.
 Assoc. Prof. Somyot Kaitwanidvilai, M.D., Dean of KMITL's Faculty of Engineering, further explained, "KMITL High Flow Oxygen Concentrator is focused on meeting the needs of both field and specialized hospitals. The principle is to blend the air from 100% oxygen sources, including oxygen pipes or oxygen tanks, with fresh air (21% oxygen) to form the desired concentration in the air tank. In case of using the air within wards, HEPA filters are usually employed. When the air is brought into the mixing room, a feedback-controlled oxygen supply valve is activated to maintain a constant oxygen rate according to the treatment plan. It can be adjusted in the range of 21-100%. The fan power is controlled by an airflow sensor which is regulated in the range of 10-80 liters per minute. Also, such parameters can be set via the LCD touch screen and a Wi-Fi-enabled app, with an alarm signal being activated when the patient has hypoxia."
The development cost of the machine is 55,000 baht, which is 3-4 times cheaper than imported instruments that are normally priced at 200,000-300,000 baht. Now the device is ready for commercialization and is in the process of patent registration for commercial use with KMITL Research and Innovation Services (KRiS).
Assoc. Prof. Prasert Trivijitsilp, M.D., Executive Vice President for Medicine and Health Technology at KMITL and Acting Director of King Mongkut Chaokhunthahan Hospital (KMCH), said, "According to statistics from the Centre for the Administration of the Situation due to the Outbreak of the Communicable Disease Coronavirus (COVID-19), on July 2 this year, the cumulative number of COVID-19 cases reported in Thailand has reached 270,921 (since April 1, 2021). Of these, 2,002 are critically ill, 579 require a ventilator, and 61 have died. Confirmed infections are on an increasing trend. There are 30 ventilators needed for every 1,000 patients. Therefore, the demand for ventilators and ICU beds continues to increase, and in the current situation in particular, we are facing a severe shortage."
He continued, "The use of high-flow oxygen concentrators for patients with red to dark-red status (having the risk of respiratory failure and consequently requiring ventilatory assistance) can also support breathing by patients who can still breathe on their own. In patients with improved pulmonary pathology, the normal level of the oxygen supply through a mask or nasal cannula can be reduced. This helps reduce the need for intensive care beds."
"Research projects and medical innovations created and developed by researchers from the Thai educational sector need more financial support and funding from relevant sectors. If possible, it means that more innovative medical instruments to be made and distributed to needy hospitals or public health agencies. This effort can help significantly reduce the country's dependence on imports while increasing Thai people's access to medical care in the future."
Government and private agencies as well as interested public sectors can take part in driving the Thai public health system to be more advanced during the COVID-19 pandemic by donating via the Krungthai Bank's savings account, King Mongkut's Institute of Technology Ladkrabang Branch. The account name is King Mongkut's Hospital Foundation under the patronage of His Holiness the Supreme Patriarch of Thailand to Fight COVID-19 and the account number is 693-0-35455-4. Donations are tax-deductible (twice the amount donated).
Those interested in networking with the institute or discussing technology transfer can contact KMITL Research and Innovation Services (KRiS) at 086-825 5420, 085-382 0960. For more information about the launch and demonstration of each model of the new KMITL High Flow Oxygen Concentrator and KNIN Ventilator, follow KMITL's Facebook at https://www.facebook.com/Kmitlofficial, or visit the website at http://kmitl.ac.th.