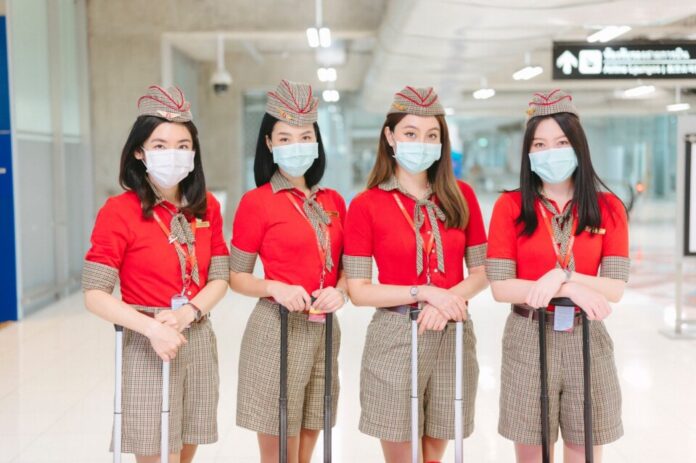 The following is a press release. Their statements are entirely their own.
(Bangkok, July 5, 2021)  – Thai Vietjet today launched its exclusive campaign "7.7 Mega Sale" to celebrate the 7.7 shopping festival, offering special fares starting from 5THB (not inclusive of taxes, fees, and add-on services) for travel on the airline's entire domestic flight network. The special fares are available for booking from July 5 – 9, 2021 with a travel period from July 19 – December 31, 2021 (exclusive of public holidays) at www.vietjetair.com.
The promotional fares are available on www.vietjetair.com, applied to all Thai Vietjet's domestic flights in Thailand from Bangkok (Suvarnabhumi) to Chiang Mai, Chiang Rai, Phuket, Krabi, Udon Thani, Hat Yai, Khon Kaen, Nakhon Si Thammarat, Ubon Ratchathani, and Surat Thani. The tickets are also available on all other distribution channels including www.vietjetair.com, mobile app "Vietjet Air", via Facebook at facebook.com/VietJetThailand by clicking the "Booking" tab, as well as travel agencies and booking offices. Payment can be easily made with 'True Money Wallet' and international debit/credit cards.
Having committed to providing the highest level of safety with continuous efforts to offer all possible contact channels to best support its passengers during the current Covid-19 outbreak, the airline has announced the further policy for passengers holding the tickets on Thai Vietjet's domestic network, who booked tickets and made payment by May 31, 2021, with travel date between July 1 – 31, 2021, may choose 1 of the following options:
Free change of flight date for one time. The new travel date must be by October 31, 2021, and subject to flight availability. Rerouting is not applicable.
(Passengers, who booked tickets via the airline's website https://skyfun.vietjetair.com/, can change flight conveniently through the 'Manage Booking' feature on the airline's website https://skyfun.vietjetair.com/searchreservation )
Keeping the value of the ticket as Credit Shell, which is valid for 3 months from the original travel date.
Passengers who have travel dates fall into the above-mentioned period and wish to contact the airline (at least 72 hours before the original departure time) for support, please select 1 of the communication options below:
Self-manage booking by passengers on skyfun.vietjetair.com/searchreservation
By E-Form: https://bit.ly/2L6Yv4z
By Line Official: @Thaivietjet
By email: vz.support@vietjetair.com
By Live Chat at https://skyfun.vietjetair.com/
In response to the new wave of COVID-19, Thai Vietjet determinedly continues flight services for passengers to travel on all its network as air travel is one of the safest travel alternatives during COVID-19. Named as the fastest-growing low-cost airline in Thailand 2020 by The Global Business Outlook Award, the carrier has been strictly performing aircraft disinfection daily throughout its fleet in compliance with the Thai Ministry of Public Health.
###
About Vietjet:
The new-age carrier Vietjet has not only revolutionized the aviation industry in Vietnam but also been a pioneering airline across the region and around the world. With a focus on cost management ability, effective operations, and performance, Vietjet offers flying opportunities with cost-saving and flexible fares as well as diversified services to meet customers' demands.
Vietjet is a fully-fledged member of the International Air Transport Association (IATA) with the IATA Operational Safety Audit (IOSA) certificate. As Vietnam's largest private carrier, the airline was awarded the highest ranking for safety with 7 stars in 2018, 2019, and 2020 by the world's only safety and product rating website airlineratings.com and listed as one of the world's 50 best airlines for healthy financing and operations by Airfinance Journal in 2018 and 2019. The airline has also been named as Best Low-Cost Carrier by renowned organizations such as Skytrax, CAPA, Airline Ratings, and many others.
Thai Vietjet is cooperating with Vietjet to extend its flight network and provide more opportunities for travelers in the world to discover Thailand and many other countries. Currently, the airline operates 14 domestic routes from Bangkok to Chiang Mai, Chiang Rai, Phuket, Krabi, Hat Yai, Khon-kaen, Nakhon Si Thammarat, Ubon Ratchathani, Surat Thani, Udon Thani plus the direct flight from Chiang Rai to Phuket, Hat Yai, and Udon Thani, direct flight from Chiang Mai to Nakhon Si Thammarat, 8 routes connecting Thailand and Vietnam such as Bangkok to Da Lat/ Da Nang, and more international routes from Thailand to mainland China.
Further information at www.vietjetair.com