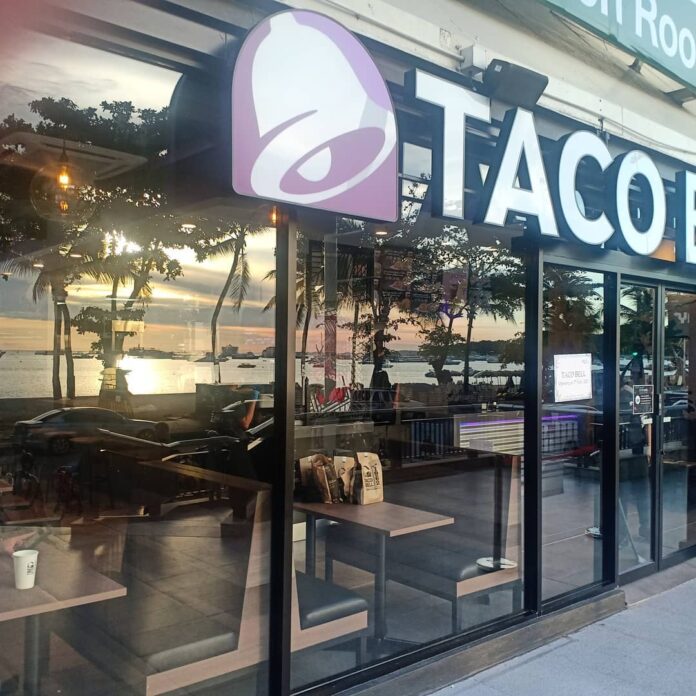 Pattaya, Thailand-
After months of "Coming Soon" signs on Beach Road in Pattaya, the area's first highly anticipated (at least by some, judging by comments on our social media) Taco Bell Mexican fast food restaurant opens on Monday, July 5th, 2021 in Pattaya.
The Pattaya branch can be found on the ground floor of Royal Garden Shopping Mall on Beach Road next to Burger King underneath gigantic new advertising and is easy to find. They are also available for delivery starting from Monday, July 5th, on Foodpanda and Grab.
Taco Bell, an extremely popular fast-food Mexican restaurant in America, had been open in the Bangkok area for several years and steadily expanding with as of their current count eight branches in Bangkok and one in nearby Nonthaburi. The Pattaya branch is the first major expansion outside of the Bangkok area and part of the brands' overall plan to further expand in Thailand.
Although some may question the expansion based on the current situation in Pattaya due to Covid-19, those associated with Taco Bell are quite confident the restaurant will be a success in Pattaya, especially once the cities world-famous nightlife and entertainment are allowed to reopen and tourists return. In America, the brand has become particularly popular with late-night bars, pubs, and nightlife goers.
According to Yum! Brands Inc, the parent company of Taco Bell, the company has seen enormous success in Bangkok, both from foreign nationals familiar with their success in the United States but also with local Thai residents who enjoyed spicier specialty items on the menu not found in the USA. And, yes, Taco Bell has beef, a common question as to when they initially launched in Thailand this was not a regular menu item but now is.
In their own words, Taco Bell Corp., a subsidiary of Yum! Brands, Inc., (With other heavyweight restaurants in Thailand like KFC and Pizza Hut) is a world-famous Mexican-inspired restaurant chain serving customizable tacos, burritos, and other specialties with bold flavors, quality ingredients, breakthrough value, and best-in-class customer service to over 42 million customers weekly across the globe. There are currently over 600 Taco Bell restaurants in 30 countries outside the United States, and over 7,000 restaurants across the U.S., with the expansion, still continuing in international markets.
As part of their opening, they are offering free soft/crunchy tacos with the purchase of any combo set until July 31st according to advertisements on social media.
Some images from Royal Garden Plaza Pattaya