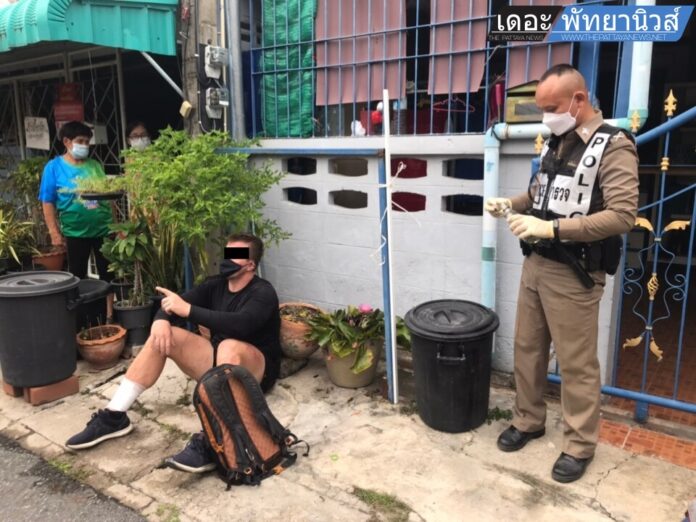 Pattaya, Thailand-
  An unidentified foreign man was arrested yesterday, June 28th, 2021, in Pattaya after allegedly stealing two bottles of liquor from a local store and fleeing which led to a pursuit between the shop clerk, local villagers, and the foreigner and ultimately led to the arrest of the foreign national.
The incident took place around 5:00 P.M. near Soi 6/1 Moo 10 in the Nong Prue Subdistrict. Police Lieutenant Pisit Sincharoonsak, a deputy inspector from the Nong Prue Police Station was the first to the scene along with The Pattaya News reporters.
A foreign man with a backpack who refused to give his name, nationality, or provide identification was found sitting on the ground in a residential neighborhood with several residents and a shop clerk who had helped to detain the man. The man had several bruises on one of his legs, reportedly caused by falling through a residential rooftop while attempting to flee from local villagers and the shop clerk.
The man, despite not identifying himself, was cooperative with the police and was given first aid at the scene of the incident before later being transferred to a local police station for further processing.
  Mr. Nipitphon Umita, 20 years old, a resident of one of the nearby homes and a witness, told the Pattaya News that he had heard the man running across the roof of his home when the foreigner reportedly fell through, injuring his leg. The foreign man then reportedly walked outside the home where many villagers and shop clerks had gathered to block his path and sat down on the ground calmly to wait for the Nongprue police. Nipitphon said the man had damaged three roofs in total.
The foreign man told police at the scene, according to Police Lieutenant Pisit Sincharoonsak, that he was homesick and wanted to be sent back to his own country and wanted to be caught. However, he still declined to identify himself immediately or provide any sort of identification documents.
Police Lt. Pisit said police will see if the store and villagers who had their roofs damaged want to file further charges and the man currently remains in police custody while they work on identifying him and his current immigration status.