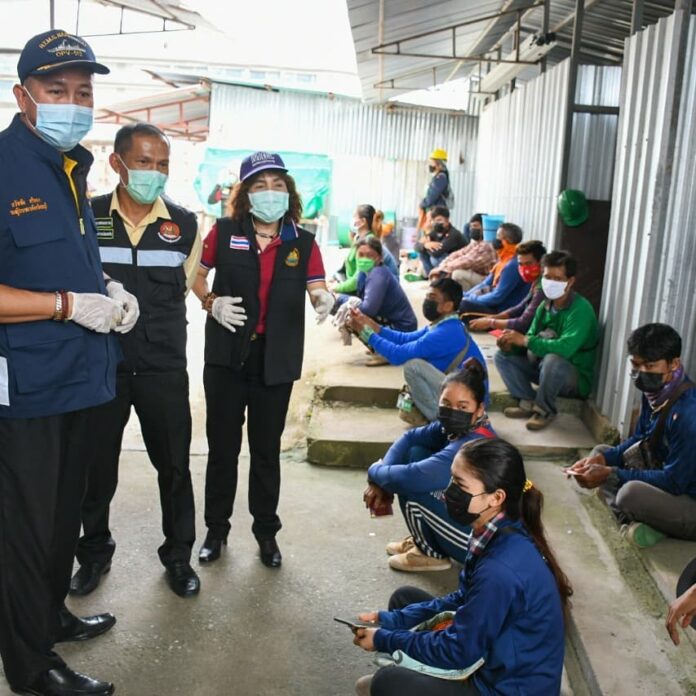 Chonburi –
The Chonburi Department of Public Health announced 142 new and confirmed cases of Covid-19 today, June 18th.
This makes a total of 5,786 cases of Covid-19 in the current round of infections, with 993 still in medical care, and with a total of 35 recorded deaths in Chonburi since the start of this recent round of infections in early April.
One new death was announced today although details were not released.
Additionally, 4,758 people in total have now been released from medical care and fully recovered since this current wave began. 64 people were released yesterday.
The district-level new cases were as follows today:
Mueang Chonburi 75, Si Racha 24, Banglamung 21, Sattahip 5, Ban Bueng 2, Pan Thong 4, Koh Jan 9, and two new cases transferred from other provinces for medical care.
The details on the cases are as follows:
Proactive searches at migrant community/dormitories that connects new markets in the Mueang Chon Buri District- 20 cases
Proactively search workers at online live bars in Bang Lamung District- 7 cases
Close contacts with confirmed previous patients (linked to new market clusters) 32 cases
Going to a risky place in Bangkok 1 case
Close contact of a confirmed patient with a history of traveling to other provinces, 1 case
One confirmed patient from other provinces came to receive treatment
Close contacts of previously confirmed patients
7.1 37 family members
7.2 14 co-workers
Close contacts of previously confirmed patients (Which is under investigation) 12 cases
17 cases are under general investigation
A total of 246 contact searches were received today, 2,001 initial proactive searches, and more proactive search reports are pending.
Although cases have risen this was also the highest level of testing in some time as Chonburi Public Health Department workers focus on communities where many people are still living or working together in close contact, especially related to markets in the area and market workers residential communities which are often very densely populated.
Proactive testing will continue according to health department workers.