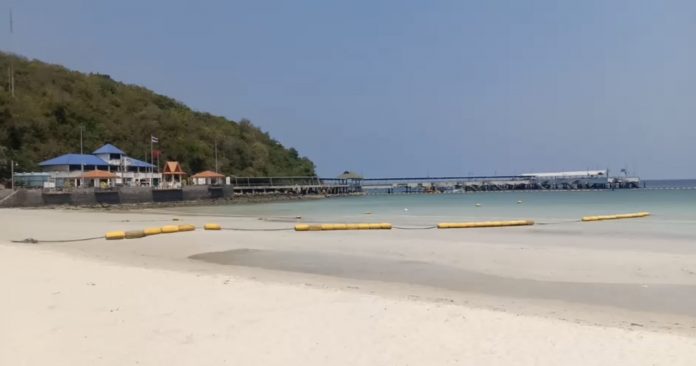 Pattaya, Thailand-
  The Pattaya Mayor, Sonthaya Khunplume, stated earlier this week while speaking with the local press about plans for programs like Pattaya Move On and Neo Pattaya that Koh Larn is now over 70% vaccinated with only a few eligible residents left to be inoculated against the Covid-19 coronavirus.
  You can gain some additional background around the Neo Pattaya plan to welcome back vaccinated foreign tourists, which is being proposed to use safe and sealed routes, here.
Koh Larn just recently reopened to domestic tourists this week on Monday, June 14th, after being closed since May 5th to further vaccinate the island's residents and out of concern for the Covid-19 coronavirus.
Koh Larn was seen as a priority area by the Chonburi Public Health Office for vaccination due to its importance to domestic and foreign tourism and the fact that the vast majority of the island's residents are considered "high-risk" due to regular interactions with domestic and foreign tourists. The island is nearly completely reliant on tourism for its economy, other than a small and traditional local fishing industry.
Koh Si Chang, another popular island in Chonburi mostly reliant on tourism, is also rapidly approaching a hundred percent of their population vaccinated.
According to Pattaya Mayor Sonthaya Khunplume Koh Larn has about 2,500 permanent residents.  Of those eligible for a Covid-19 vaccine over the age of eighteen (The Thai FDA has not yet approved the vaccine in those younger) only about three hundred residents have yet to be vaccinated.
Those 300, said the Mayor, will likely receive vaccines in the very near future once the next shipment of doses arrives from the Thai Government, estimated by the end of the month. The Mayor noted that the vaccine was not mandated for island residents but that nearly all had opted in or intended to take it due to the importance of tourism for the island's economy and not wanting to have another potential closure of the island which caused severe financial difficulty for residents during previous restrictions.